Cold start to 2022
Tech stumbles, interest rates jump, oil tags two-month high
FOMC minutes reveal aggressive Fed, jobs report misses
This week: Inflation numbers (CPI and PPI), say hello to earnings season
The stock market got a chilly reception from bulls to start the New Year.
Although it kicked things off with two new records, the S&P 500 (SPX) lost ground the first week of January as Wednesday's Fed minutes release appeared to trip up the market, while Friday's weaker-than-expected jobs number ended the week on a wobbly note: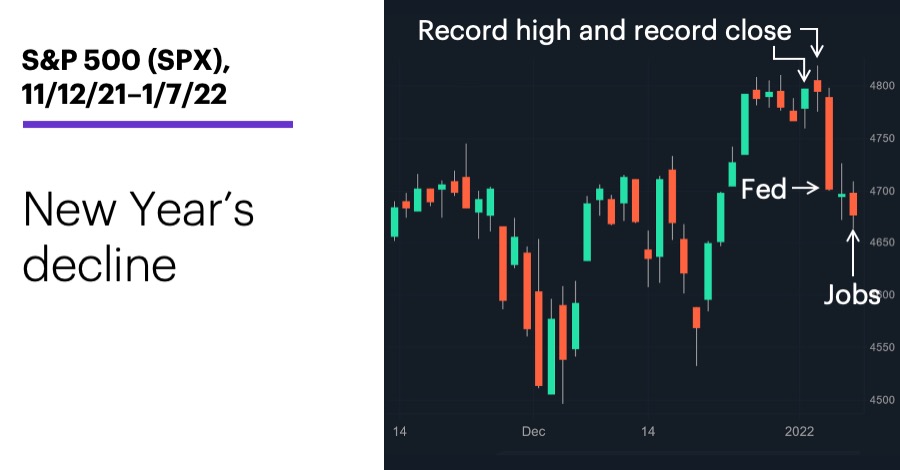 Source: Power E*TRADE. (For illustrative purposes. Not a recommendation.)
---
The headline: Stocks slide amid Fed-tightening reminder and jobs miss.
The fine print: The jobs report and the reaction to the Fed minutes may have been the biggest surprises, but other economic data also came in soft last week, including construction spending, the ISM Manufacturing Index, the ISM Services Index, and job openings (JOLTS).
The number: 199,000, the number of new jobs the US economy added in December—less than half the consensus estimate. The unemployment rate declined to 3.9%, though.
The move: The benchmark 10-year T-note yield jumped 0.2x percentage points to 1.7x% last week—the highest it's been since January 2020 and its biggest weekly increase in 18 months.
The scorecard: Tech and growth stocks took the biggest hits last Wednesday, which helped send the Nasdaq 100 (NDX) tech index to its biggest weekly loss since February 2021: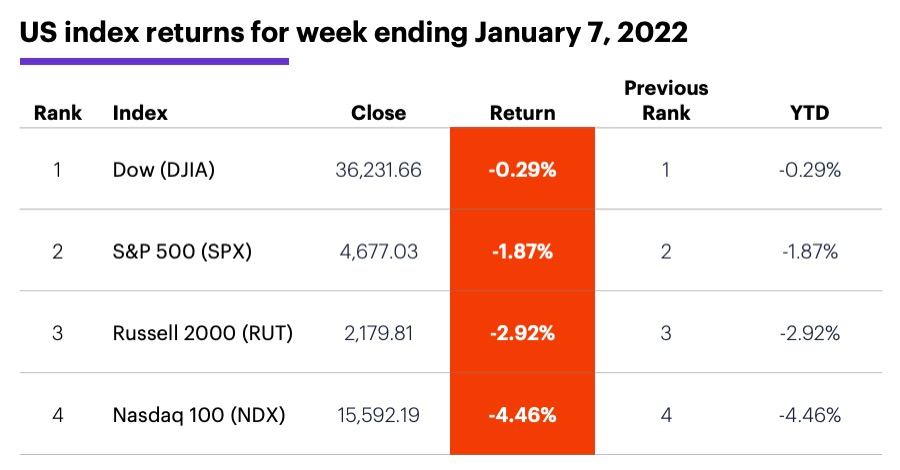 Source (data): Power E*TRADE. (For illustrative purposes. Not a recommendation.)
---
Sector roundup: The strongest S&P 500 sectors last week were energy (+10.6%), financials (+5.5%), and industrials (+1%). The weakest sectors were real estate (-4.7%), health care (-4.5%), and information technology (-4.3%).
Highlight reel: Groupon (GRPN) +16% to $26.83 on Monday, Vocera Communications (VCRA) +27% to $79.17 on Thursday. On the downside Sutro Biopharma (STRO) -28% to $10.51, Olink (OLK) -28% to $11.33, both on Thursday.
Futures action: February WTI crude oil (CLG2) started the year with a strong rally amid tightening US stockpiles,1 tagging $80/barrel on Thursday before pulling back Friday to $78.90. February gold (GCG2) went the other way, sliding to a 14-day low of $1.781.30/ounce on Friday and closing at $1,797.40. Biggest up moves: March lumber (LBSH2) +7.2%, February heating oil (HOG2) +7.1%. Biggest down moves: January ether (ETHF2) -12.3%, January bitcoin (BTCF2) -8.7%.
Coming this week
The latest inflation numbers (CPI and PPI) highlight this week's economic calendar:
●Monday: Wholesale Inventories
●Tuesday: NFIB Business Optimism Index
●Wednesday: Consumer Price Index (CPI), Quarterly Grain Supply and Demand (corn, wheat, soybeans, oats), Beige Book
●Thursday: Producer Price Index (PPI)
●Friday: Retail Sales, Import and Export Prices, Industrial Production and Capacity Utilization, Consumer Sentiment (preliminary), Business Inventories
They're just sneaking in under the wire, but those big banks on Friday are the clue we're entering the first earnings season of 2022:
●Monday: Commercial Metals (CMC), AZZ (AZZ), Limoneira (LMNR)
●Tuesday: TD Synnex (SNX)
●Wednesday: Infosys (INFY), KB Home (KBH)
●Thursday: Taiwan Semiconductor (TSM), Delta Air Lines (DAL)
●Friday: Wells Fargo (WFC), JPMorgan Chase (JPM), Citigroup (C), BlackRock (BLK)
Check the Active Trader Commentary each morning for an updated list of earnings announcements, IPOs, economic reports, and other market events.
From the "Thousand Words" Dept.
If you've never paid much attention to the release of the Fed's FOMC minutes, last week may have made you consider changing your ways. What was a moderate down day (-0.37%) for the SPX turned into a -1.94% rout after the Fed released the details of its December 14-15 meeting at 2 p.m. ET on Wednesday: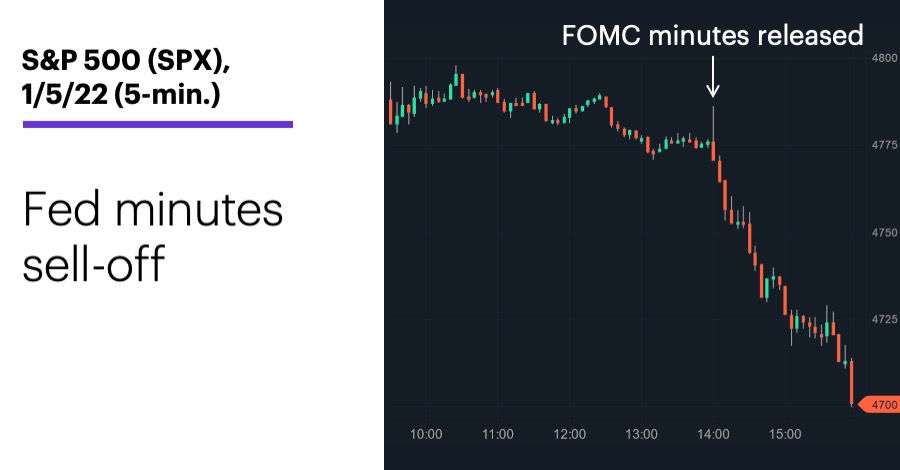 Source: Power E*TRADE. (For illustrative purposes. Not a recommendation.)
---
While the announcement after the December meeting had made clear the Fed was going to be aggressive about dialing back economic stimulus and was planning to raise interest rates three times in 2022,2 reading the details—which suggested the Fed would unwind its bond positions faster than it did during the previous "normalization episode" in October 20173—was apparently enough to trigger the market's biggest down day since November.
What do such moves "mean"? Well, Morgan Stanley recently discussed some of the potential implications of "tightening monetary policy and decelerating growth" in "New Year, New Opportunities."4 But in addition to such bigger-picture considerations, last week was a reminder that there's good reason to expect volatile market conditions for the foreseeable future (see "2022: Following up on another record year").
Knowing road conditions may be bumpy won't necessarily make a ride smoother, but it can help prevent you from being knocked off course.
Click here to log on to your account or learn more about E*TRADE's trading platforms, or follow the Company on Twitter, @ETRADE, for useful trading and investing insights.
---
1 Reuters. Oil ends up at $80/bbl as OPEC+ sticks with Feb output hike. 1/4/22.
2 The New York Times. Fed Shifts to Inflation Battle, Winding Down Pandemic Support. 12/15/21.
3 CNBC. Federal Reserve puts wheels in motion for balance sheet reduction. 1/5/22.
4 MorganStanley.com. Thoughts on the Market Podcast: New Year, New Opportunities. 1/3/22.
What to read next...
01/07/22
The prospect of rising rates may have rattled the tech sector, but some traders may welcome the movement.
---
01/06/22
Automaker's upside breakout drives call options sharply higher, but for how long?
---
01/05/22
Tuesday offered a lesson in what volatility can—and can't—tell you about what a stock may do.
---