Rocky week ends on up note
Volatility spikes, market turns big weekly loss into gain
Fed still signals March rate hike, GDP surprises to upside
This week: Jobs report, manufacturing, energy and pharma earnings
Are we all paying attention now?
Traders who may have somehow snoozed through the first three weeks of January likely found it difficult to ignore last week's eye-opening market action—especially on Monday, when the S&P 500 (SPX) dropped 4% to its lowest level since last June, only to reverse furiously and close up for the day.
The volatility didn't end there, as the market churned the rest of the week amid a Fed interest-rate announcement, Q4 GDP, and the PCE Price Index inflation reading. The SPX dipped in and out of correction territory each day, but another intraday reversal on Friday turned a weekly loss into a gain: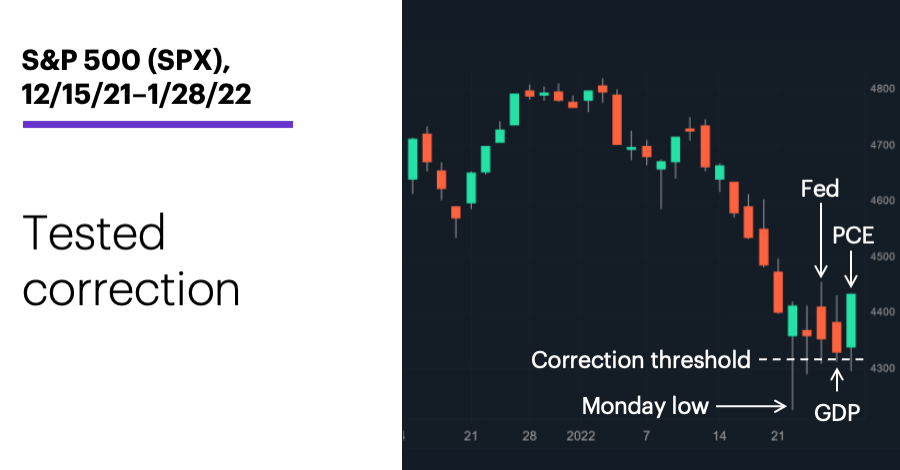 Source: Power E*TRADE. (For illustrative purposes. Not a recommendation.)
---
The headline: Volatile week ends in plus column amid rate debate.
The fine print: Everyone may have been expecting the Fed to announce it would hike rates in March, but that didn't prevent the market from turning a big gain into a loss when the news crossed the wire last Wednesday. As noted by Morgan Stanley Wealth Management, consensus appears to be building for the Fed to raise rates as many as five times this year.1
The number: 6.9%, the initial Q4 GDP estimate—more than a percentage point above forecasts, and three times the Q3 increase.
The scorecard: The Russell 2000 (RUT) was the only index that didn't make it into positive territory for the week: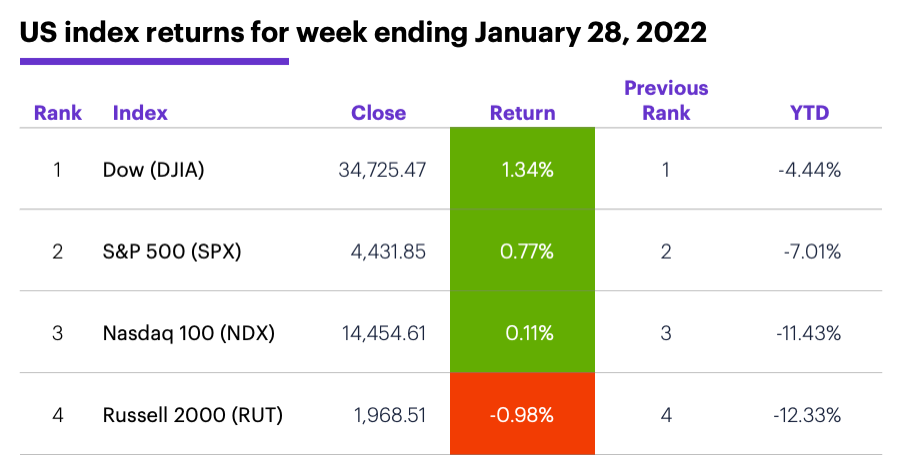 Source (data): Power E*TRADE. (For illustrative purposes. Not a recommendation.)
---
Sector roundup: The strongest S&P 500 sectors last week were energy (+5%), information technology (+2.3%), and financials (+1.3%). The weakest sectors were industrials (-1.5%), utilities (-1.4%), and consumer discretionary (-1%).
Highlight reel: Kohl's (KSS) +36% to $63.71 on Monday, Stride (LRN) +25% to $33.76 on Wednesday. ON the downside, Gatos Silver (GATO) -69% to $3.17 on Wednesday, LendingClub (LC) -29% to $15.92 on Thursday.
Futures action: Oil continued its rally (see "Full-boil oil"), with March WTI crude oil (CLH2) hitting multiple contract highs and closing Friday at $86.82. April gold (GCj2) tumbled to a six-week low on Friday and closed at $1,786.60/ounce. Biggest up moves: March natural gas (NGH2) +22.7%, March palladium (PAH2) +12.9%. Biggest down moves: March lumber (LBSH2) -25.3%, March silver (SIH2) -32.3%.
Coming this week
There's a bit of everything in a busy week of earnings, including more big tech, energy, and pharma. Here's a sample:
●Monday: Otis Worldwide (OTIS), NXP Semiconductors (NXPI)
●Tuesday: UBS (UBS), Alphabet (GOOGL), Exxon Mobil (XOM), PulteGroup (PHM), PayPal Holdings (PYPL), Electronic Arts (EA), General Motors (GM), Match Group (MTCH), Starbucks (SBUX), MicroStrategy (MSTR), Advanced Micro Devices (AMD)
●Wednesday: T-Mobile (TMUS), AbbVie (ABBV), D.R. Horton (DHI), Thermo Fisher Scientific (TMO)
●Thursday: Amazon.com (AMZN), Hershey (HSY), Royal Dutch Shell (RDS.A), Penn National Gaming (PENN), Ralph Lauren (RL), Biogen (BIIB), ConocoPhillips (COP), Merck (MRK), Honeywell (HON), Eli Lilly (LLY), Snap (SNAP), Bill.com (BILL), Pinterest (PINS), Ford (F), Clorox (CLX)
●Friday: Bristol Myers Squibb (BMY), Aon (AON), Regeneron Pharmaceuticals (REGN)
A packed top-of-the-month economic calendar concludes with Friday's jobs report:
●Monday: Chicago PMI
●Tuesday: Markit Manufacturing PMI, ISM Manufacturing Index, Job Openings and Labor Turnover Survey (JOLTS), Construction Spending
●Wednesday: ADP Employment Change
●Thursday: Challenger Job Cuts, Productivity and Labor Costs, Markit Services PMI, ISM Services Index, Factory Orders
●Friday: Employment Report

Check the Active Trader Commentary each morning for an updated list of earnings announcements, IPOs, economic reports, and other market events.
February after a bad January
While there may be plenty of chatter about whether a down January portends a down year, no one seems to be talking about what this month's negative return may imply, if anything, for February. First, here's a look at the SPX's February returns since 1960: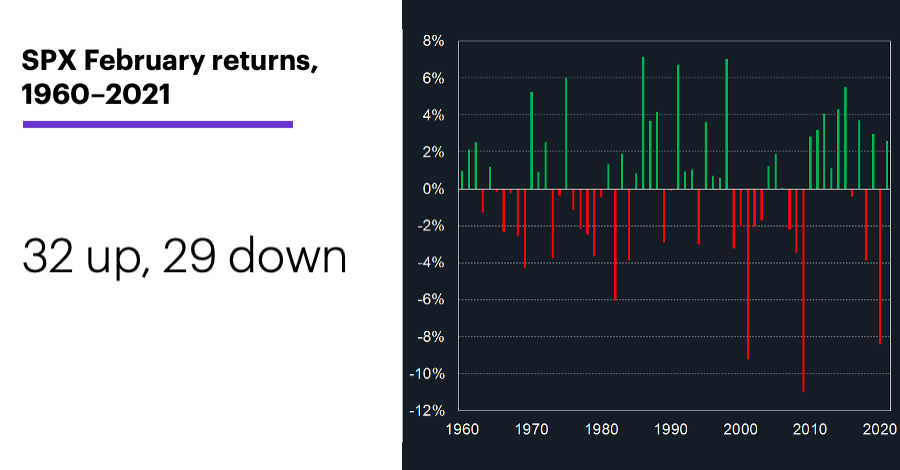 Source (data): Power E*TRADE
---
The chart presents something of a mixed bag—more gains (32 years) than losses (29), with a few exceptionally large declines popping up over the past couple of decades. Those big losses are why the SPX's average February return over the past 30 years is slightly negative (-0.1%), even though the index has gained ground in 18 of them.2
And what about after Januaries "like" the one that's ending today? As of Friday, the SPX was looking at its fourth-weakest January return of the past six decades. Here's how the SPX performed in February after its 10-worst and 10-best Januaries since 1960:
●Median return after 10-weakest Januaries: -1.2%. Number of times return was positive: 3.
●Median return after 10-strongest Januaries: +0.7%. Number of times return was positive: 6.
Overall, larger-than-average January declines were followed by more weakness than strength in February. This may simply be another way of saying there's a possibility of more volatility on the horizon—an assertion that probably won't surprise traders who've been in the markets the past few weeks.
Click here to log on to your account or learn more about E*TRADE's trading platforms, or follow the Company on Twitter, @ETRADE, for useful trading and investing insights.
---
1 MorganStanley.com. Should Investors Brace for More Volatility? 1/25/21.
2 All figures reflect S&P 500 (SPX) monthly closing prices, 12/30/59–1/31/21. Supporting document available upon request.
What to read next...
01/28/22
A look at the oil rally that's fueled the energy sector's run.
---
01/27/22
Do traders think this week's market action signals more or less volatility on the horizon?
---
01/26/22
Will this high-profile stock's sell-off attract bargain hunters?
---