Tech correction
Stock slide hits three weeks, NDX corrects, RUT nears bear market
Oil rallies to seven-year high, earnings season starts sluggishly
This week: Fed announcement, GDP, Big Tech earnings
How do you know when the bulls aren't calling the shots?
Although "When prices are falling" is, technically, correct, it's a bit of a simplification, since the market can pull back sharply even during the strongest uptrend. A better answer may be "When the market can't hold on to big intraday gains."
That, in a nutshell, was the story of last week. The S&P 500 (SPX) surrendered 1%-plus rallies on Wednesday and Thursday—and saw its attempt at a Friday rebound fizzle—to cement a third-consecutive down week amid tech-sector bearishness, mixed earnings, and overhanging concerns about the potential impact of Fed rate hikes: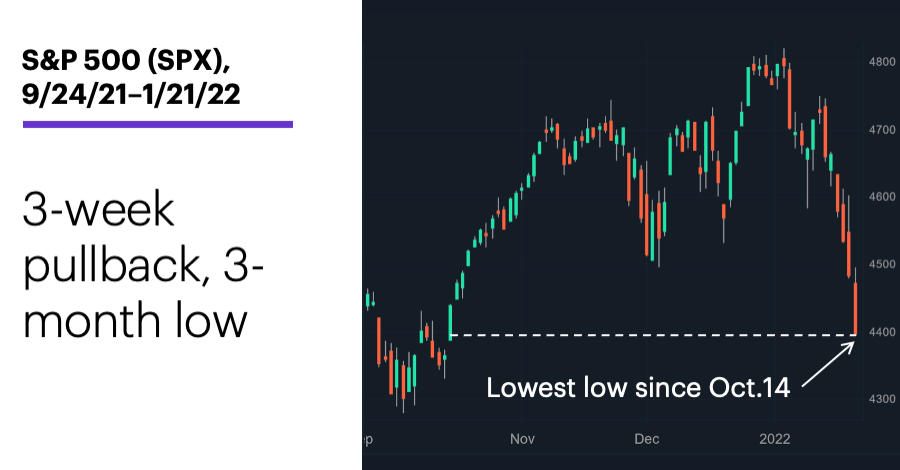 Source: Power E*TRADE. (For illustrative purposes. Not a recommendation.)
---
The headline: Stock skid hits three weeks as market preps for Fed.
The fine print: With the Fed due to issue its next statement on interest rates this week, the SPX faces a tall order: It needs to rally 8.4% over the next six trading days to get back to breakeven for the month. And while a negative January isn't a reliable predictor of a down year, three-week losing streaks at the top of a year have some less-than-bullish historical connotations (see "Three-week pullbacks: The good, the bad…and January," below).
The number: -10%, the "correction" threshold the Nasdaq 100 (NDX) first hit last Thursday when it closed 10.42% below its November 19 record close. (The SPX won't be in a correction unless it falls to 4,317—1.8% below Friday's close.) But the small-cap Russell 2000 (RUT) approached the -20% bear-market threshold when it closed last week 18.6% below its November record close.
The move: Before the 10-year T-note yield pulled back on Friday (as investors sold stocks and piled into bonds), the benchmark rate closed Tuesday at 1.86%—it's highest level in more than two years.
The scorecard: The Dow (DJIA) held up best in what turned out to be the market's biggest down week since March 2020: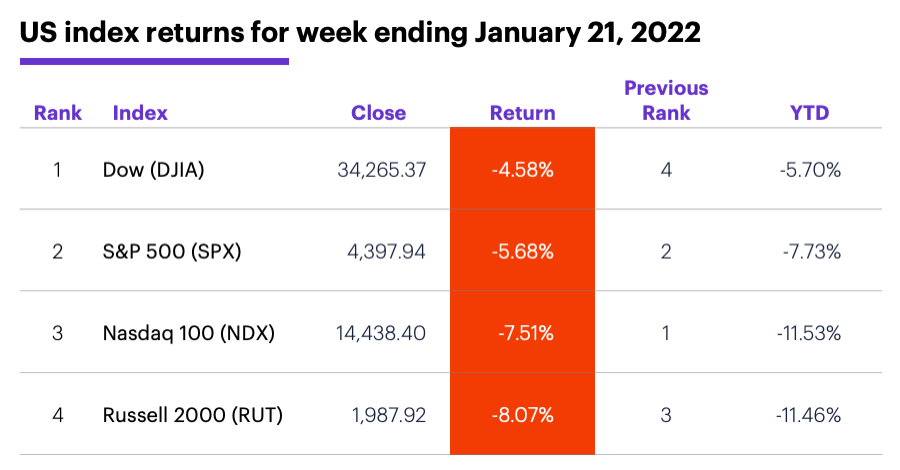 Source (data): Power E*TRADE. (For illustrative purposes. Not a recommendation.)
---
Sector roundup: The strongest S&P 500 sectors last week were energy (+12.8%), consumer staples (-1.5%), and financials (-2.3%). The weakest sectors were consumer discretionary (-12.1%), information technology (-11.3%), and real estate (-9.4%).
Highlight reel: On Monday Activision Blizzard (ATVI) +26% to $82.31 (Microsoft bought the company for $68.7 billion), Zogenix (ZGNX) +66% to $25.92 on Wednesday. On the downside, Silvergate (SI) -25% to $103.34 on Monday, Peloton Interactive (PTON) -24% to $24.22 on Thursday, Netflix (NFLX) -22% to $397.50 on Friday.
Futures action: Oil prices hit a seven-year peak, with March WTI crude oil (CLH2) barreling to a fifth-straight contract high of $87.10 last Thursday before pivoting lower and ending the week at $85.14. February gold (GCG2) enjoyed its biggest up day of the year last Wednesday (+$27.30 to $1,840.70/ounce) before closing Friday at $1,831.80. Biggest up moves: February VIX (VXG2) +22.7%, March heating oil (HOH2) +13.6%. Biggest down moves: January ether (ETHF2) -25.3%, January bitcoin (BTCF2) -17.3%.
Coming this week
Big Tech commands the spotlight in the second week of earnings season:
●Today: Koninklijke Philips (PHG), Halliburton (HAL), International Business Machines (IBM), Logitech (LOGI)
●Tuesday: 3M (MMM), Microsoft (MSFT), Lockheed Martin (LMT), Logitech (LOGI), Johnson & Johnson (JNJ), American Express (AXP), Verizon (VZ), General Electric (GE), F5 (FFIV), Texas Instruments (TXN)
●Wednesday: Boeing (BA), General Dynamics (GD), AT&T (T), Kimberly-Clark (KMB), Freeport-McMoRan (FCX), Abbott Labs (ABT), Automatic Data Processing (ADP), Intel (INTC), Tesla (TSLA), Xilinx (XLNX), Teradyne (TER)
●Thursday: Mastercard (MA), Southwest Airlines (LUV), McDonald's (MCD), Danaher (DHR), Visa (V), United States Steel (X), Beazer Homes (BZH), Apple (AAPL)
●Friday: Chevron (CVX), Colgate-Palmolive (CL), Phillips 66 (PSX), Caterpillar (CAT)
That heavy-hitting earnings lineup has stiff competition from an economic calendar that includes GDP, a Fed meeting—and the Fed's preferred inflation gauge, the PCE Price Index:
●Today: Chicago Fed National Activity Index, Markit Composite PMI flash
●Tuesday: S&P Case-Shiller Home Price Index, FHFA House Price Index, Consumer Confidence, FOMC meeting starts
●Wednesday: Goods Trade Balance (advance), New Home Sales, Fed interest rate announcement
●Thursday: Q4 GDP (initial estimate), Durable Goods Orders
●Friday: Personal Income and Spending, PCE Price Index, Consumer Sentiment (final)
Check the Active Trader Commentary each morning for an updated list of earnings announcements, IPOs, economic reports, and other market events.
Three-week pullbacks: The good, the bad…and January
Morgan Stanley analysts recently argued the Fed's accelerated tapering and rate-hike schedule is likely to lead to a 10-20% SPX correction in the first half of this year1—something that may seem more plausible to many of us than it did a month ago, now that we've witnessed the market's first three-week downturn since September 2020. Digging into similar sell-offs reveals some interesting patterns.
First, since 1957 the SPX has hit a three-week losing streak 156 other times:
●Twelve weeks (approximately three months) later, the index was higher in 106 cases (66% of the time), with an average gain of 2.1%—that's a little better than the SPX's overall average 12-week return of 1.9%.2
But what about a scenario a little closer to the current one—say, three-week pullbacks that followed the SPX closing at a two-year (or longer) high? That's happened only 49 other times:
●After 12 weeks, the SPX's average return was 2.2%—still better than the long-term average, although the index was higher in only 31 of those cases (63% of the time).
Finally, the SPX has started a year with three losing weeks only eight times since 1957 (the last time was in 2009):
●After 12 weeks the index was lower five times (in 1960, 1962, 1970, 1977, and 2005), with an average return of -0.5%.
While eight examples isn't much to go on—not enough for any measure of statistical confidence—this departure from the norm may raise a few eyebrows among traders and investors, especially considering on Friday the SPX was down 6.x% for the month. As noted in "Stocks close in on another record year," of the 11 times since 1960 the SPX lost 4% or more in January, it ended the year in the red seven times, and eight of the SPX's 10 worst years (positive or negative) began with a down January.
The end of the year is still a long way off, though. Regardless of where the market finds itself on December 30, the road it takes to get there is likely to have its share of surprising turns.
Click here to log on to your account or learn more about E*TRADE's trading platforms, or follow the Company on Twitter, @ETRADE, for useful trading and investing insights.
---
1 MorganStanley.com. Thoughts on the Market podcast: Pricing a More Hawkish Fed. 1/18/22.
2 All figures reflect S&P 500 (SPX) weekly closing prices, 12/30/56–1/21/22. Subsequent returns calculated starting when the SPX first establishes a three-week losing streak. A "week" is defined as the Monday-Friday trading period (not Monday-Monday, Tuesday-Tuesday, etc.). Supporting document available upon request.
What to read next...
01/21/22
Consumer stock's announcement shows how unexpected news can sometimes result in temporary market imbalances.
---
01/20/22
The tech sector's recent underperformance comes with an important disclaimer for traders.
---
01/19/22
Will traders take note of this data stock's contrarian behavior on Tuesday?
---