High-energy week
Broad market falls, energy sector soars as oil retakes $80/barrel
Inflation: CPI and PPI hover near records but dip from previous month
This week: More financial and airline earnings, housing numbers
We're only two weeks into the year, but so far forecasts for a choppier, two-way stock market in 2022 have been spot on.
Last Monday the S&P 500 (SPX) initially fell more than 2% to a nearly three-week low, only to roar back and end the day near breakeven. That intraday seesaw was followed by two days of upside follow-through, which was then erased by a sharp Thursday sell-off. Friday was a scaled-down version of Monday, as the SPX staged a late rally to erase a 1% intraday loss and close up for the day: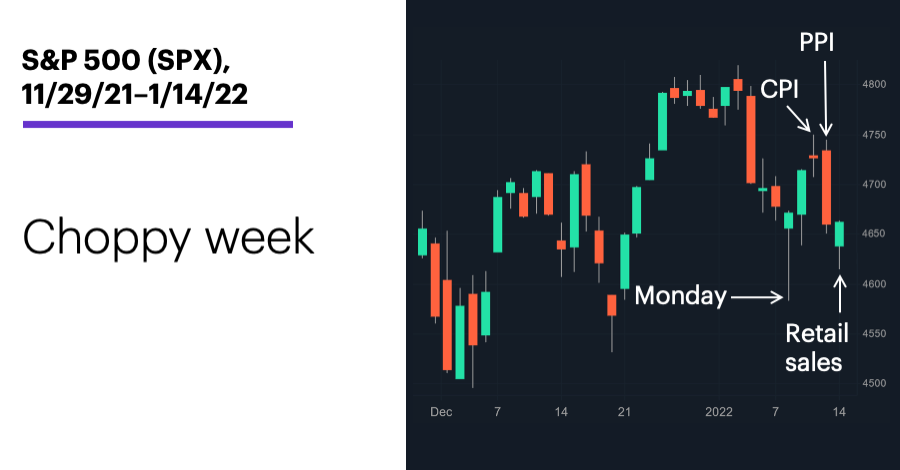 Source: Power E*TRADE. (For illustrative purposes. Not a recommendation.)
---
The headline: Stocks swing as traders digest latest inflation data.
The fine print: While the year-over year increases for both the Consumer Price Index (CPI) and Producer Price Index (PPI) were—again—at or near record levels, their gains were in line with estimates, and both inflation gauges rose less in December than they did in November.1 Translation: Hot, but perhaps not quite as hot as they appeared at first glance.
The number: -1.9%, the contraction in December retail sales reported on Friday—the biggest decline in 10 months.
The scorecard: The Nasdaq 100 (NDX) was the only major index that managed to squeeze a gain out of last week's twists and turns: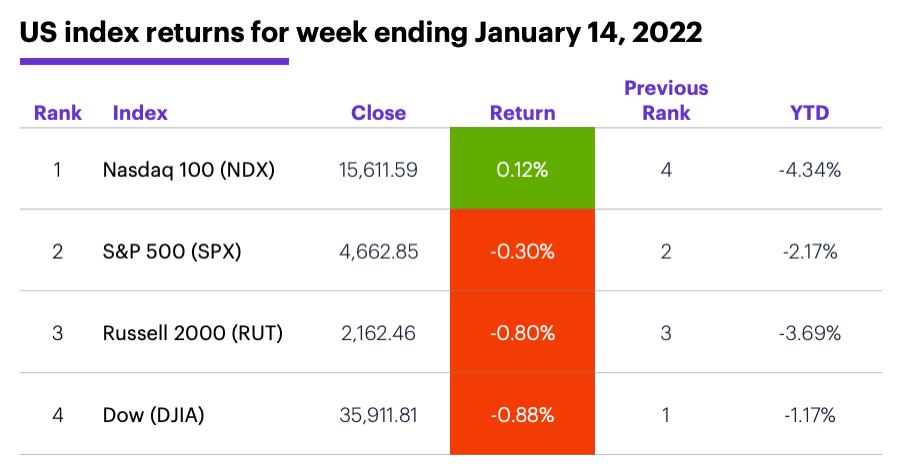 Source (data): Power E*TRADE. (For illustrative purposes. Not a recommendation.)
---
Sector roundup: The strongest S&P 500 sectors last week were energy (+5.3%), communication services (+0.5%), and information technology (-0.04%). The weakest sectors were real estate (-1.9%), consumer discretionary (-1.5%), and utilities (-1.3%).
Highlight reel: On Monday Biocryst Pharmaceuticals (BCRX) +28% to $14.78, iRhythm Technologies (IRTC) +28% to $130.04. On the downside, Torrid Holdings (CURV) -23% to $8.20 on Monday, Virgin Galactic (SPCE) -19% to $10.03 on Thursday.
Futures action: March WTI crude oil (CLH2) pushed above $80/barrel for the first time since November, closing the week at a new contract high of $83.82. February gold (GCG2) stalled after closing at an eight-day high of $1,825.70/ounce on Wednesday, closing Friday at $1,816.50.
Coming this week
Financial stocks still loom large during the first full week of earnings season, but a few marquee names from other sectors are also on the calendar:
●Today: Bank of New York Mellon (BK), PNC Financial (PNC), Bank of America (BAC), Goldman Sachs (GS), Silvergate (SI), J.B. Hunt Transport (JBHT)
●Wednesday: Procter & Gamble (PG), Fastenal (FAST), Morgan Stanley (MS), U.S. Bancorp (USB), UnitedHealth Group (UNH), Alcoa (AA), United Airlines (UAL)
●Thursday: American Airlines (AAL), Fifth Third Bancorp (FITB), Union Pacific (UNP), KeyCorp (KEY), CSX (CSX), Netflix (NFLX), Intuitive Surgical (ISRG)
●Friday: Schlumberger (SLB)
This week's numbers include
●Today: Empire State Manufacturing Index, NAHB Housing Market Index
●Wednesday: Housing Starts and Building Permits
●Thursday: Existing Home Sales
●Friday: Leading Indicators Index
Check the Active Trader Commentary each morning for an updated list of earnings announcements, IPOs, economic reports, and other market events.
Sector check
While it's way too early to decipher how stock sectors may realign this year, it's still interesting to see where things stand after two weeks of trading in 2022. Here's how the 11 S&P 500 sectors have performed so far this year, and where they ranked in 2021: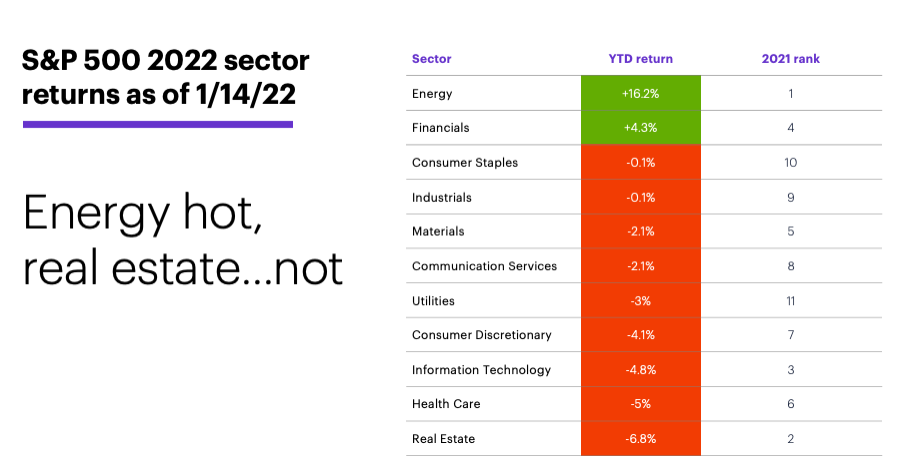 Source: Power E*TRADE. (For illustrative purposes. Not a recommendation.)
---
Highlights:
●No. 1 still No. 1: Energy picked up in 2022 where it left off last year, riding the crude oil rally to nearly quadruple the return of the next-closest sector, financials.
●Other leaders pulled back: The two other top-performing sectors from last year, real estate and tech, have moved toward the back of the line in early 2022.
Tech's pullback in the face of rising interest rates has been a major storyline for weeks, but real estate's pivot may be more interesting, since in the past real estate investment trusts (REITS) have, contrary to popular perception, tended to perform relatively well in rising-rate periods2—although some analysts have argued that may not be the case for high-yield REITS.3 But over the past two weeks REITS have been the biggest drag on the S&P real estate space, falling much more than the sector's other industry component, Real Estate Management & Development (-6.9% vs. -4.5%).
Click here to log on to your account or learn more about E*TRADE's trading platforms, or follow the Company on Twitter, @ETRADE, for useful trading and investing insights.
---
1 U.S. Bureau of Labor Statistics. Consumer Price Index Summary. 1/12/22.
2 S&P Dow Jones Indices. The Impact of Rising Interest Rates on REITs. July 2017.
3 MarketWatch.com. Interest rates are rising. Here are five strategies to help you prepare for a new reality in the markets. 1/11/22.
What to read next...
01/14/22
Dating app's test of support shows why traders always have to be wary of rushing into relationships that may not work out.
---
01/13/22
Is GM news just another bump in the road for used-car marketplace, or major pothole?
---
01/12/22
Clean-energy stocks played a big part in Tuesday's rebound, including some with unusual options activity.
---