Fine-tuning options spreads
Strangles, straddles and related spreads can potentially profit on up or down moves
Strategies that are neutral on price are usually betting on direction of volatility
GPN consolidated recently after pullback from record high
The idea of making money regardless of whether the market goes higher or lower is one of the big attractions of price-neutral options spreads like straddles and strangles, but traders who don't understand how these positions work can find themselves in an uphill battle to profitability.
To find out why, let's take a look Global Payments (GPN), a payment tech stock that, as of yesterday, had been consolidating for a little over two weeks since hitting a roughly three-month low on May 11: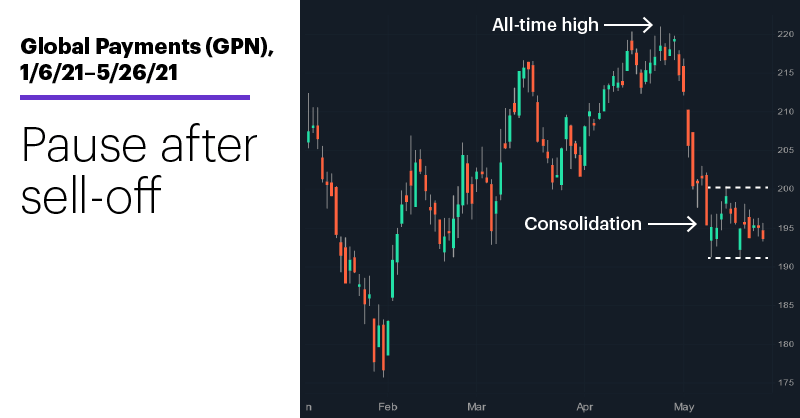 Source: Power E*TRADE
---
Let's say a trader expected a stock in this type of scenario to break out of its range but thought the odds of an up move were about the same as a down move. One options strategy that may come to mind in this type of situation is the long strangle, which pairs an out-of-the-money call option with an out-of-the-money put. If the stock rallies, the call has the potential to profit, but if the stock sells off, the put can profit: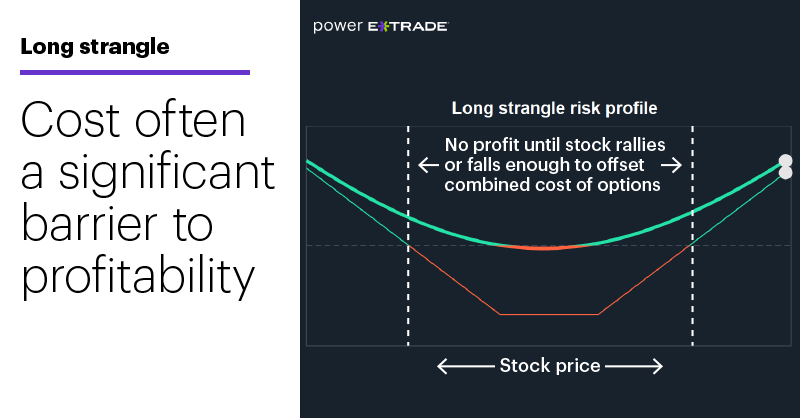 Source: Power E*TRADE
---
The catch: Regardless of which way the stock moves, it has to move enough to make up for the combined cost of the options—which can often be a significant hurdle to overcome, especially since both options are constantly losing value because of time decay. (As noted in "The right strategy at the right time," strategies that are neutral on price direction are usually not neutral on the direction of volatility. Straddles and strangles are "long volatility" trades, so they need volatility to "rally.")
Yesterday, for instance, with GPN trading at roughly $194, a long strangle consisting of a July $200 call and a July $190 put would have cost around $940, which means at expiration the stock would have to be at least $9.40 above the call strike price (higher than $209.40) or $9.40 below the put strike price (lower than $180.60) to break even, let alone make a profit.
That's one reason traders sometimes adjust this basic strategy by adding a short call option with a higher strike price and a short put option with a lower strike price—for instance, adding a short $210 July call and a short $180 put to the GPN strangle example.
The collected premium from the short options reduces the total cost of the trade, which means the stock doesn't have to rally or sell off as much as the strangle to become profitable. In this case, the adjusted four-legged spread cost around $595 (37% less than the strangle)—and that means the stock would have to rally only above $205.95 or fall below $184.05 to become profitable (not counting commissions on all four options, of course). But the trade-off is that potential profits are capped: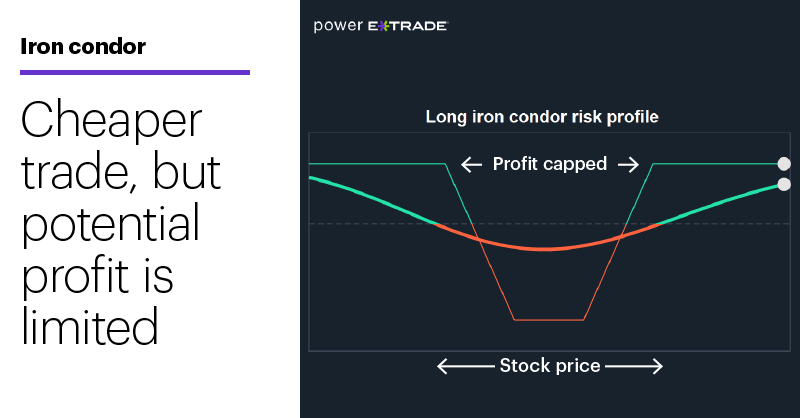 Source: Power E*TRADE
---
Some traders will recognize this risk-reward profile as the so-called "iron condor" spread. Its potential profit maxes out if the stock rallies to the short call's strike price or sells off to the short put's strike price, which means it may be more suited to traders who expect a stock to make a limited high-volatility move before the options expire, rather than a slower, longer-term rally or decline.
Finally, both the long strangle and long iron condor trades will lose money if the hoped-for volatility never materializes. Volatility moves, like price moves, are never guaranteed. But knowing a strategy's weaknesses and strengths can help traders select the best tool for a given situation.
Today's numbers include (all times ET): GDP, Q1 second estimate (8:30 a.m.), Durable Goods Orders (8:30 a.m.), weekly jobless claims (8:30 a.m.), Pending Home Sales Index (10 a.m.).
Today's earnings include: Anaplan (PLAN), Ulta Beauty (ULTA), Best Buy (BBY), Burlington Stores (BURL), Box (BOX), Dollar General (DG), Costco (COST), Dell (DELL), Dollar Tree (DLTR), Gap (GPS), Guess (GES), HP (HPQ), Salesforce.com (CRM), VMware (VMW).
Today's IPOs include: Figs (FIGS).
Click here to log on to your account or learn more about E*TRADE's trading platforms, or follow the Company on Twitter, @ETRADE, for useful trading and investing insights.
---