Butterflies and price inflections
Airbnb (ABNB) paused recently after reaching resistance level
Stock up more than 20% since mid-July after 39% retracement
Potential inflection point highlights non-directional spread trades
While COVID remains a question mark for the economy and the stock market as a whole, that uncertainty is nowhere felt more than in the travel industry, which has seen many of its stocks whipsawed as optimism over vaccination rates battles pessimism over the Delta variant surge.
Airbnb (ABNB), for example, was one of last year's hottest IPOs, and it's remained "hot" since it began trading in December. Over the past nine months, the stock has enjoyed a 59% rally (December 2020–February 2021), a 39% correction that dropped it close to its all-time low (February–May) and, over the past couple of months, a 26% rally that pushed it back to a notable price level:
Source: Power E*TRADE (For illustrative purposes. Not a recommendation.)
---
Shares rallied more than 2% yesterday, but that followed a 6.2% intraday sell-off on Monday, although the stock fought back to close down only 2.9%.
But some traders may have anticipated some resistance around this level since, as the chart shows, ABNB was back in the former support zone (containing the March and April lows) the stock broke below on its way to hitting its May low around $130. Many traders look for previous support to provide future resistance (and vice versa)—and in this case, the stock had already pulled back once (last month) after reaching the zone.
While there are no doubt plenty of traders who could make compelling bullish and bearish arguments about the stock's near-term path, one thing both camps may agree on is that prices are likely to move away from what is a possible inflection point. The direction of the broad market and the trajectory of COVID cases will have much to say about which camp turns out to be correct, but some traders looking to clearly define and limit their trade risk in this type of situation risk use "vertical" options spreads.
For example, a bullish trader may use a bull call spread, which typically combines a long at-the-money (ATM) call option with a short higher-strike call with the same expiration: The short call offsets some of the cost of the long call, but it also means the position's profit maxes out at the short call's strike price. Bearish traders would invert the position with puts: buy an ATM put option and sell a lower-strike put with the same expiration. In both cases, the risk is limited to the cost of putting on the trade.
Combining options can be a way to structure trades that can potentially profit regardless of which way price moves—or if it doesn't move much at all. In this case, combining an ATM bull call spread and an ATM bear put spread creates the well-known "long iron butterfly" spread: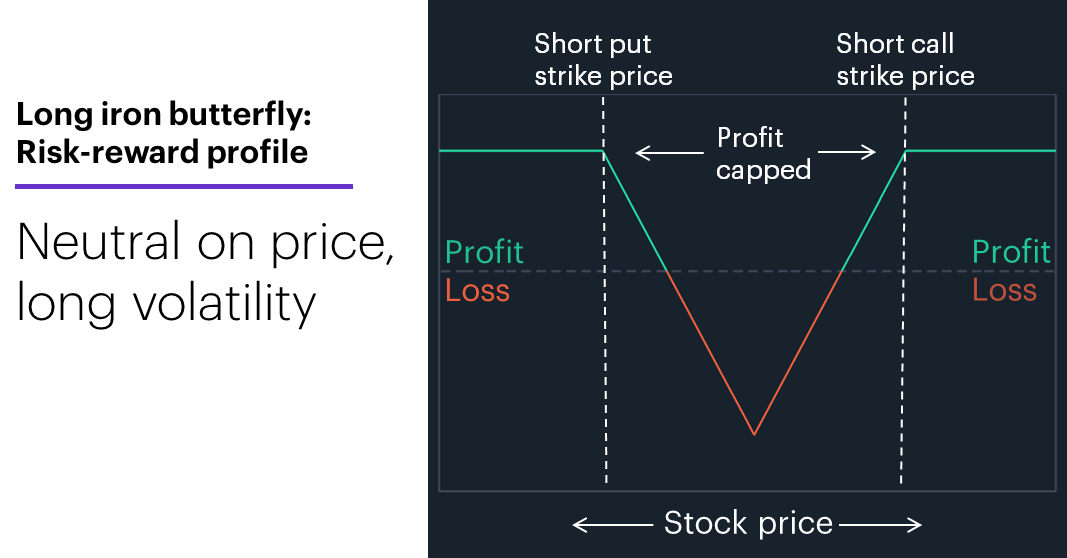 Source: Power E*TRADE (For illustrative purposes. Not a recommendation.)
---
The position is very similar to the "iron condor spread" (discussed most recently in "Trading breakouts with options"), and as the chart shows:
1. It can profit if the stock moves up or down.
2. It has limited risk (the initial cost of putting on the trade).
3. It has limited reward, no matter how high or low the stock trades.
The key corollary of point 1 is that although the iron butterfly (like the iron condor) is neutral about price direction, it's not neutral about volatility, which must increase for the position to profit. And the corollary of this reality is that the strategy is more likely to be effective if volatility—specifically, options implied volatility (IV)—is lower rather than higher when the trade is put on. In the case of ABNB, for example, the bottom of the first chart shows IV was a little lower than historical volatility (HV), and both were well below their highs from earlier in the year.
One other thing to keep in mind: The main difference between the iron butterfly and the iron condor is cost. The butterfly is more expensive than the condor because it's long two ATM options, while the condor is long two (cheaper) out-of-the-money options. Yesterday, for example, an October ABNB iron condor was around 30% cheaper than a comparable iron butterfly.
But that also means the condor has a longer path to profitability, since the underlying stock has to move more to make its above-the-market call or its below-the-market put profitable. There are no free lunches in the market, only decisions about what the best "meal" might be at a given time.
Today's numbers include (all times ET): Mortgage applications (7 a.m.), Empire State Manufacturing Index (8:30 a.m.), Import and Export Prices (8:30 a.m.), Industrial Production (9:15 a.m.), Atlanta Fed Business Inflation Expectations (10 a.m.), EIA Petroleum Status Report (10:30 a.m.).
Today's earnings include: JinkoSolar (JKS), Lennar Corp (LEN).
Click here to log on to your account or learn more about E*TRADE's trading platforms, or follow the Company on Twitter, @ETRADE, for useful trading and investing insights
---
What to read next...
09/14/21
Fintech stock shifts gears after massive post-IPO rally.
---
09/13/21
Market retreats, month's first inflation data disappoints.
---
09/10/21
Will this stock's recent pause attract volatility traders looking for renewed momentum?
---