IPOs on the go
BIGC retreats, bounces after five-day explosion
RKT in holding pattern after surge
Heavy volume in both stocks nearly one month after IPOs
It probably shouldn't surprise anyone that a record-setting stock rally in recent months has reignited the IPO market—and that some of these new stocks have returned the favor by putting together pretty explosive moves.
Case in point, BigCommerce (BIGC), a company that, on paper, anyway, sounds like it was tailor-made to launch during the pandemic: It provides a software-as-a-service e-commerce platform.
After an initial pop in its first two days of trading, BIGC pulled back for a couple of weeks before exploding 152% in five days and tagging $162.50 last Thursday (August 27):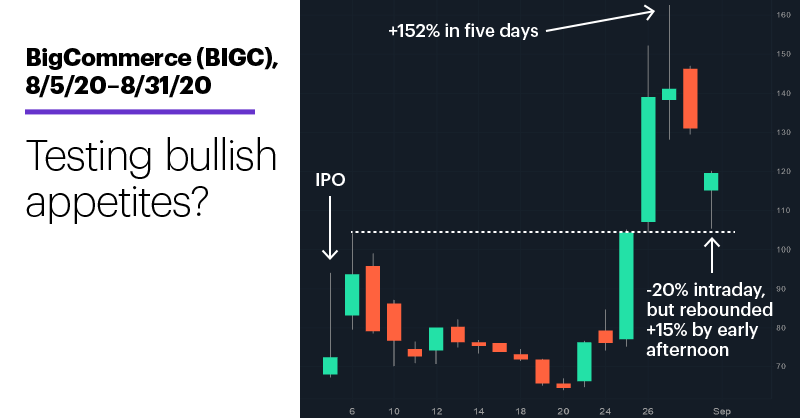 Source: Power E*TRADE
---
The last two days of that surge came as the company announced a partnership with Facebook (FB) to provide its checkout functionality on Instagram.1
Shares pulled back sharply Friday and yesterday, though. The stock was down as much as 20% in early trading yesterday, bringing its two-day loss to 35% amid cautious ("hold") notices from analysts who initiated coverage.2 The move bottomed intraday right around the potential support level of the August 6 high (also the breakout level for the final two days of last week's jump).
And that's the potentially interesting twist to what some people would consider a logical retracement to a huge up move: By roughly 1:15 p.m. ET the stock had rallied roughly 15% off its low to shave its intraday loss to less than -9%. If nothing else, at least some intrepid players yesterday decided a 35% correction was enough.
Was an intraday bounce all they were looking for? Certainly possible. But with yesterday's low now representing a viable risk/stop-loss point ($105.05), other traders may be willing to take stabs at a rebound until that level definitely breaks.
Another IPO from early last month, Rocket Companies (RKT), the parent company of mortgage lender Quicken Loans, also got out of the trading gates quickly. Like BIGC, it jumped in its first two days of trading, pulled back, and then rallied 60% in seven days: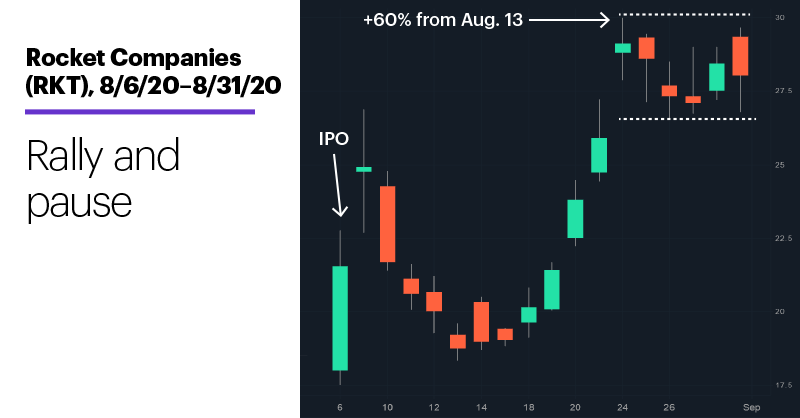 Source: Power E*TRADE
---
Also like BIGC, Rocket is a business that has gotten exceptional attention in recent months: Home sales and values have surged,3 interest rates are low, and mortgage lenders are busy. RKT also bounced intraday off yesterday's lows (although not as dramatically as BIGC), effectively testing the bottom of its recent trading range.
While there's no guarantee that the economic trends that turbocharged these stocks will continue, if their trading volumes and price momentum are any indication, these stocks could continue to be on "trader radar" as they work through their recent price setups.
Market Mover Update: Another relatively recent IPO, Chinese electric SUV maker Li Auto (LI), which began trading on July 30 and raised more than $1 billion through its initial offering, dropped more than 3% intraday (to around $17) yesterday and ran its correction from last Wednesday's high to around 30%. Meanwhile, Chinese electric car company Xpeng (XPEV), which began trading last Thursday, fell more than 9% yesterday, falling below it's IPO-day low of $21.20. LI had volume of more than 8 million shares and XPEV topped 15 million—both meaty figures, but a far cry from fellow Chinese electric vehicle maker NIO (NIO), which traded nearly 150 million shares.
Today's numbers (all times ET): PMI Manufacturing Final (9:45 a.m.), ISM Manufacturing Index (10 a.m.), Construction Spending (10 a.m.).
Today's earnings include: At Home Group (HOME), H&R Block (HRB), Shoe Carnival (SCVL).
Click here to log on to your account or learn more about E*TRADE's trading platforms, or follow the Company on Twitter, @ETRADE, for useful trading and investing insights.  
---
1 Nasdaq.com. Stock Alert: BigCommerce Hits New 52-week High On Instagram Integration. 8/26/20
2 SeekingAlpha. Hot-handed BigCommerce slides on sell-side caution. 8/31/20.
3 CNBC.com. Sales of newly built homes surge 36% in July. 8/26/20.
What to read next...
08/31/20
Market rumbles into key stretch on the calendar as Fed steps up—again.
---
08/28/20
Global auction player throttled up in recent months. Does recent pullback signal sentiment shift?
---
08/27/20
It was easy to see the immediate impact of the decision to replace three Dow stocks, but what's the potential trading angle?
---