E-commerce IPO faces first test
CPNG fell to an all-time low on Monday
Korean e-commerce stock debuted to much fanfare in March
Stock staged 39% rally off current price levels in May
On a day like yesterday, when the stock market is pushing to new record highs, it may seem a little off base to scan for symbols making notable lows. But stocks that are out of sync with the market sometimes present interesting lessons—and occasionally an interesting price chart, too.
Yesterday, for example, South Korean e-commerce stock Coupang (CPNG) hit a 52-week low:
Source: Power E*TRADE (For illustrative purposes. Not a recommendation.)
---
Technically, it wasn't really a 52-week low, since the so-called "Amazon of South Korea" began trading just a little more than five months ago. But it did draw attention to a different, potentially more notable price development.
About 10 weeks ago, "Capitulation watch" provided an example of a stock (ATHM) that hit a 52-week low after having been in decline for a few months. At the time, there weren't any apparent bullish catalysts on the near-term horizon—say, a potentially positive earnings release or an obvious support level on the price chart. In other words, there didn't appear to be any reason to think the new 52-week low was likely to be a potential contrarian buy signal in an "oversold" stock. Since then the stock has, in fact, slid more than 40%.
To some traders, though, the fact that CPNG hit a 52-week low may have been less interesting than where the stock was when it did it—around its previous all-time low of $30.65 from May 13: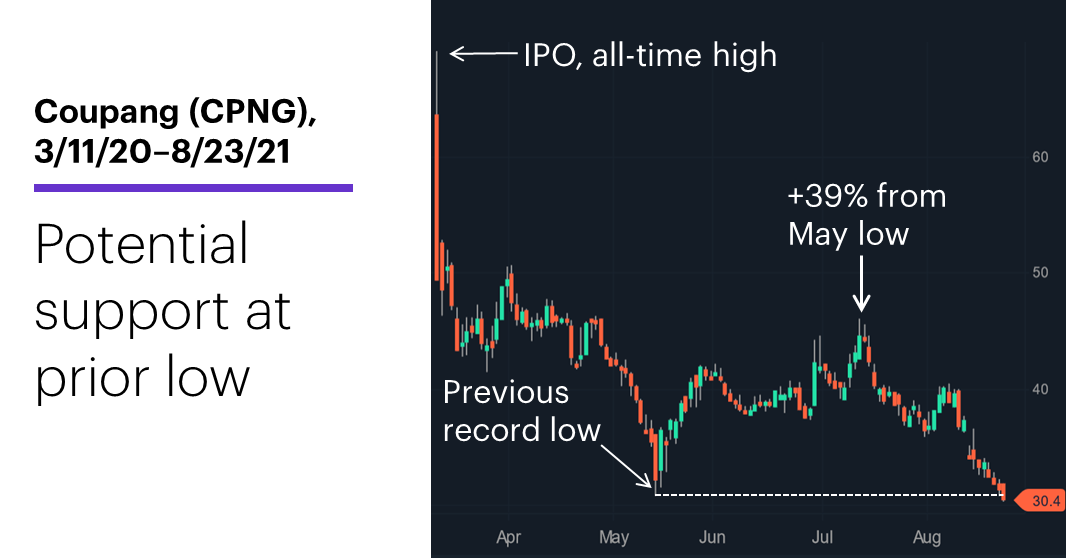 Source: Power E*TRADE (For illustrative purposes. Not a recommendation.)
---
Coupang was the biggest IPO of the year when it launched on March 11, pushing as high as $69 on its first day of trading—nearly double its $35 target price. But the stock also closed that day at the bottom of its range at $49.25, and it's closed higher than that only one day since. Also, it's taken some image lumps along the way, including fallout from a massive warehouse fire that was reportedly a major factor in the company coming up short on earnings earlier this month—operating losses quintupled, despite a 71% year-over-year increase in Q2 revenue.1
But as the stock's record low and also the launching pad for its last rally (the 39% push to the mid-July high around $45), the May low is an easily identifiable potential support level: Buyers obviously entered the stock at these prices before, which will lead some bulls to look for them to repeat the performance. Of course, there's no guarantee they will, and the other side of the coin is that bearish types will be looking for a sharp down move if that level is broken decisively, since some of the longs may have entered stop-loss orders not too far below.   
But the takeaway is that a 52-week low or high may be less of a story than the level at which it's occurring.
Market Mover Update: BioNTech (BNTX) and Pfizer (PFE) both shot to the upside yesterday as the Food and Drug Administration granted full approval (not just "emergency use authorization") for their COVID vaccine.2 Because that outcome—although not its timing—was widely expected, some traders may be watching to see if yesterday's bump turns out to be similar to the "good news" move Sonos (SONO) made about a week ago.
Today's numbers include (all times ET): New Home Sales (10 a.m.).
Today's earnings include: Advance Auto Parts (AAP), Best Buy (BBY), Intuit (INTU), Williams-Sonoma (WSM), Urban Outfitters (URBN), Nordstrom (JWN), Medtronic (MDT).
Click here to log on to your account or learn more about E*TRADE's trading platforms, or follow the Company on Twitter, @ETRADE, for useful trading and investing insights.
---
1 Reuters. Coupang loses investors on winding path to profit. 8/13/21.
2 CNN.com. FDA grants full approval to Pfizer/BioNTech Covid-19 vaccine, opening door to more vaccine mandates. 8/23/21.
What to read next...
08/23/21
Stocks will seek to build on late-week bounce after renewed taper talk and ongoing delta uncertainty tripped up market.
---
08/20/21
Buy low, sell high isn't just about prices—traders sometimes use it for volatility, too.
---
08/19/21
Can high-flying mining stock sidestep recent heaviness in its underlying metal?
---