IPO seeks relaunch
After an initial surge, RVLV retreated after its June IPO
Stock has been rangebound for more than two months
Call options in heavy demand yesterday, earnings on horizon
Favor, like fame, can be a fleeting thing on the Street.
Back in June and early July when stocks were still marching toward their all-time highs, 2019 was the "Year of the IPO," and there was no shortage of enthusiasm about the seemingly endless stream of new issues, many of which quickly traded far above their initial valuations.
And then, as they often do, things cooled down. Another broad-market downswing in August, trade-war-fueled recession jitters, and a slowdown in the number of high-profile companies going public all conspired to take the bloom off the IPO rose.
E-commerce fashion retailer Revolve (RVLV), which launched in June, offers a typical profile for many of this year's new stocks—an initial surge, a pullback (tracking the broad market's downturn), and not a whole lot after that: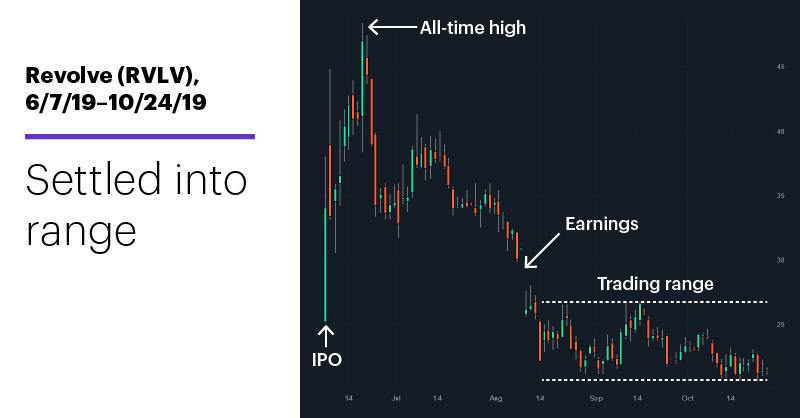 Source: Power E*TRADE
---
Revolve, which traded as high as $48.36 in mid-June, tumbled around 28% to $22.10 in the four days after its first-ever earnings report on August 8, but despite missing its numbers, most analysts remained bullish on the stock.1 Yesterday, the stock was trading around $21, toward the lower end of the stock's 10-week trading range (roughly $20.50–$26.50). And for what it's worth, the average 12-month analyst target was still $46.2
That probably feels worlds away for investors who bought in the first couple of weeks after the IPO, but traders who have been watching things unfold from the sidelines may have a different perspective. Although RVLV has been unable to push out of the upside of its range (although, to be fair, it rallied 23% during the September 3–16 "bounce"), it hasn't broken down below it, either—and it's had a couple of months to do it.
That doesn't mean the stock can't embark on another significant down move, but some traders yesterday may have noticed something else—unusual options activity in RVLV, which had the highest call/put ratio of any individual stock in early trading: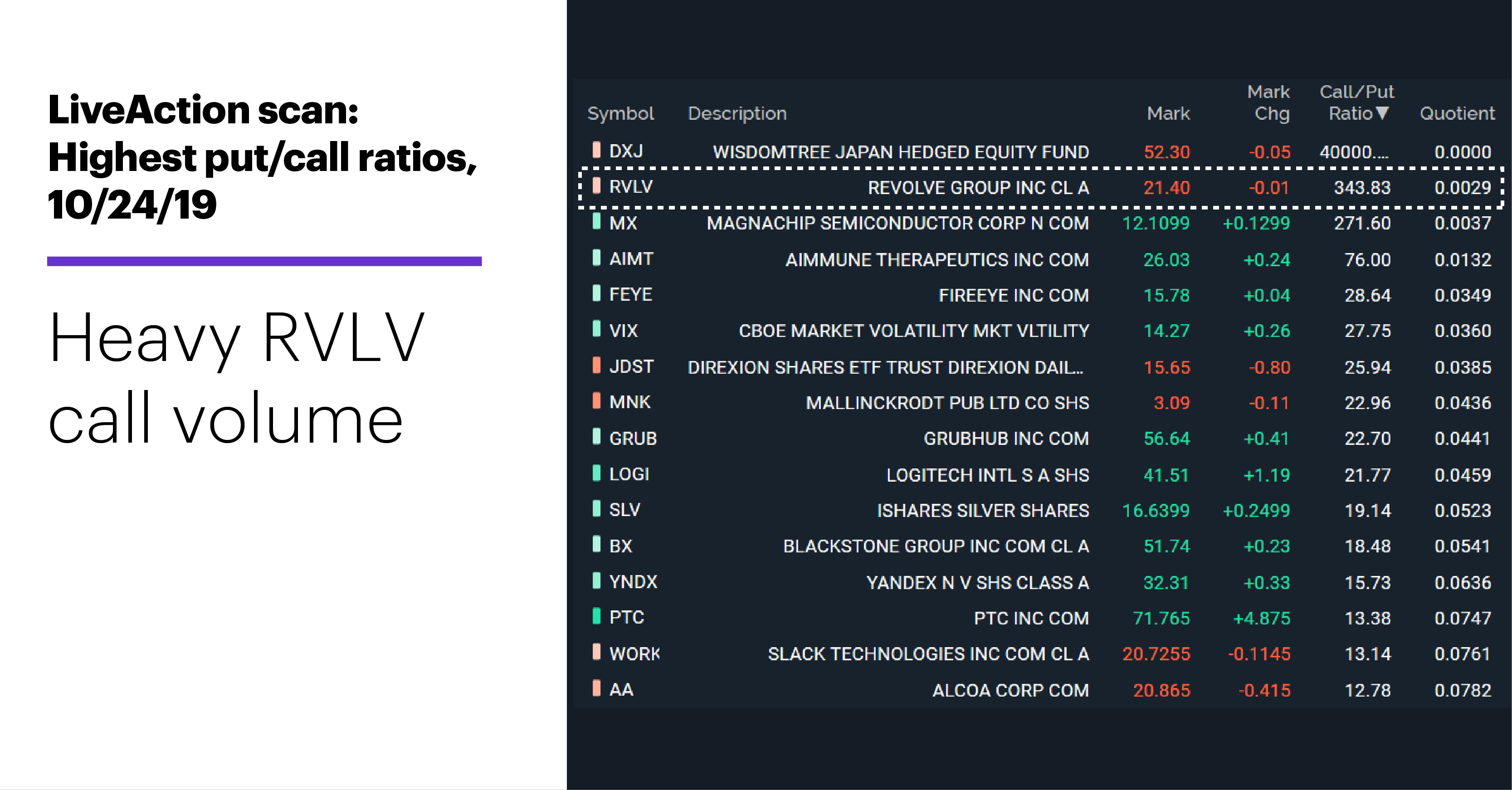 Source: Power E*TRADE
---
A look at RVLV's options chain (below) showed a couple of big trades—1,000 contracts, representing 100,000 shares of stock—in the November $20 and $30 calls, both of which also had the highest open interest (the greatest number of unclosed positions) of all November options.
As always, it's impossible to determine with certainty what a particular options trade may signal, but in this case one possibility is that a large trader (or traders) bought calls to take a bullish position on RVLV. In addition to the possibility that some traders may think RVLV's ability to hold its range lows as an indication that additional downside may be limited, Revolve is also scheduled to release its Q3 earnings on November 14, an event that certainly has a chance of providing the volatility injection necessary to push the stock out of its range, one way or the other.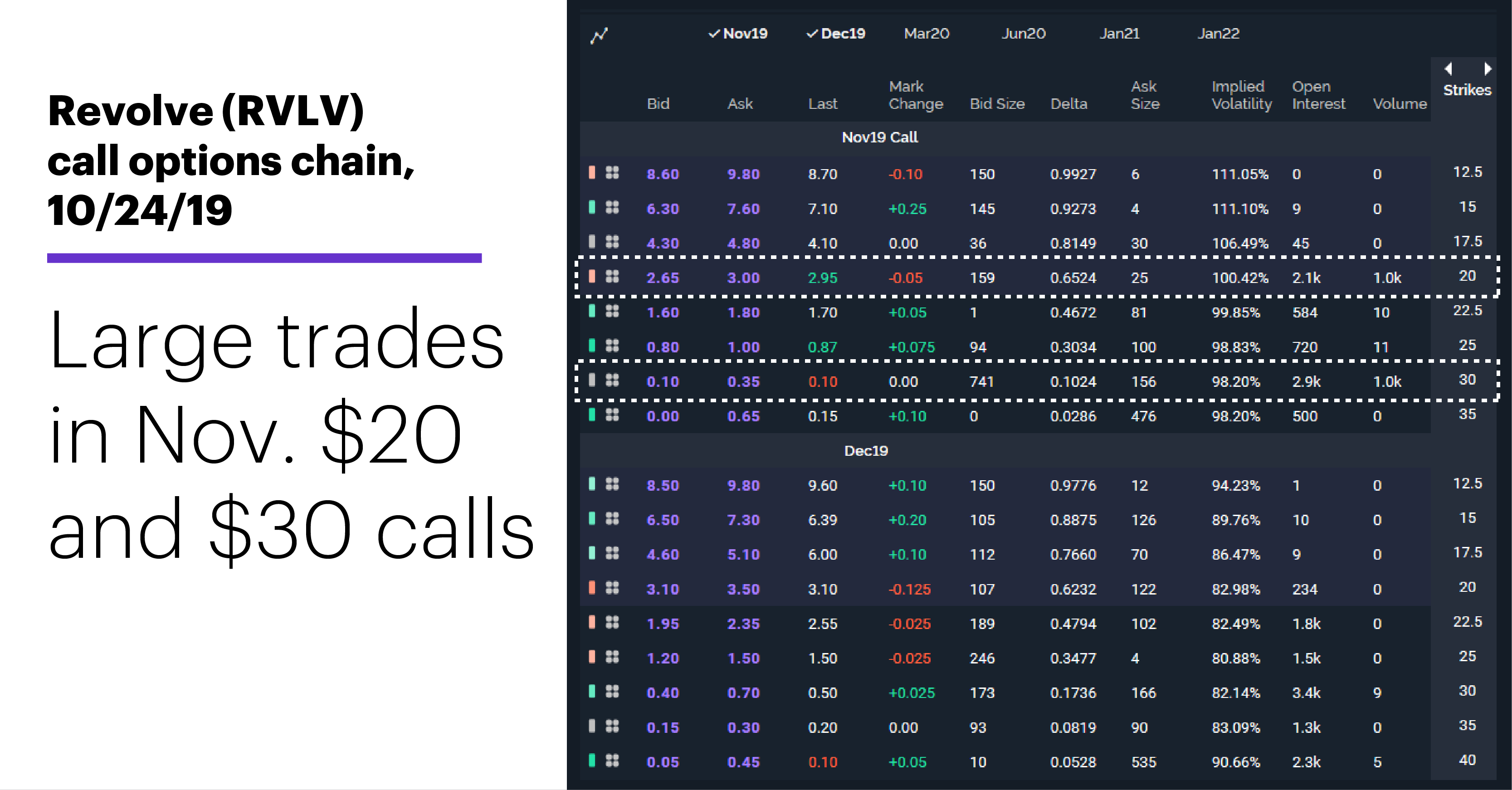 Source: Power E*TRADE
---
Some bulls prefer to take a stab at the long side after an extended decline when prices are close to extreme lows that provide a clear risk–definition point—i.e., if the lows don't hold, the bullish proposition has been negated.
That said, such traders would also be prepared to weather a "bear trap"—a short–lived, or minor downside penetration of a trading range that triggers selling, only to quickly reverse to the upside, trapping the bears and fueling a rally.
Market Mover Update: After topping earnings estimates yesterday, Microsoft (MSFT) rallied more than 2% and received at least 10 analyst upgrades3 (see "Investing theme, trading opportunities"). Barrick Gold (GOLD), Royal Gold (RGLD), and Newmont Goldcorp (NEM) all shot to the upside yesterday, far outpacing the rally in gold futures (see "Ready to shine?").
Today's numbers (all times ET): Consumer Sentiment (10 a.m.), Baker-Hughes oil rig count (1 p.m.).
Today's earnings include: Phillips 66 (PSX), Aon (AON), Weyerhaeuser (WY), Verizon Communications (VZ), Illinois Tool Works (ITW).
Click here to log on to your account or learn more about E*TRADE's trading platforms, or follow the Company on Twitter, @ETRADE, for useful trading and investing insights. Online stock, ETF, and options trades1 are now commission-free.
---
1 MarketWatch.com. Revolve shares tumble 16% after surprise loss but analysts still bullish. 8/9/19.
2 TipRanks. Analyst Ratings & Price Targets on Revolve Group Inc. 10/24/19.
What to read next...
10/24/19
The summer gold rush lost some momentum as the weather turned cooler, but the market may be poised to turn up the heat again.
---
10/23/19
A big day for biotech presents the possibility of follow-through in a potentially oversold sector.
---
10/22/19
Now that the numbers are in, streaming stock seeks to confirm trend.
---