IPO "mini-boom" makes noise
Several high-profile stocks launched in the past few weeks
NKLA, VRM both doubles in their debuts
Nasdaq 100 (NDX) joins "10,000 Club"
Apparently restaurants, bars, and hair salons aren't the only businesses that are reopening.
Whether through IPOs or back-door mergers, several high-profile companies have recently opened their trading doors for business, and judging by the price action in some of them, there was some pent-up demand for fresh blood in the market.
Recent high-flyers include DraftKings (DKNG), which is still up more than 100% since April 24 even though it's been pulling back for a week (see "The name of the game"), and Warner Music Group (WMG), which yesterday was up nearly 20% from where it opened on its June 3 IPO day.
Add to that list electric truck maker Nikola (NKLA), which more than doubled its IPO price on Monday, and tacked on another 9% yesterday: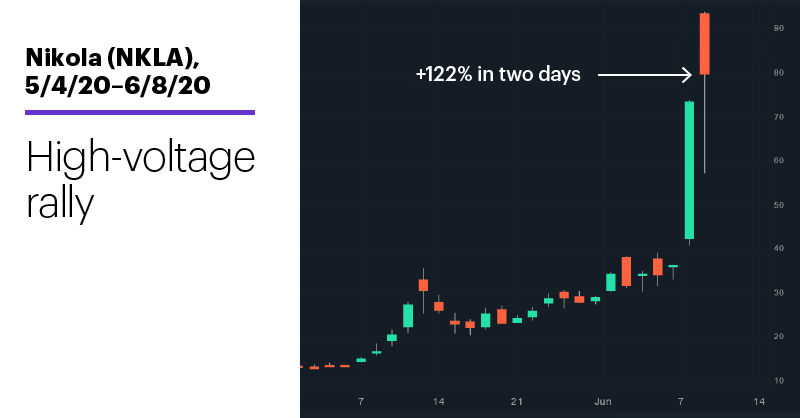 Source: Power E*TRADE
---
Like DKNG, Nikola (as in Nikola Tesla) used the reverse-merger route to launch itself as a publicly traded company. Although its sometimes described as a competitor to Elon Musk's electric car company, NKLA is focused on the truck market (pickups and 18-wheelers), and its vehicles are designed to run on hydrogen fuel cells. The company says its will begin taking orders on June 29.1
Options traders were in on the action yesterday. The following LiveAction scan shows NKLA calls had the highest volume of any stock trading above $10/share: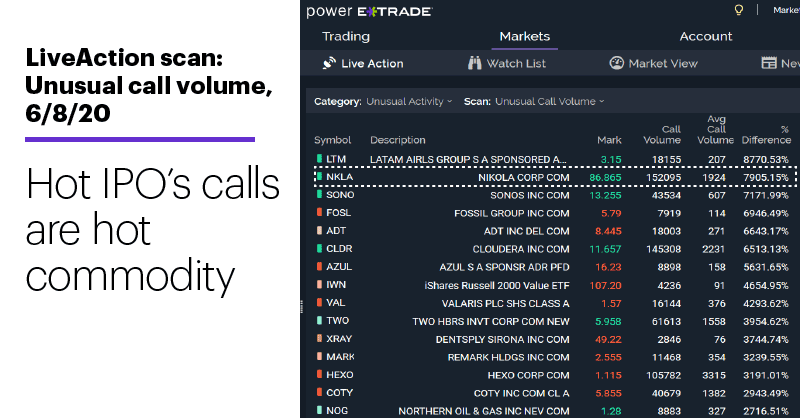 Source: Power E*TRADE
---
Yesterday featured the debut of a different kind of car company, Vroom (VRM), an online used-car marketplace that actually moved up its IPO a couple of days amid apparent demand. The company also increased the size of the IPO from 18.75 million to 21.25 million shares, and bumped up the IPO price from $15-$17 to $22.2
The following two-minute chart shows the stock was trading more than twice as high as that target in the early afternoon (around $45), and well above its opening price of $39.88: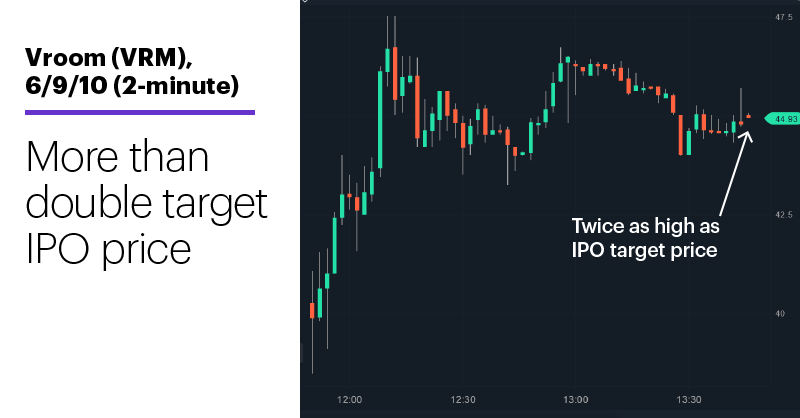 Source: Power E*TRADE
---
IPOs often deliver price-action fireworks—which is great for traders, but shouldn't be approached casually. As encouraging as a healthy appetite for new stock listings may be—it's definitely preferable to the market saying "I'm not hungry"—long-time traders know that anything referred to as "hot" can cool off suddenly (notice how much NKLA pulled back from yesterday's high, for example). When that happens, people who jumped on the bandwagon too aggressively can get shaken out of the market.
But that's where opportunities can arise for traders who understand that if a stock's potential has more to it than excitement surrounding its IPO, it will offer more than one opportunity to participate.
Market Mover Update: Somebody forgot to tell the Nasdaq 100 (NDX) that the stock rally hit "pause" yesterday. Sure, the S&P and Dow closed lower, but the tech index rang up its fifth-consecutive record high and third-straight record close—and topped 10,000 for the first time before settling a little below that threshold. (Yes, the Nasdaq Composite traded above 10,000, too, but it was just riding the NDX's coattails.)
Today's numbers (all times ET): Consumer Price Index, CPI (8:30 a.m.), Atlanta Fed Business Inflation Expectations (10 a.m.), EIA Petroleum Status Report (10:30 a.m.), FOMC announcement (2 p.m.).
Today's earnings include: Guess (GES), Oxford Industries (OXM).
Click here to log on to your account or learn more about E*TRADE's trading platforms, or follow the Company on Twitter, @ETRADE, for useful trading and investing insights.  
---
1 BusinessInsider. Tesla competitor Nikola Motors skyrockets 104% after setting reservation date for its electric truck (NKLA, TSLA). 6/8/20.
2 Barron's. Vroom Is Set to Rev Up the IPO Market. 6/9/20.
What to read next...
06/09/20
Semiconductor component stock slips from highs. A larger market forces aligning as stock nears potential test level?
---
06/08/20
The Nasdaq 100 starts a new week at record highs after the latest jobs report blows away estimates.
---
06/05/20
Is the airline rally the real deal, or just a layover to a less-bullish destination?
---