Investing theme, trading opportunities
Consecutive record inflows for ESG funds in Q1 and Q2
MSFT one of biggest ESG fund holdings
MSFT consolidating after September 19 record high
Forget automation and artificial intelligence, forget faux meat, forget the latest biotech breakthrough. If you're looking for one of the hottest investment trends of the year, think ESG—that's Environmental, Social and Governance, aka "socially responsible," or "sustainable" investing.
If that sounds like a fad to you (and you wonder why a trader should even care), keep in mind that ESG casts a wider net than you may think. It's not just about "environmentally friendly" businesses like renewable energy, it also comprises companies seen to foster positive employee, customer, and community relationships (Social), and those that embrace "enlightened" executive compensation plans and shareholder rights (Governance). A lot of stocks can fall into those latter two categories.
So, no—it's not about the micro-cap stocks of kombucha brewers and sustainable ostrich farms. How about Alphabet (GOOGL), Johnson & Johnson (JNJ), and Visa (V)? And Exxon Mobil (XOM)? Yep, all ESG fund holdings.2
Stock funds operating in the same niche generally can't afford not to hold the best-performing components in their competitors' portfolios.
Also, while it's still a relatively niche market, recent ESG fund growth has been explosive. Net flows into ESG portfolios reached $4.7 billion in Q2, which topped the record $4.1 billion inflow in Q1—and that was twice as much as the Q4 2018 level.1
And guess what those funds have to do? That's right, buy stocks. And with early positive performance numbers (most of these funds are less than five years old) and room for expansion, those purchases have the potential to continue to grow.
Overall, big tech figures prominently in the ESG world, including one of the biggest and techiest companies of them all—Microsoft (MSFT), which has continued to probe record levels despite trading in what is essentially an extended consolidation pattern since its modest August pullback: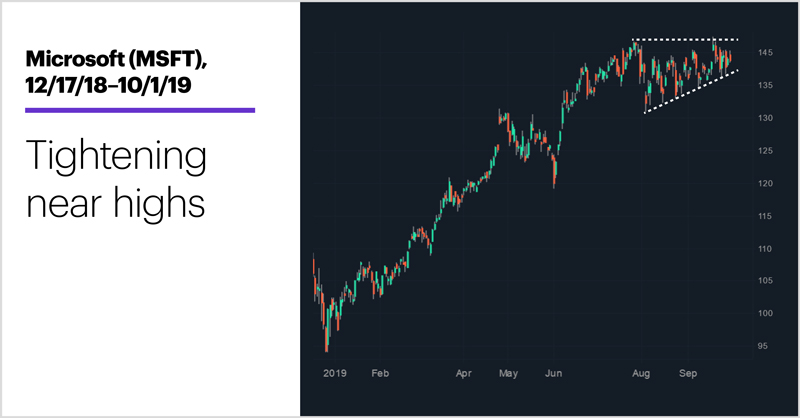 Source: Power E*TRADE
---
According to one recent study, almost all of the top five US-based ESG ETFs are overweight on MSFT shares,3 which may not be surprising, given Microsoft—often unfairly labeled as an "old guard" tech company—has left most of its competitors in the dust this year, up 35% and barely budging during the recent rotation away from tech.
The following chart zeroes in on MSFT's recent records from, July 26 and September 19, as well as a very consistent up trendline (the bottom boundary of the consolidation), which has marked the low of a half-dozen short-term downswings since mid-August: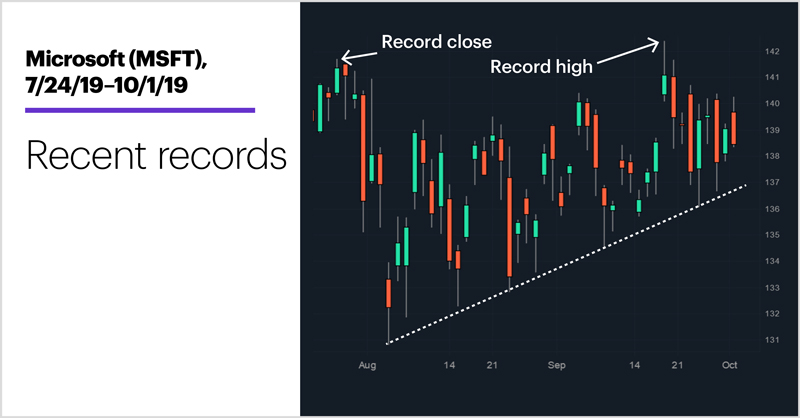 Source: Power E*TRADE
---
More cautious bulls may wait for another dip close to that trendline—after all, a sharp move below it could signal potential near-term weakness—at the risk of missing out if the stock doesn't test it in the near future. But every day the stock remains above the up trendline and below its recent records brings a breakout, one way or the other, one day closer.
There's a great deal of nuance to the fund game, but as a general rule, funds in the same space can't afford not to hold the best-performing component stocks of their competitors. If flows into ESG funds continue, such realities could help keep a bid under stocks like MSFT, and continue to make pullbacks attractive to long-side players.
Market Mover Update: After Monday's breakdown below support, December gold futures (GCZ9) fell to $1,465/ounce yesterday—their lowest level since August 5—before rebounding to around $1,485 as the stock market weakened.
Today's numbers (all times ET): ADP Employment Report (8:15 a.m.), EIA Petroleum Status Report (10:30 a.m.).
Today's earnings include: Acuity Brands (AYI), Bed Bath & Beyond (BBBY), Lennar (LEN), Lamb Weston Holdings (LW), RPM International (RPM), Paychex (PAYX).
Click here to log on to your account or learn more about E*TRADE's trading platforms, or follow the Company on Twitter, @ETRADE, for useful trading and investing insights.
---
1 InvestmentNews. ESG funds hitting their stride with record-level inflows. 7/12/19.
2 CNBC.com. Sustainable investing is taking Wall Street by storm—but there's plenty of room for growth in ETFs. 9/22/19.
3 Barrons.com. Money Is Pouring Into ESG Funds. It's Good News for Microsoft Stock. 10/1/19.
What to read next...
10/01/19
Apple moves close to a breakout level amid good press.
---
09/30/19
Politics, trade uncertainty highlight a choppy week of market action.
---
09/27/19
Does digital storage stock still have some bullish momentum in its memory bank?
---