Intraday momentum swing
AMBA spiked 21% higher Wednesday morning
Stock has rallied more than 120% in past four months
Extreme moves can sometimes highlight potential inflection points
Specialty chip tech provider Ambarella (AMBA) may not have been on the LiveAction scan for biggest percentage gains very long yesterday, but it initially made quite a splash.
Around 11 a.m. ET Wednesday morning, when the Nasdaq 100 (NDX) and PHLX Semiconductor Index (SOX) were both down around 1% on the day, AMBA was up more than 5%.
That rally followed the company's Tuesday after-market earnings announcement, which beat headline numbers handily and also included some estimate-topping forward guidance.1 Although a 5% gain on a down day for most of the market is nothing to sneeze at, the other side of the coin is that AMBA had earlier been up as much as 21%:
Source: Power E*TRADE
---
So, another way of looking at it is that when AMBA was up around 5%, it was roughly 12% below its intraday high of $137.21, a possible signal that at that juncture, at least, bulls may have been experiencing a little altitude sickness.
Given that high was also a new all-time intraday record for the stock (topping the old peak from July 2015), and a little above the average Street analyst target of $131.50,2 it wouldn't be surprising if some traders took profits on such a big up move.
Whether or not that was the case, AMBA, which specializes in HD video-processing tech for semiconductors, has outperformed both the NDX and the SOX by leaps and bounds since the end of October—although, yesterday's intraday spike notwithstanding, the stock has actually been pulling back since mid-February: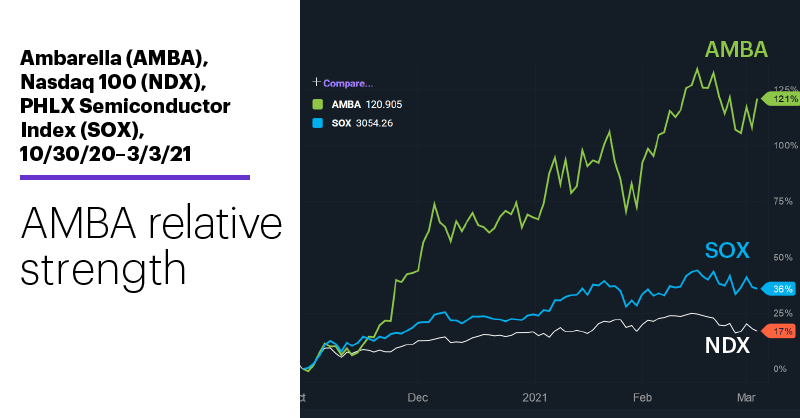 Source: Power E*TRADE
---
Since December 2012, AMBA has, on average, traded flat to slightly lower in the week after an earnings release.3 The stock's long-term potential aside, traders who have been watching the stock run far ahead of its sector in recent months may be waiting to see if yesterday's spike and pullback represents at least a short-term inflection point.
Although huge price moves are sometimes just "noise," that doesn't mean traders should tune them out. Dramatic intraday reversals can sometimes highlight potential momentum shifts that may extend beyond a single day.  
Today's numbers: Challenger Job-Cut Report (7:30 a.m.), Jobless Claims (8:30 a.m.), Productivity and Costs (8:30 a.m.), Factory Orders (10 a.m.).
Today's earnings include: Burlington Stores (BURL), BJ's Wholesale Club (BJ), Broadcom (AVGO), Kroger (KR), Guidewire Software (GWRE), Purple Innovation (PRPL).
Today's IPOs include: InnovAge Holding (INNV).
Click here to log on to your account or learn more about E*TRADE's trading platforms, or follow the Company on Twitter, @ETRADE, for useful trading and investing insights.  
---
1 Zacks Equity Research. Ambarella (AMBA) Surpasses Q4 Earnings and Revenue Estimates. 3/2/21.
2 TipRanks. Ambarella Stock Forecast & Price Targets. 3/3/21.
3 StreetInsider.com. Ambarella (AMBA) Earnings. 3/3/21
What to read next...
03/03/21
Telemedicine bulls may see options spread opportunities after recent pullbacks.
---
03/02/21
Sector strength, options activity may raise financial stock's profile among traders.
---
03/01/21
February ends in the plus column, but continued tech dump drags down market in final week of month.
---