Intraday chip reversal
Chip stocks led the intraday tech reversal on Wednesday
SOX erased 2%-plus loss to close higher on the day
Similar SOX reversal days have a fairly consistent pattern
Wednesday ushered in another sharp intraday sell-off for the US stock market, but this time tech didn't lead the slide: Although at its low the Nasdaq 100 (NDX) was down slightly more than the S&P 500 (SPX), the tech benchmark led the rest of the market back to the upside.
And chip stocks played a big role in that reversal. Delving into what the sector did yesterday illustrates the way some traders incorporate price analysis into their trading outlook.
After initially falling as much as 2.3%, the PHLX Semiconductor Index (SOX) charged into positive territory before the morning was over, and ultimately closed up on the day:
Source: Power E*TRADE
---
Chips have been at the center of many market discussions lately, thanks to their record-setting 2020-2021 rally, the ongoing supply squeeze and, most recently, their pullback from all-time highs in early April.
While intraday reversals like Wednesday's—a sharp intraday sell-off that morphs into a sizable gain—often prompt traders to speculate on whether sellers have been at least temporarily flushed out of the market, it can be helpful to consult the data to see how those first impressions mesh with reality.
The chart above highlights four other days (March 11, March 17, March 25, and May 11) that were similar to Wednesday, sharing the following key characteristics:
1. an intraday loss of 2% or more
2. a higher close (above the previous day's close)
The price action after the handful of examples shown here was mixed—the SOX was higher five days after the first and third examples, but lower after the second and fourth.
Luckily, though, the SOX has had 161 total days like this since 1994, and the following chart shows how the chip index has performed five days after them: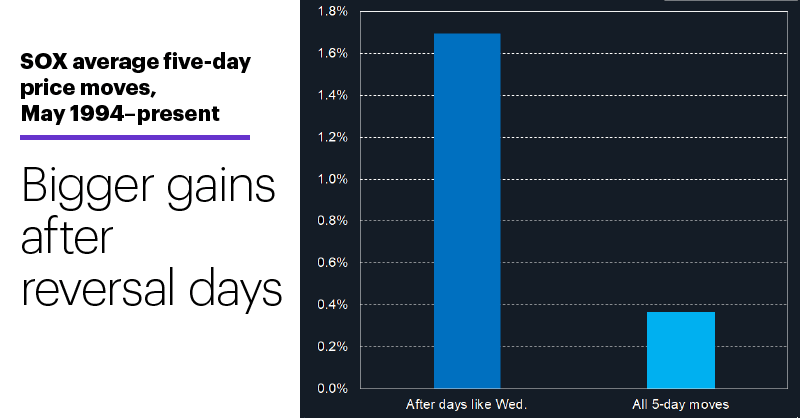 Source (data): Power E*TRADE
---
On average, the SOX posted a net gain of 1.7% in the first five days after days like Wednesday—a little more than four times the size of its average five-day return of 0.37%. Also, the SOX was higher five days after days like Wednesday 63% of the time—eight percentage points better than its overall five-day average.
Also, if we look at the subset of the days that were even more closely related to Wednesday's price action—the 91 times the SOX was down at least 2% but reversed to close up more than 1%—the numbers were slightly better: After five days the SOX was higher 65% of the time and had an average gain of 2.4%.1
Of course, those numbers simply suggest that, all other factors aside, the SOX was more likely to rally than fall in the first week after days like yesterday (don't forget that it declined after 59 of the original 161 examples).
There are always other factors to consider, and every market situation is unique. But it's also true that knowing what usually happens is one way to gain a better understanding of whether something unusual is happening this time around.
Market Mover Update: June bitcoin futures (BTCM1) plunged 30% intraday yesterday before recovering to close down less than 10%, while June gold (GCM1) pushed to $1,891.30—it's highest level since January 8—before falling below $1,875. July WTI crude oil (CLN1) plunged more than 5% to a three-week low of $61.95/barrel before paring its losses.
Today's numbers include (all times ET): Leading Indicators (10 a.m.).
Today's earnings include: Applied Materials (AMAT), Palo Alto Networks (PANW), BJ's Wholesale Club (BJ), Kohl's (KSS), Ralph Lauren (RL), Canadian Solar (CSIQ), Ross Stores (ROST).
Today's IPOs include: Procore Technologies (PCOR), Oatly Group (OTLY).
Click here to log on to your account or learn more about E*TRADE's trading platforms, or follow the Company on Twitter, @ETRADE, for useful trading and investing insights.
---
1 All figures based on PHLX Semiconductor (SOX) daily prices, 5/11/94–5/20/2121. Supporting document available upon request.
What to read next...
05/19/21
When does a big rally not result in out-of-the-reach call options prices?
---
05/18/21
Will renewed attention on cybersecurity provide a tailwind for this corner of tech?
---
05/17/21
No, it's not a "wreck," but growth stocks bear the brunt of selling as inflation story grabs hold of market.
---