Options trades highlight tech strength
PI rallied Monday after unusual options volume on Friday
Large call trades in strikes a little above current stock price
"Internet of Things" stock is up for the year, more than doubled since May
It may feel like the distant past, but it's been less than a year since the tech sector was still enjoying a multi-year run of relative strength, with seemingly no end to its leadership in sight. In those heady days, there was still plenty of talk about the Internet of Things (IoT), and the companies that were going to provide the tech that would keep us connected to everything from our cars to our refrigerators.
Without a doubt, the tables have turned on tech this year—as of Monday, the Nasdaq 100 (NDX) tech index was down roughly eight percentage points more than the S&P 500 (SPX), and IoT is much less of a water-cooler topic than it was a year or two ago. Of course, indexes are made up of individual stocks, and one tech stock stock—Impinj (PI), a maker of radio-frequency identification (RFID) devices and software central to the IoT—is not only slightly positive for year, it's up more than 120% from its May lows, after having gained as much as 137% by early August: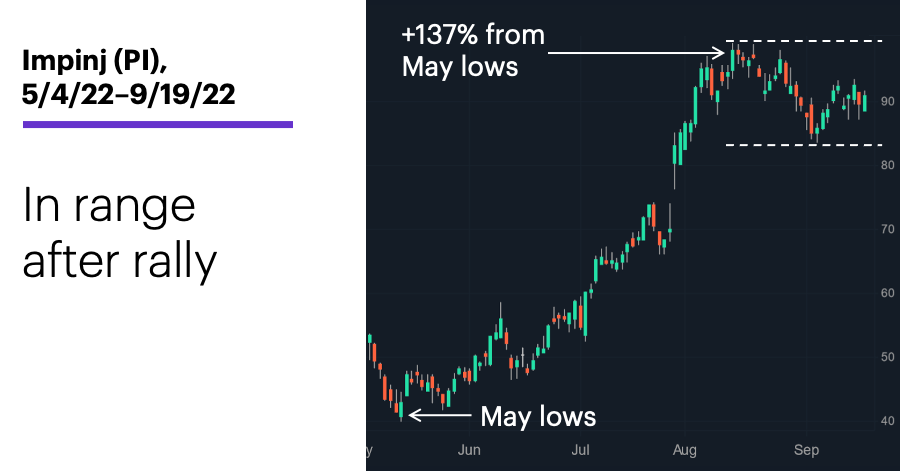 Source: Power E*TRADE. (For illustrative purposes. Not a recommendation.)
---
The stock has given back some ground since hitting those August highs, and more recently it's consolidated toward the middle of its two-month trading range.
Besides being a somewhat rare (and possibly overlooked) example of bullishness in the 2022 tech landscape, some traders may have noticed PI landed on the scan for high call-put ratios late last week: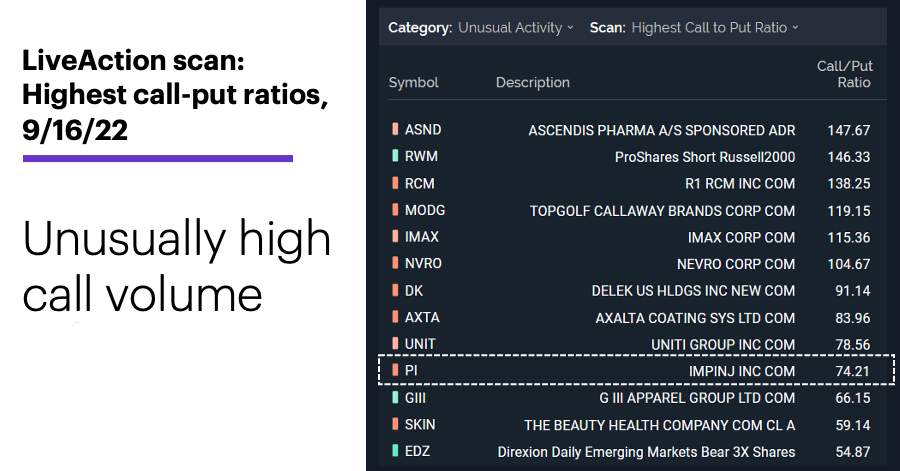 Source: Power E*TRADE. (For illustrative purposes. Not a recommendation.)
---
Although PI shares closed down more than 3% on Friday at $89.40, traders (or a large trader) opened new, large positions in the October $95 and $100 call options—the higher strike being just a little above the stock's August (and all-time) high of $99: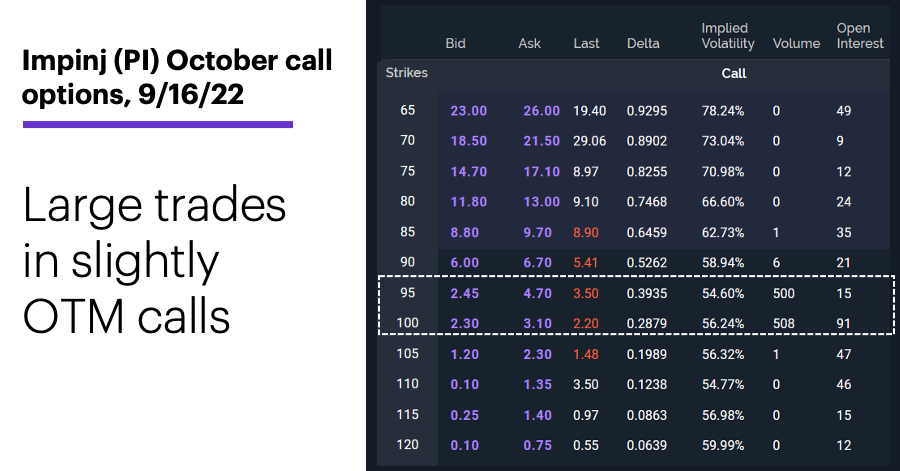 Source: Power E*TRADE. (For illustrative purposes. Not a recommendation.)
---
Traders inclined to think similar-sized positions such as these as potentially part of a single trade—something that's impossible to know—may be thinking in terms of a bull (vertical) call spread. In this case, that would mean a trader bought the $95 calls while selling an equal number of $100 calls. The long calls provide long-side exposure, while collecting premium for the short calls reduces the cost of that exposure—but also caps profits on any move above the upper strike price.
But for traders anticipating a limited price move on a short-term time horizon (in this case, say, a rebound to the August highs), that may be an acceptable compromise. For example, the October $95 call closed at $3.50 on Friday, while the $100 call closed at $2.20. That means a trader who bought the $95-$100 call spread for $1.30 ($3.50–$2.20) would be getting a 59% discount for the same long exposure—on any stock move up to $100—as a trader who simply bought the calls outright for $3.50.
Regardless of whether Friday's trades in the October calls were unrelated or part of a spread, the stock moved in favor of bulls on Monday, climbing more than 2% intraday on a flat day for the broad market and the tech sector.
Note: Impinj is currently scheduled to release earnings in early November.
Market Mover Update: November WTI crude oil futures started the week with a bang, falling to a six-day low of $81.73/barrel before rebounding back above $85 (see "Oil market highlights support level"). With another Fed interest rate hike due tomorrow, the 10-year US T-note yield topped 3.5% intraday on Monday, eclipsing the 11-year high it made in June.
Today's numbers include (all times ET): Housing Starts and Building Permits (8:30 a.m.), Fed FOMC meeting begins.
Today's earnings include: Apogee Enterprises (APOG).
Click here to log on to your account or learn more about E*TRADE's trading platforms, or follow the Company on Twitter, @ETRADE, for useful trading and investing insights.
---
What to read next...
09/19/22
With Fed rate decision looming, market falls to two-month low after hotter-than-anticipated data.
---
09/15/22
With a potential strike looming, traders pressured stocks in this industry—and traded more of their puts.
---
09/14/22
This cloud stock's Tuesday drop may have interested bargain hunters—especially options traders.
---