Interesting options development
IFF call volume 27 times average on Monday
Stock rebounded Monday–Tuesday after hitting 10-month low
Earnings scheduled for next week
One of the most important lessons any trader or investor can learn is to not rush to judgment about something that appears to be overtly bullish or bearish—especially with options.
On Monday, the LiveAction scan for unusual call options volume showed calls for International Flavors & Fragrances (IFF) were around 27 times more active than usual—6,514 contracts traded vs. the average volume of 238: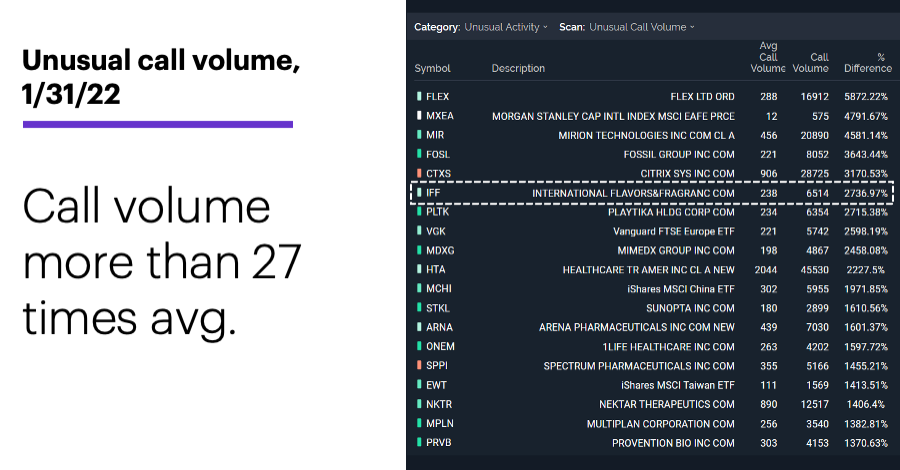 Source: Power E*TRADE. (For illustrative purposes. Not a recommendation.)
---
Last Friday, IFF had fallen to its lowest low since March 2021 and was down a little more than 13% on the year. But Monday's heavy call volume was accompanied by bullish stock movement—shares climbed nearly 1%, then followed through with a 2%-plus intraday rally yesterday for IFF's biggest two-day gain since January 11-12:
Source: Power E*TRADE. (For illustrative purposes. Not a recommendation.)
---
However, traders interpreting the combination of heavy call buying and a solid stock bounce as a sign of renewed bullish sentiment may have had second thoughts if they returned to IFF's options chain yesterday.
And they should have.
As experienced options traders know, heavy volume can be the result of traders opening new positions or closing out existing ones. The key to knowing the difference is open interest (OI): If OI is increasing, more traders are opening more new positions than they're closing. But if OI is decreasing, more traders are getting out than getting in—and that could represent something very different about market sentiment, depending on the situation.
Also, one of the most important things to remember is that OI data has a one-day lag—whatever number your screen shows represents the number of open positions at the previous day's close. For example, the majority of IFF's call activity on Monday was in the out-of-the-money (OTM) February $155 calls, which had volume of 5,500 contracts and OI of 23,800 (top half of chart):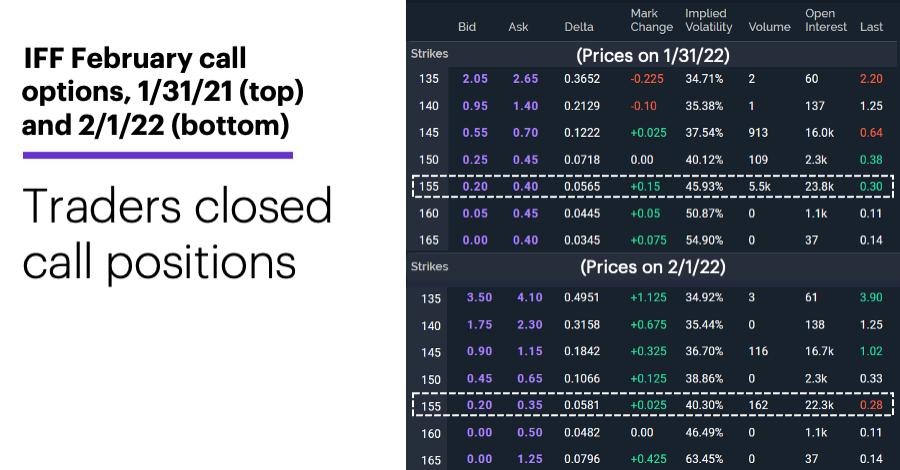 Source: Power E*TRADE. (For illustrative purposes. Not a recommendation.)
---
Now look at the numbers from Tuesday (bottom half of the chart), which show OI in the $155 calls had declined by 1,000 to 22,300. If the 5,500 contracts that traded on Monday had all been new positions, the OI reading yesterday should have been 29,300 (23,800+5,500). On the other hand, if those contracts had exclusively been traders closing out existing positions, yesterday's OI reading should have been 18,300 (23,800–5,500).
That means there was a mix of traders getting into and out of the $155 calls, but more were getting out than getting in. Although this suggests Monday's options trading was less bullish than it may have initially appeared to be, as of yesterday the February $155 calls still had the highest OI of any contract, and another OTM contract, the February $145 call, had OI of 16,700.
As the saying goes, the market doesn't ring a bell when it tops or bottoms. It's similarly coy about options activity. But traders who understand the relationship between options volume and OI may be better able to know when options and stock activity are potentially pointing in the same direction.
Note: IFF is currently scheduled to release earnings on Wednesday, February 9.
Market Mover Update: After falling to its lowest levels since March 2020 on January 26, Netflix (NFLX) has rallied more than 20% (see "Sell-offs and options selection").
Today's numbers include (all times ET): Mortgage Applications (7 a.m.), ADP Employment Report (8:15 a.m.), EIA Petroleum Status Report (10:30 a.m.), Motor Vehicle Sales.
Today's earnings include: T-Mobile (TMUS), AbbVie (ABBV), D.R. Horton (DHI), Thermo Fisher Scientific (TMO).
Click here to log on to your account or learn more about E*TRADE's trading platforms, or follow the Company on Twitter, @ETRADE, for useful trading and investing insights.
---
What to read next...
01/31/22
More key economic data in store as market digests last week's volatility.
---
01/28/22
A look at the oil rally that's fueled the energy sector's run.
---
01/27/22
Do traders think this week's market action signals more or less volatility on the horizon?
---