Infrastructure story becomes material issue
White House is reportedly eyeing a $1 trillion infrastructure spending package
Basic materials—and 5G—stocks soared yesterday
Some lesser-known names could benefit if plan gets off the ground
Before a shockingly strong retail sales number and Fed chief Jerome Powell's congressional testimony stole the spotlight, news that the White House was again floating a massive infrastructure spending package was the catalyst du jour for yesterday's stock rally.
The headline: $1 trillion in public spending, earmarked mostly for things like road and bridge repair.
Not surprisingly, while the S&P 500 (SPX) was up roughly 2% around 1 p.m. ET, construction materials stocks Vulcan Materials (VMC) and Martin Marietta (MLM) had jumped 9% and 8%, respectively. Both companies are powerhouses in the basic materials space (concrete, gravel, and the like).
But that's not all there is to infrastructure. The chart below shows the gains VMC and MLM have made since mid-March, along with those of the lesser-known AECOM (ACM), which provides design, financing, and management for infrastructure projects: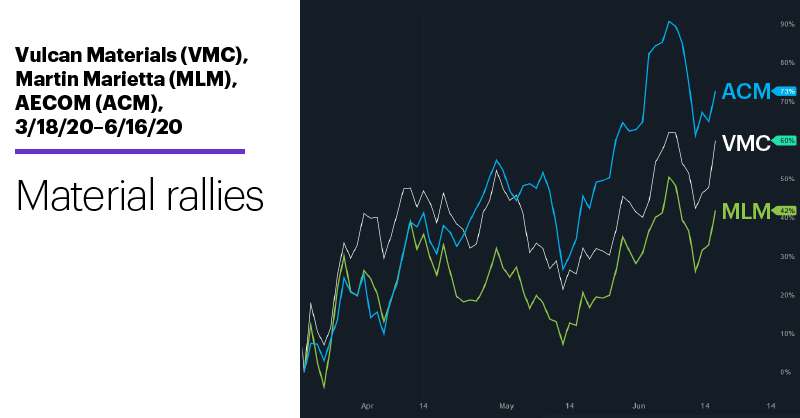 Source: Power E*TRADE
---
All three stocks have put together more-than-solid rallies over the past three months, but ACM began pulling away from the pack in mid-May, and yesterday afternoon was up around 73% since March 18, even though it rallied less than VMC or MLM yesterday.
Another aspect of the infrastructure news was that the plan also targets 5G infrastructure1—which could be a boon to many tech stocks who have leveraged a good chunk of their futures on the adoption of the next generation of wireless technology. The following chart shows two chipmakers with strong footholds in the 5G processor space, Marvell Technology (MRVL) and Qualcomm (QCOM), along with Apple (AAPL), which will—one day—be shipping a lot of 5G iPhones: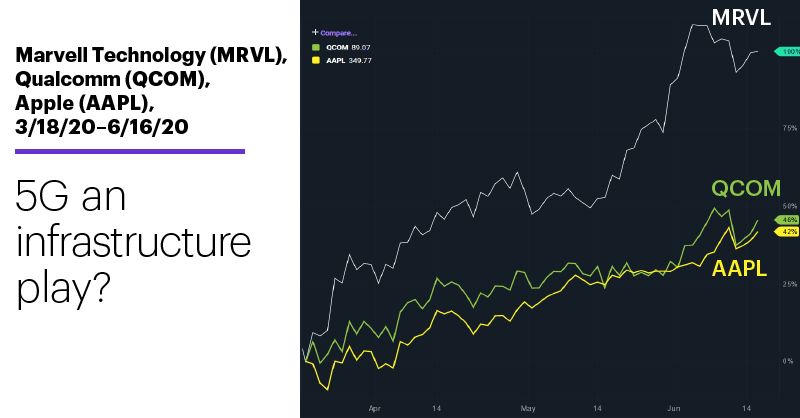 Source: Power E*TRADE
---
Again, all three stocks are up big since mid-March, although MRVL's 100% rally makes the other two look like they've been dawdling.
From a trading perspective, it's important to understand that, for now, yesterday's infrastructure story is just that—a story. This is the latest iteration of an infrastructure-spending idea first promoted by President Trump on the campaign trail, which he floated again in late-March with a $2 trillion price tag. Until details emerge, stocks that surged on yesterday's news could find it difficult to follow up with comparable gains in the near future.
That reality may offer some insight as to why all the stocks mentioned here, even though almost all of them enjoyed healthy gains yesterday, pulled back significantly from their intraday highs before the day was over.
That doesn't mean the story is over, though. A real infrastructure package could boost both the economy and the market, and yesterday's stock action may have highlighted some of the names that could be in play if a deal materializes. The fastest of the fast money may have already gotten in (and out) on yesterday's news, but patient traders are likely to find future opportunities after the initial hoopla dies down.
Today's numbers (all times ET): Housing Starts (8:30 a.m.), EIA Petroleum Status Report (10:30 a.m.), Jerome Powell congressional testimony (12 p.m.).
Today's earnings include: ABM Industries (ABM), Progressive (PGR), 58.com (WUBA).
Click here to log on to your account or learn more about E*TRADE's trading platforms, or follow the Company on Twitter, @ETRADE, for useful trading and investing insights. 

---
1 Bloomberg.com. Trump Team Weighs $1 Trillion for Infrastructure to Spur Economy. 6/15/20.
What to read next...
06/16/20
Options action heats up amid stock's sharp turnaround from recent pullback.
---
06/15/20
Stocks experience first real pullback in a month, tested by second-wave concerns, Fed outlook.
---
06/12/20
Recent stock market loss(es) have been a gain for put options—something bullish traders may be able to capitalize on.
---