Infrastructure power surge
Electric vehicles (EV), charging stations targeted for support
EV space has been in correction mode in recent months
Charging stock BLNK jumped more than 11%
It was hardly a secret, but yesterday's official unveiling of the Biden administration's $2 trillion infrastructure plan nonetheless appeared to make an impression in the stock market—at least for a day.
While some areas of the market that could reasonably be expected to benefit from infrastructure spending (e.g., the materials sector) are already near their all-time highs, that's not the case for electric vehicles (EV) or charging-station stocks (or the SPACs representing them), which have mostly taken a beating since hitting all-time highs in late 2020 or early this year.
Case in point, Blink Charging (BLNK), which has recently consolidated after selling off more than 50% between late January and early March: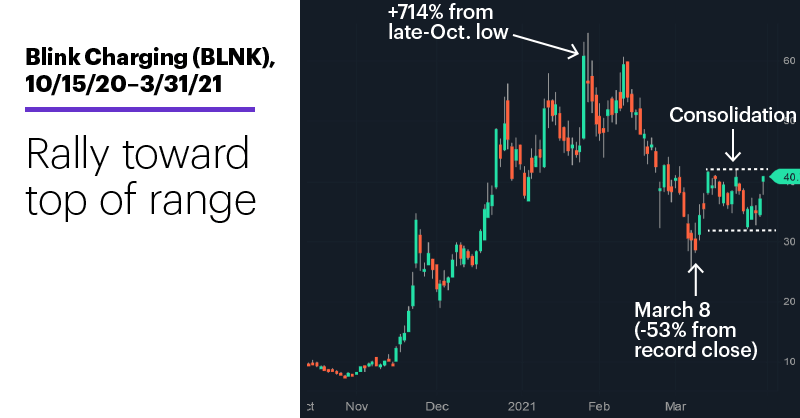 Source: Power E*TRADE
---
Of course, the buried headline here is that this correction was preceded by a 714% rally off the stock's late-October lows around $7.50.
And thanks in no small part to yesterday's rally after boosting EV was revealed to be a key part of the infrastructure plan, BLNK is now up around 40% since March 8, although it's still within the boundaries of a consolidation (roughly $32–$42) that began a couple of weeks ago.
Aside from the reality that there's a big gap between proposing an infrastructure plan and getting Congress to pass it (not to mention implementing it), experienced traders know the importance of remaining objective about the latest "hot" market stories—specifically, the potential for the momentum surges that often accompany them to reverse, at least partially or temporarily.
The infrastructure story has just begun, and the markets have just started processing the initial information. In addition to exercising patience instead of chasing price moves, there's another consideration that may be at play if volatility picks up: Options traders anticipating a potential infrastructure-driven rebound in EV-related stocks will likely attempt to avoid overpaying for contracts with high implied volatility (IV).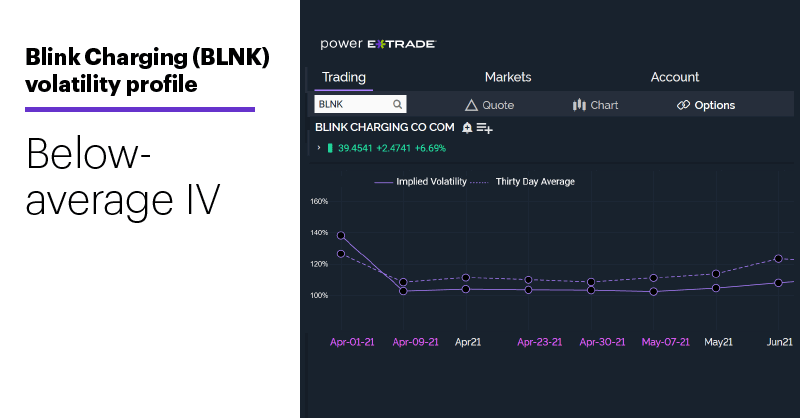 Source: Power E*TRADE
---
Yesterday, for example, BLNK's IV was below the 30-day average (dashed line) for every expiration date except today—an indication that option prices weren't excessively inflated by volatility.
The lesson: Regardless of what may be driving a market move, traders need to account for all the factors that could potentially impact their positions.
Today's numbers (all times ET): Challenger Job-Cut Report (7:30 a.m.), weekly jobless claims (8:30 a.m.), PMI Manufacturing (9:45 a.m.), ISM Manufacturing Index (10 a.m.), Construction Spending (10 a.m.).
Today's earnings include: CarMax (KMX).
Today's IPOs include: Intermedia Cloud Communications (INTM), Kaltura (KLTR), Frontier Group (ULCC), Compass (COMP), Karooooo (KARO).
Click here to log on to your account or learn more about E*TRADE's trading platforms, or follow the Company on Twitter, @ETRADE, for useful trading and investing insights.
---
1 CNN.com. Here's what's in Biden's infrastructure proposal. 3/31/21.