Industrious price action
MMM up almost 20% since Oct. multi-year low
Stock has outperformed S&P 500 since early Dec.
Shares consolidated in recent days, earnings due on Jan. 28
Traders who keep tabs on sector momentum may have raised their eyebrows last week, since utility stocks—the classic defensive sector—led the market, even while the major stock gauges were banging out new highs. Utilities generally don't get excessive love when the market is in "risk-on" mode and setting records.
The same could be said (to a lesser degree) for many industrial stocks, which underperformed the broad market in 2018 and more or less kept pace with it in 2019. This group has been on a bit of a run lately, though, with the S&P industrial index hitting several new records of its own last week, and outperforming the SPX since December 5.
That's revived Street talk about some long-ignored stocks—like 3M (MMM), the industrial conglomerate that rallied nearly 470% from its 2008 low to its early 2018 all-time high around $260: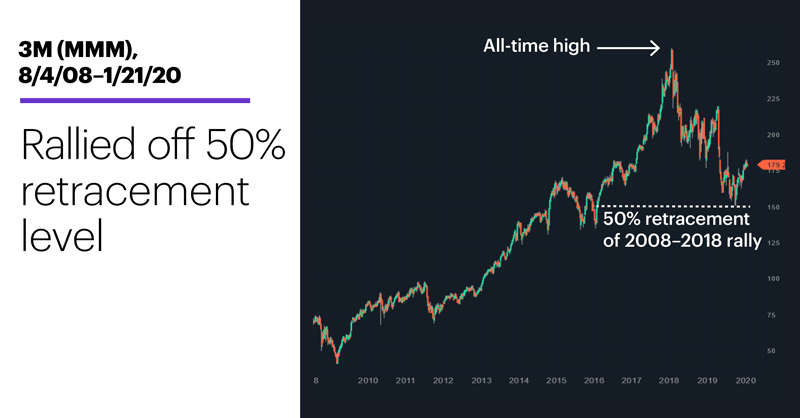 Source: Power E*TRADE
---
Things were a little different over the next 20 months or so, as MMM gave back half of that rally before turning higher in October 2019; as of yesterday it was up around 20% from that low. Many traders look for buying opportunities when a stock retraces roughly 50% of an up move—it's a widely watched technical level—and in this case, those who took the plunge last October have been rewarded.
That was then, this is now. Nonetheless, there are reasons (besides the rebound off the 50% retracement level) some traders may see the potential for more near-term upside:
1. More piggybacking on renewed investor interest—MMM has long been a popular dividend stock (it's increased its dividend for 56 consecutive years1).
2. Like other multinational conglomerates, MMM may have been battered more than most stocks by the US-China trade war.2
3M has been trending higher for a little more than three months, so potential investors who may have avoided the stock over the past year or two may be more inclined to add it to their portfolios now that there's a line in the sand (the October low) they can reference to separate bullishness from bearishness (i.e., uptrend from downtrend). And the recent thawing in the trade war could further warm trader feelings toward stocks like MMM—that is, make them think of the potential for beaten-down stocks to rebound.
Source: Power E*TRADE
---
Then there's the stock's recent momentum. The chart above shows MMM has outperformed the SPX since the December 5 market lows, but has been consolidating for the past several days.
A breakout play? Yesterday's downturn dropped the stock to the bottom of that range (although the stock rebounded later in the trading session). A push out of the top of it could fuel short-term upside as shorts scramble to get out of their positions and new longs attempt to capitalize on the bullish momentum.
The bottom line of sector rotation is that it…rotates. No one knows how long it will last, but it's always good to know when may be working in your favor.
Today's numbers (all times ET): Chicago Fed National Activity Index (8:30 a.m.), FHFA House Price Index (9 a.m.), Existing Home Sales (10 a.m.).
Today's earnings include: Ally Financial (ALLY), Abbott Laboratories (ABT), Prologis (PLD), Texas Instruments (TXN), Teradyne (TER), Johnson & Johnson (JNJ).
Click here to log on to your account or learn more about E*TRADE's trading platforms, or follow the Company on Twitter, @ETRADE, for useful trading and investing insights. 
---
1 MotleyFool.com. Dividend Aristocrats: Definition & List. 12/19/19.
2 CNBC.com. Industrials at record highs, and four stocks could be best chance to play catch-up. 1/21/20.
What to read next...
01/21/20
Market rolls to more records amid initial Q4 numbers, trade-deal signing.
---
01/17/20
Some bulls may be seeing red after retail stock posts surprise holiday sales miss.
---
01/16/20
Chipmaker seeks to maintain its relative strength amid a potential breakout scenario.
---