"Index effect" helps small cap go big
CARA rallied 18% intraday on news of addition to S&P 600
Stock gained 19% in days leading up to announcement
Index effect: Stocks can jump as funds add them to their portfolios
There are always multiple factors driving stock moves—company-specific news, broad-market or sector trends, portfolio rebalancing. But Tuesday provided an example of a catalyst many traders and investors may not think about too often.
Among the stocks on yesterday's LiveAction scan for high call volume was one Cara Therapeutics (CARA), a biopharma company with around 80 full-time employees, a $1.35 billion market cap, and Q4 net income of $8.4 million.1 By 11:30 a.m. ET, though, more than 13 times the average number of CARA call options had changed hands: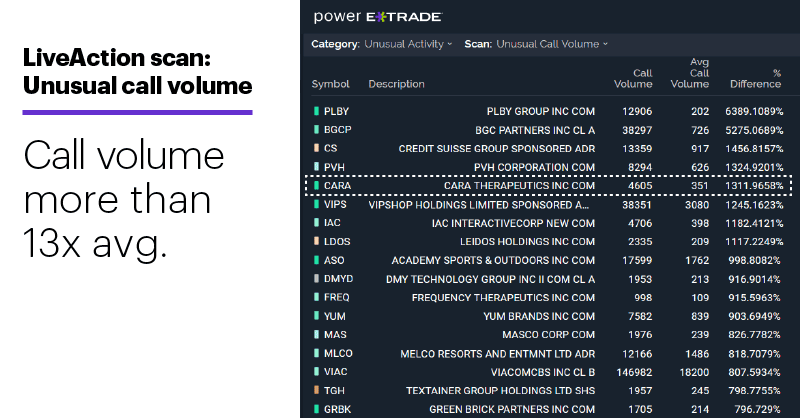 Source: Power E*TRADE
---
The stock popped up on a couple of other scans for unusual activity, including the one for biggest percentage gains—thanks to an 18% intraday rally, which followed a 19% surge in the four days leading up to yesterday's news: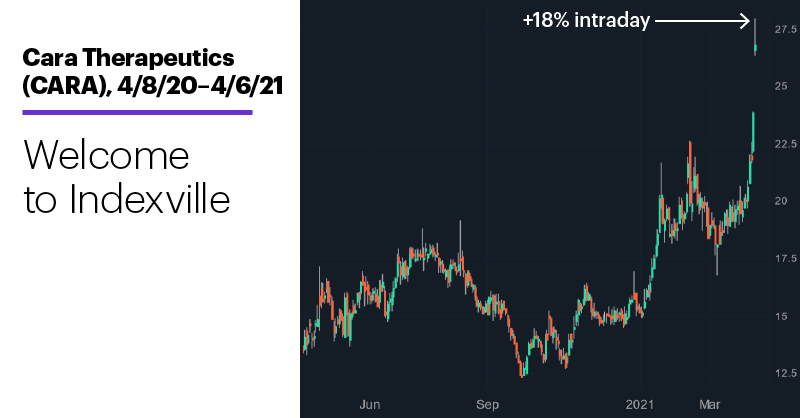 Source: Power E*TRADE
---
What was all the apparent bullishness about—a new product launch, a successful clinical trial, a buyout or merger?
None of the above. However, Standard & Poor's announced it was adding CARA to the S&P 600 Small Cap Index, effective today.2 In addition to simply being a nice PR coup for any company, being added to a high-profile index often has a more practical side effect: an immediate price bump, since funds tracking the index need to add the stock to their portfolios.
And when they're done buying? Since it's a one-time event, the "index effect" typically has a relatively brief shelf life, although other factors (including investor enthusiasm about the indexing) can make it difficult to decipher what's really driving a move at a given time, especially in the case of stocks that were already in strong uptrends when their indexing announcements occurred.
That brings us to a couple of other interesting aspects of yesterday's activity. Around the time CARA's call volume was running around 13 times average, another scan showed put options volume was more than 20 times average. Also, CARA's monthly chart shows yesterday's rally pushed the stock very close to its 2017 all-time high of $28.50: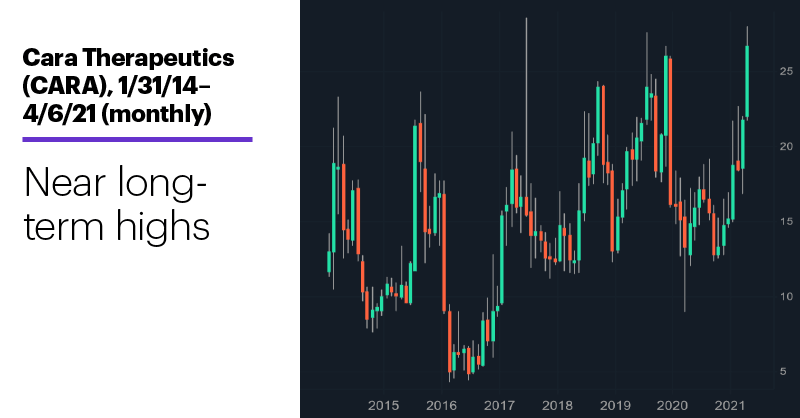 Source: Power E*TRADE
---
Two things options traders may be watching in light of yesterday's developments:
1. By midday, CARA's rally had triggered a 130%-plus jump in the May at-the-money (ATM) calls and a 65%-plus sell-off in the May ATM puts.
2. Implied volatility (IV) was well above average for April options, and below average for the May puts.
Whether or not CARA continues to make new highs, the index effect has a limited window—after all, funds only need to add a stock once. When that dust settles, traders often refocus on other factors.
Market Mover Update: Home Depot's (HD) appearance on Tuesday's LiveAction scan for high put-call ratios highlighted a conspicuous run: Tuesday marked the 22nd consecutive day that HD made either a higher close or higher high (yesterday it was the latter). Despite closing modestly lower, the stock is still up more than 25% since March 4.
Today's numbers (all times ET): Mortgage applications (7 a.m.), International Trade in Goods and Services (8:30 a.m.), EIA Petroleum Status Report (10:30 a.m.), FOMC minutes (2 p.m.), Consumer Credit (3 p.m.).
Today's earnings include: MSC Industrial (MSM), Simply Good Foods (SMPL), Lamb Weston (LW), RPM International (RPM), Schnitzer Steel (SCHN).
Click here to log on to your account or learn more about E*TRADE's trading platforms, or follow the Company on Twitter, @ETRADE, for useful trading and investing insights.
---
1 MarketBeat.com. Cara Therapeutics Income Statement & Balance Sheet. 4/6/21.
2 CNBC.com. Stocks making the biggest moves in the premarket: Illumina, Cara Therapeutics, Snap & more. 4/6/21.
What to read next...
04/06/21
Lithium producers are testing support levels after significant pullbacks from long-awaited rallies.
---
04/05/21
US stocks start Q2 by pushing to new records as Capitol Hill braces for an infrastructure showdown.
---
04/01/21
EV-related stocks get a jolt as the Biden administration rolls out infrastructure plan.
---