If the shoe fits
Foot Locker (FL) has been stuck in a range since late May
FL options implied volatility up sharply from last week
Traders anticipating a breakout move?
If Foot Locker (FL) had been leaving footprints lately, even the laziest of trackers would probably have been able to stay hot on its trail.
Since its May 23 earnings miss, when it dropped $8.43 (16.1%) to $44.40, the stock has traded in an increasingly narrow range, roughly between $43.85 and $40.55 since June 14: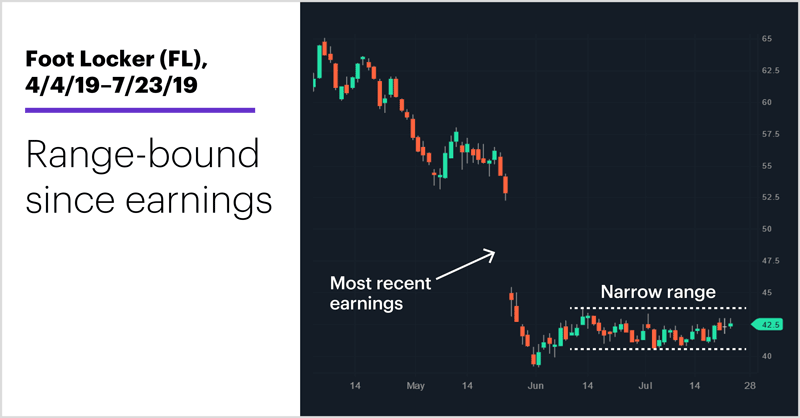 Source: Power E*TRADE
---
The May down gap was the most painful cut in what turned out to be, by the end of the month, a nearly -40% slice-and-dice from the stock's early April highs around $65. FL's June 3 low around $39 was as cheap as the stock had been since March 2018. And although yesterday shares had gained around 9% since then, the stock's overall consolidation has probably frustrated both bulls (who may have expected an even bigger bounce, given the broad market's push to record highs) and bears (who possibly anticipated another downswing sooner rather than later).
Despite the lack of action in its stock price, though, yesterday morning FL's implied volatility (IV) was up nearly 60% from last week, putting it at the top of a LiveAction scan for big IV gains: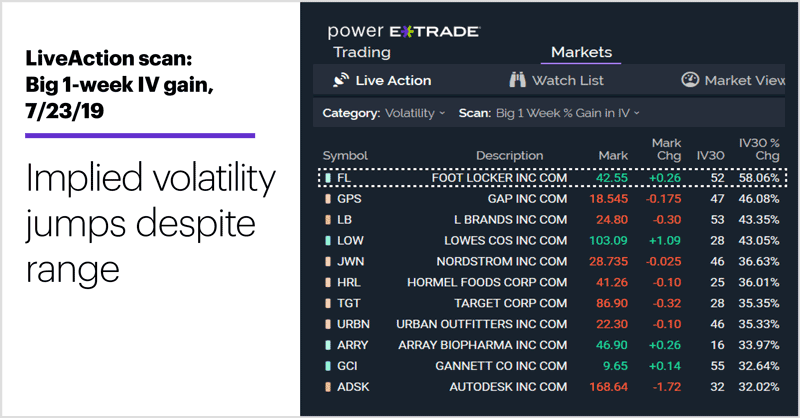 Source: Power E*TRADE
---
IV is different from historical volatility, which is simply a backward-looking measurement of price movement during a given period. By contrast, IV is forward looking—in essence, it's the market's estimate of what it expects the stock to do over the next 30 days. In other words, yesterday the options market appeared to be anticipating increased movement in FL's stock price in the near future. (Note: FL is currently scheduled to release earnings in about a month.)
Also, it's not like trading in FL has run dry the past couple of months—in fact, the stock has averaged around 2.8 million shares a day since it really hunkered down into its range in mid-June. Unless that trading has consisted exclusively of people getting out of existing positions (hint: it hasn't), that means there's at least some new blood in the market, some of it expecting a rebound and some anticipating further downside.
And some chart-watching traders may have noticed that in the wake of the May sell-off, one of the Street firms covering FL lowered its price target from $80 to $52,1 which happens to be near the low of that big May 23–24 down gap.
At some point FL will break out of its range, if only for a limited time—a move that could be magnified by the efforts of traders who got caught on the wrong side of the market jockeying to get out.
Just as nature abhors a vacuum, markets tend to abhor "endless" trading ranges.
Market Mover Update: Crown Holdings (CCK) followed up on Monday's 3.6% rally with a 3% intraday jump yesterday that punched the stock's ticket to a new all-time high of $63.49. Amid widespread semiconductor strength, Nvidia (NVDA) climbed more than 2% intraday on Tuesday, which helped extend the decline in the August $155 puts to 44% since last Wednesday.
Homebuilder stocks were flashing red yesterday in the wake of a surprisingly weak (-1.7%) existing home sales number. And check out what's on tap this morning…
Today's numbers: New Home Sales (10 a.m.), EIA Petroleum Status Report (10:30 a.m.).
Today's earnings include: American Airlines (AAL), AT&T (T), Spirit Airlines (SAVE), Boeing (BA), Northrop Grumman (NOC), Boston Scientific (BSX), Ford Motor (F), Check Point Software (CHKP), Caterpillar (CAT), Celgene (CELG), Thermo Fisher Scientific (TMO), Facebook (FB), F5 Networks (FFIV), PayPal Holdings (PYPL), Tesla (TSLA), Xilinx (XLNX).
Click here to log on to your account or learn more about E*TRADE's trading platforms, or follow the Company on Twitter, @ETRADE, for useful trading and investing insights.
---
1 StreetInsider.com. Foot Locker (FL) PT Lowered to $52 at Susquehanna. 5/28/19.
What to read next...
07/23/19
Options volume highlights a stock's rebound from recent earnings report.
---
07/22/19
Market pulls back from highs, oil slides, and gold holds.
---
07/19/19
Gold's holding pattern after June's upside surge has traders positioning themselves for the market's next move.
---