Climate right for clean energy?
Hydrogen stocks soared in October after selling off earlier this year
Group in spotlight amid infrastructure negotiations, climate conference
Some names closer to 2021 lows than highs
October may have been a great month for the stock market, but it was an even better one for clean-energy stocks, many of which rallied three, four, or five times as much as the S&P 500 (SPX) or the fossil-fuel sector.
Hydrogen fuel companies Plug Power (PLUG), FuelCell Energy (FCEL), Bloom Energy (BE), and Ballard Power Systems (BLDP) have all staged strong rallies since the beginning of October, gaining between 33% and 74%: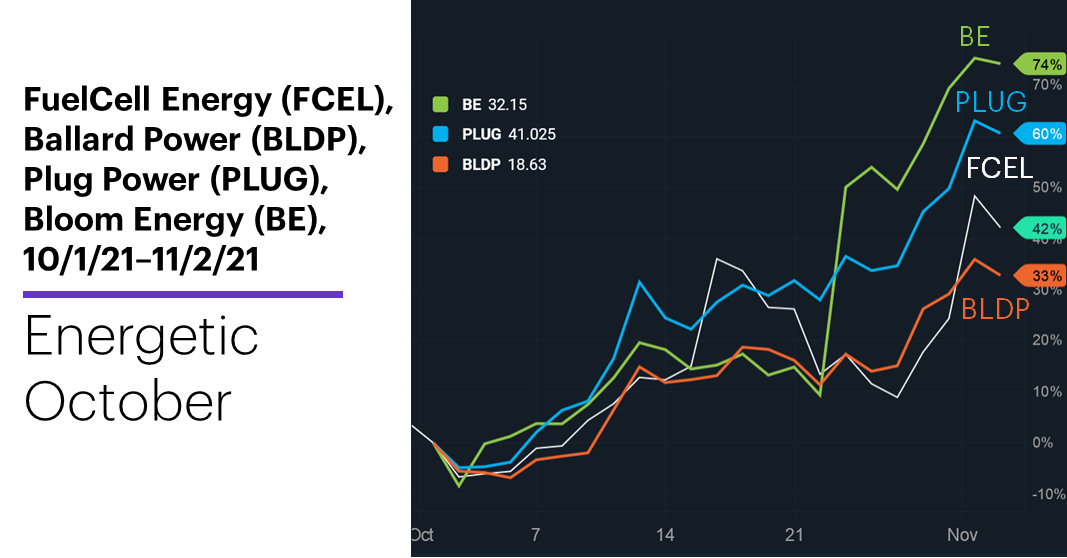 Source: Power E*TRADE (For illustrative purposes. Not a recommendation.)
---
What's behind the power surge? Perhaps not coincidentally, these stocks enjoyed particularly strong rallies on Monday as the 2021 United Nations Climate Change Conference (COP26) got underway in Glasgow, Scotland, and various world leaders underscored the threat posed by climate change and issued calls to reduce carbon emissions.1
At the same time, hopes in the US have recently been high that Congress was finally getting close to passing legislation that would, among other things, fund clean-energy spending—hopes that had a little cold water thrown on them late Monday after West Virginia Sen. Joe Manchin called for more time to consider the details of the bills.2 (All four stocks pulled back yesterday.)
Despite the ongoing back and forth on infrastructure spending (what's in, what's out, and how much will ultimately be spent), Morgan Stanley has noted one constant: the potential for hefty spending on clean energy infrastructure,3 particularly big tax credits for "green hydrogen."
But while many solar energy stocks rallied to multi-month or multi-year high in recent days and weeks, hydrogen stocks were a different story. Despite last month's gains, the following chart of BLDP—which is representative of the group's trajectory over the past year—shows these stocks are still attempting to rebound from the big sell-offs earlier this year that erased sizable portions of their 2020 rallies:
Source: Power E*TRADE (For illustrative purposes. Not a recommendation.)
---
Clean energy may indeed have longer-term tailwinds, but as discussed in "Tariff deal sparks price surge," sentiment-fueled price moves are often prone to give-backs—which is why seasoned traders often look to buy after the sunny headlines have faded.
Market Mover Update: Yes, Harley–Davidson (HOG) throttled back a bit yesterday after Monday's big rally, falling more than 3%.
December silver futures (SIZ1) suffered their worst day in more than a month, falling more than 2%, and closing lower for the fifth time in the past six days (see "Knocking on the price ceiling").
Today's numbers include: Mortgage Applications (7 a.m.), ADP Employment Report (8:15 a.m.), PMI Composite Final (9:45 a.m.), ISM Services Index (10 a.m.), Factory Orders (10 a.m.), EIA Petroleum Status Report (10:30 a.m.), FOMC Announcement (2 p.m.).
Today's earnings include: Booking Holdings (BKNG), Hyatt Hotels (H), CVS Health (CVS), Trade Desk (TTD), ETSY (ETSY), Fastly (FSLY), Revolve Group (RVLV), Qorvo (QRVO), Qualcomm (QCOM), Roku (ROKU).
Today's IPOs include: Allbirds (BIRD), Finward Bancorp (FNWD).
Click here to log on to your account or learn more about E*TRADE's trading platforms, or follow the Company on Twitter, @ETRADE, for useful trading and investing insights
---
1 The New York Times. Key Moments From Day 1 of the COP26 Climate Change Summit. 11/1/21.
2 Roll Call. Manchin not ready to back $1.75T budget package. 11/1/21.
3 MorganStanley.com. Thoughts on the Market: Clean Tech Thrives Under Most Budget Outcomes. 10/26/21.
What to read next...
11/02/21
Were options traders seeing more open road for this vehicle maker on Monday?
---
11/01/21
Stocks hold near highs heading into a busy week of earnings and economic data.
---
10/29/21
Silver recently showed why some traders like to monitor support and resistance levels.
---