Taking stock of housing
Many homebuilder stocks dropped sharply after last week's vaccine news
Several stocks pulled back to key support
Can this month's housing data maintain the bullish pace?
One of the odder aspects of November 9's vaccine-induced market inversion—when many COVID losers shot skyward and many stay-at-home stocks took a pounding—was the sell-off in homebuilder stocks.
It's one thing for airline stocks to soar and remote-tech names to tumble on the prospect of an eventual return to "normal," but why would homebuilders like LGI Homes (LGIH), which dropped 11% last Monday, take a beating?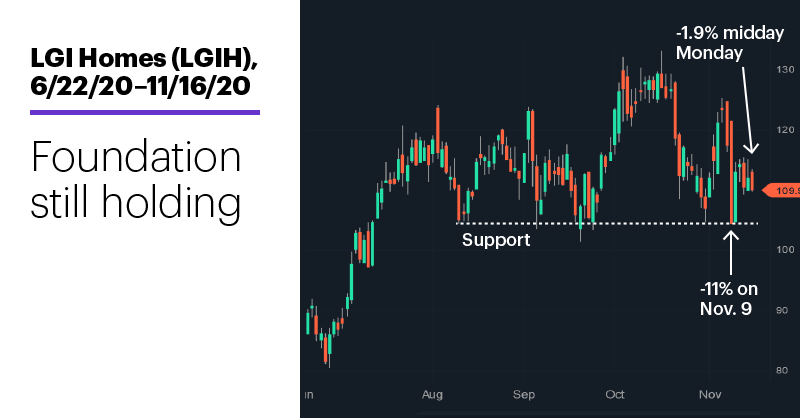 Source: Power E*TRADE
---
It all goes back to the factors that aligned to drive these stocks higher during the pandemic—first, pent-up demand from the initial lockdown phase, followed by a mini-boom in suburban housing as many remote-working urbanites sought more elbow room. Throw in historically low mortgage rates, and you have the recipe for things like LGIH's 287% April–October rally.
With vaccines potentially undermining those dynamics, last Monday's sell-offs in the wake of the Pfizer-BioNTech vaccine news becomes more understandable. A couple of things traders may have noticed about LGIH and other homebuilder stocks:
1. The November 9 sell-off bottomed around support at the August–September lows.
2. Like most homebuilders, LGIH rebounded strongly (+8.3%) on November 10.
3. Yesterday, LGIH fell more than 2% following news of Moderna's (MRNA) vaccine success—a sizable drop given the broad market was up on the day, but nowhere near the magnitude of the November 9 sell-off. Other homebuilders also experienced relatively modest drops.
Big down days followed by big up days (and vice versa) tend to attract the attention of traders because they sometimes represent sentiment shifts. The fact that bulls rush in so quickly after surprising "bad" news is sometimes seen as a signal that perhaps that news wasn't so bad after all.
Also when such pivots occur near obvious technical levels, they can carry even more weight with traders. In this case, there are more than a few instances of similar big down-day/up-day reversals in LGIH that suggest the stock's near-term picture could hinge on whether last week's lows hold—even if those lows didn't coincide with existing support.
The following chart shows two similar patterns in LGIH, in August and December 2018. In the first instance, the breakdown below the low of the down-bar/up-bar pattern was followed by several more weeks of selling. In December, the stock tested the pattern's low but didn't break below it, turning sharply higher in the following weeks: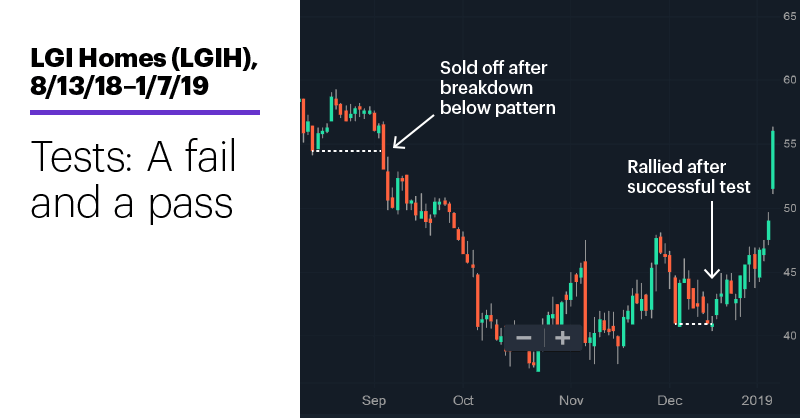 Source: Power E*TRADE
---
In other words, if the level LGIH again tested last week could be described as "key" support in mid-September when we last commented on homebuilders, it's arguably more significant now. Traders who see yesterday's relatively modest losses on new vaccine headlines as a bullish signal may continue to play off the support level, but they'll know not to overstay their welcome if a decisive breakdown occurs.
With a string of housing-market numbers set to cross the wire in the next couple of weeks, it could be a make-or-break stretch for LGIH and other homebuilders.
Market Mover Update: StoneCo (STNE) rallied 2.9% intraday yesterday to a new all-time high, and landed on the LiveAction scan for highest put-call ratios (see "Breakout vs. fake-out").
Today's numbers (all times ET): Retail Sales (8:30 a.m.), Export and Import Prices (8:30 a.m.), Industrial Production and Capacity Utilization (9:15 a.m.), Business Inventories (10 a.m.), NAHB Housing Market Index (10 a.m.).
Today's earnings include: JinkoSolar (JKS), Kohl's (KSS), Home Depot (HD), Walmart (WMT).
Click here to log on to your account or learn more about E*TRADE's trading platforms, or follow the Company on Twitter, @ETRADE, for useful trading and investing insights.  
---
What to read next...
11/16/20
Despite continued tech struggles, the US market hit new highs last week in the wake of good news on the vaccine front.
---
11/13/20
Unusual options trading activity highlights possible strategy for traders playing a potential stock breakout.
---
11/12/20
Airline stocks may be a crowded trade again, but savvy traders may have reasons to be selective about their seat assignment.
---