Housing stock rally gets a test
Housing stocks have soared despite the pandemic
Many homebuilders consolidating after doubling or tripling
More numbers, earnings next week
With the remainder of the month's major housing-market numbers—Existing Home Sales, New Home Sales, and the US House Price Index—due out next week, homebuilding stocks could find themselves front and center on many trading screens.
Not that they've lacked attention from momentum traders in recent months. Since mid-March, homebuilders Lennar (LEN), LGI Homes (LGIH), KB Homes (KBH), and D.R. Horton (DHI) have all rallied 150% or more (KBH was up nearly 250% as of Thursday), even though most of them have traded sideways the past few weeks: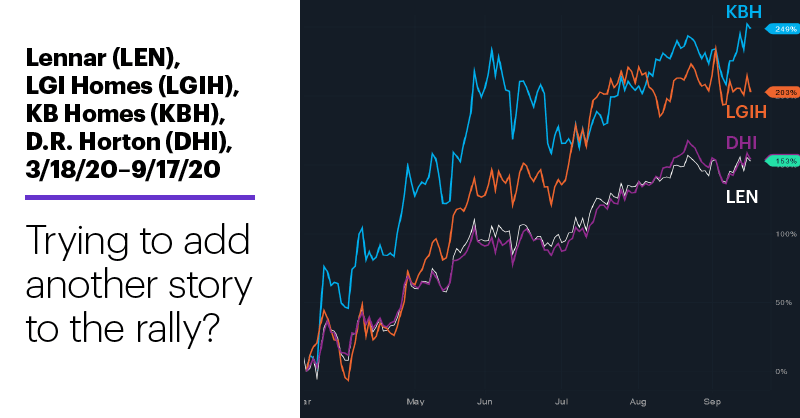 Source: Power E*TRADE
---
All four stocks easily topped earnings and revenue estimates in their most recent quarterly reports—this week it was LEN, which crushed its numbers on Monday1 (KBH is scheduled to announce next week).
While a rally in these stocks may have seemed counterintuitive six months ago, since it would have been tied to homebuyers' willingness to make a major financial commitment when the world was turned upside down by the pandemic, as "Ground-floor rally?" noted in early April, there was a bullish argument to be made: "The new low-interest-rate environment is poised to make mortgages cheaper than they've been in a while, and given the tight housing supply that existed before the sell-off occurred, some traders may see the potential for an outsized recovery if the worst-case pandemic scenarios for the US don't come to pass." In terms of performance of housing stocks, that outlook certainly played out. The question is whether catalysts remain to break these names out of the consolidations many of them have been in since August.
With Wednesday's FOMC announcement making clear the Fed has no intention of touching interest rates for at least a couple of years, home buyers appear to have access to cheap mortgages for the foreseeable future.
And while the initial "pent-up demand" caused by the lockdown has likely run its course, another factor may have picked up some of the slack: The migration to suburbs, as workers with more freedom to telecommute leave urban centers for more space and lower costs. That trend also can't last forever, but the numbers don't lie—home demand in the suburbs of some major metropolitan areas has reached its highest levels in more than a decade.2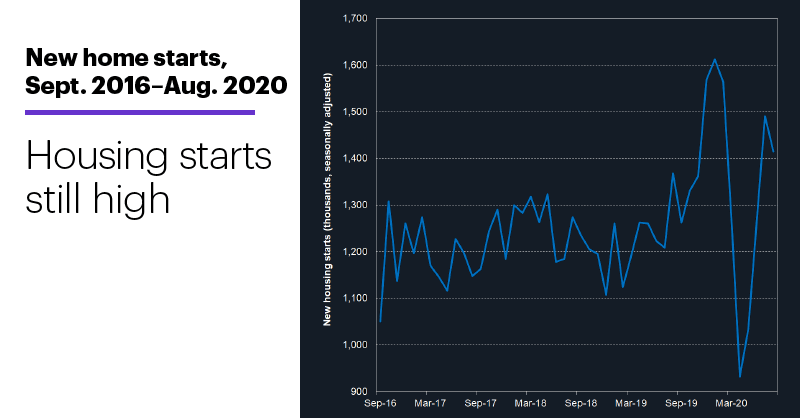 Source: U.S. Census Bureau
---
This week's housing numbers were mixed. Wednesday's Housing Market Index blew past expectations, while yesterday's new home starts number (for August) was below estimates (1.42 million vs. 1.49 million) and down from July. But the chart above shows this pace is still well above average for the past five years, and miles ahead of where things were at in March.
As the recent tech correction has shown, the hottest areas of the market are typically the most at risk for sharp pullbacks. That said, patient traders who think the pieces are in place for another up move in a certain area of the market can potentially use those setbacks to their advantage.
Today's numbers (all times ET): "Quadruple Witching" expiration, Current Account (8:30 a.m.), Consumer Sentiment (10 a.m.), Leading Indicators (10 a.m.).
Click here to log on to your account or learn more about E*TRADE's trading platforms, or follow the Company on Twitter, @ETRADE, for useful trading and investing insights.  
---
1 StreetInsider.com. Lennar Corp. (LEN) Tops Q3 EPS by 57c, Revenue Beats. 9/14/20
2 Bloomberg. Urban Exiles Are Fueling a Suburban Housing Boom Across the U.S. 8/20/20.
What to read next...
09/17/20
Luxury stock seeks to recapture its bling after busted acquisition.
---
09/16/20
OPEC, IEA cut demand outlook—after the oil market takes its biggest tumble since April.
---
09/15/20
"Orphan" drug maker not abandoned by traders—options volume surges as stock tests recent highs.
---