Hot or not?
Chipotle stock pulled back sharply after last week's earnings
Company beat headline numbers
CMG shares still up more than 75% YTD
We may be about to see if bulls have retained their appetite for Chipotle (CMG).
The Mexican–inspired fast food chain, which has been hotter than a ghost pepper for most of the year (+97% YTD as recently as seven trading days ago), got slathered with sour cream when it released earnings on October 22: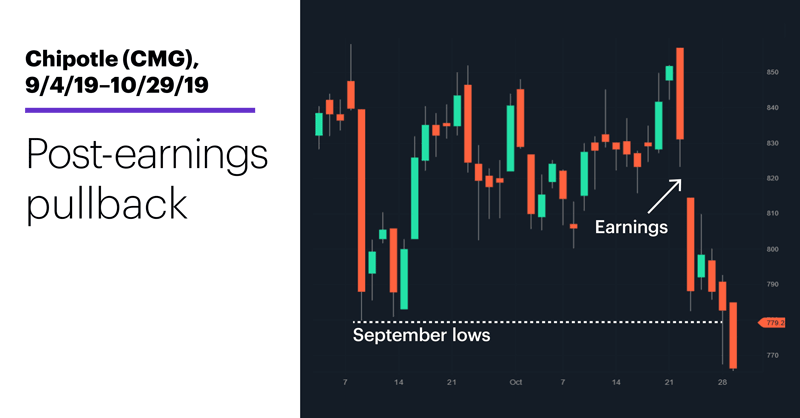 Source: Power E*TRADE
---
Although the five-day pullback that followed merely cooled down the stock's YTD return to a still-spicy 77%, it's still CMG's biggest pullback of the year—surpassing its 9% drop in September, which dropped shares to the $770s right after they hit their all-time high of $857.90.
What makes the current pullback especially interesting is that CMG crushed its numbers, beating revenues, topping estimated earnings by $0.60/share, and outperforming same-store sales estimates.1
Although "headline" numbers don't always communicate the full story, and plenty of stocks tumble because other performance metrics are tepid or because of gloomy forward guidance, this didn't seem to be the case with Chipotle: The announcement itself didn't appear to point to any serious clouds on the horizon, other than Chipotle noting that the introduction of drive-thru lanes could potentially slow down the launch of new restaurants.2
A less-conspiratorial explanation is that stocks that nearly double over the course of nine months sometimes simply retrench—some investors take profits, and potential buyers sit on the sidelines for a while. In the wake of last week's numbers, though, the average TipRanks analyst CMG price target was still $843.80, not too far from the stock's record highs.3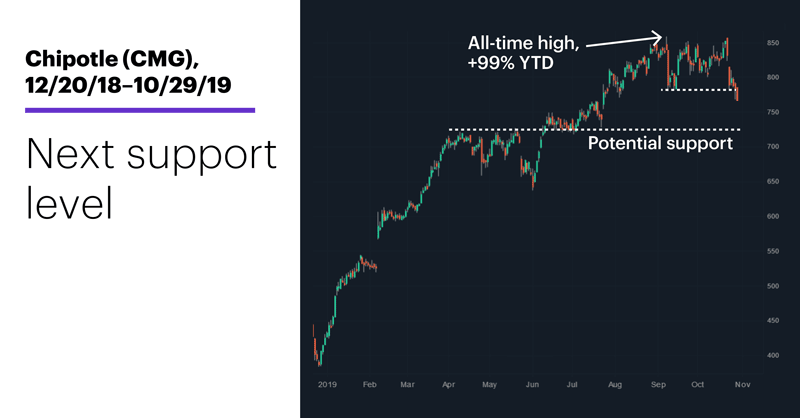 Source: Power E*TRADE
---
What remains to be seen is whether bulls potentially find the stock tasty near current levels or at another possible support point. The longer-term chart above provides some context for CMG's recent pullback. On Monday the stock spiked below its September lows on an intraday basis, but rallied to close well off the day's low.
Yesterday shares held above that low in the morning, but broke below it in the afternoon (dropping into the $760s). Barring an immediate rebound, some bulls may be looking for a move to the next conspicuous support level—roughly $725, the area of the April–May highs and June–July lows.
And one piece of potentially good news for bullish options traders is that CMG call options are likely much cheaper than they were a week ago, both because of the stock's decline and the fact that as of yesterday CMG's implied volatility (IV) was nearly 40% lower than it was last week, as shown in the following LiveAction scan: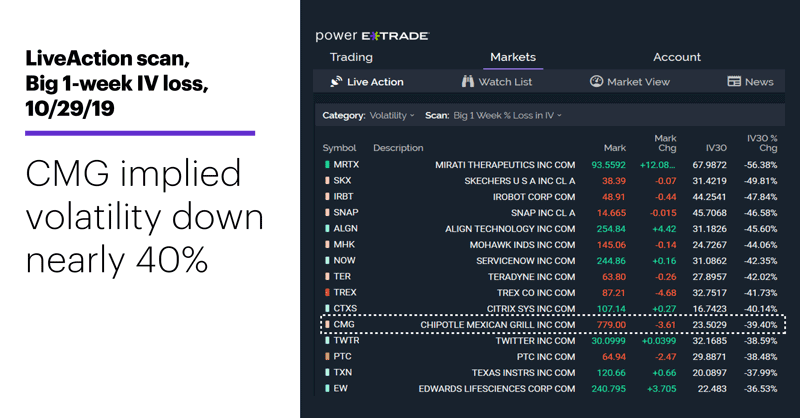 Source: Power E*TRADE
---
Lower IV typically translates into lower options prices, so CMG bulls looking to play the long side with calls may find their positions more affordable than they've been in quite some time.
Today's numbers (all times ET): ADP Employment Report (8:15 a.m.), GDP (8:30 a.m.), EIA Petroleum Status Report (10:30 a.m.), FOMC Meeting Announcement (2 p.m.)
Today's earnings include: Apache (APA), Apple (AAPL), CME Group (CME), General Electric (GE), Starbucks (SBUX), Etsy (ETSY), Facebook (FB), LYFT (LYFT), KBR (KBR), Vertex Pharmaceuticals (VRTX), Yum! Brands (YUM), Molson Coors Brewing (TAP), Motorola Solutions (MSI), Western Digital (WDC), Southern (SO).
Click here to log on to your account or learn more about E*TRADE's trading platforms, or follow the Company on Twitter, @ETRADE, for useful trading and investing insights. Online stock, ETF, and options trades1 are now commission-free.
---
1 StreetInsider. Chipotle Mexican Grill (CMG) Earnings. 10/29/19.
2 CNBC.com. Chipotle crushes earnings estimates, says accelerated drive-thru plans may delay some store openings. 10/22/19.
3 TipRanks. CMG Chipotle Mexican Grill Analyst Price Targets. 10/29/19.
What to read next...
10/29/19
Streaming tech stock appeared to bring back traders who may have previously "cut the cord."
---
10/28/19
A key week opens with the Nasdaq 100 coming off a new record high and the S&P 500 as close as it's been in three months.
---
10/25/19
Options activity may have signaled interest in a formerly high-flying IPO that's been trading closer to earth lately.
---