Homebuilders diverging from housing market?
Most recent housing industry numbers missed estimates
Homebuilder stocks have underperformed market this year
LGIH up more than 40% from June lows, earnings due next week
In one sense, the other shoe dropped on Tuesday when both the S&P Case-Shiller Home Price Index and the FHFA House Price Index showed US home prices fell in June.1 For many months home prices had clung to near-record levels even as mortgage rates continued to climb and sales of new and existing homes began to cool. Next month may provide a better indication of whether the June numbers were a blip or the beginning of a new trend.
Homebuilder stocks have been a different story, though. The following chart uses LGI Homes (LGIH) to provide a snapshot of the past couple of years. The stock outgained the S&P 500 (SPX) by a wide margin when the market rallied off the March 2020 lows, the Fed flooded the economy with money, and mortgage rates were near record lows. But it also peaked earlier than the broad market, turning lower in May 2021—almost seven months before the SPX: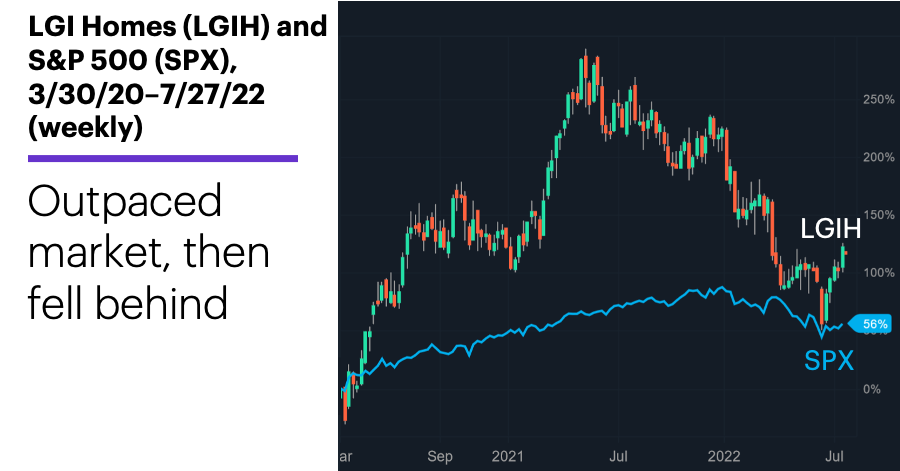 Source: Power E*TRADE. (For illustrative purposes. Not a recommendation.)
---
At last month's low of $74.23, LGIH was down more than 50% for the year and nearly 60% from its May 2021 high, and was more or less in line with the SPX's return since March 2020.
Like the broad market, though, LGIH has enjoyed a rebound over the past several weeks, rallying more than 40% as of Wednesday (almost five times as much as the SPX) and breaking out of a short-term consolidation and above a resistance level dating back to May: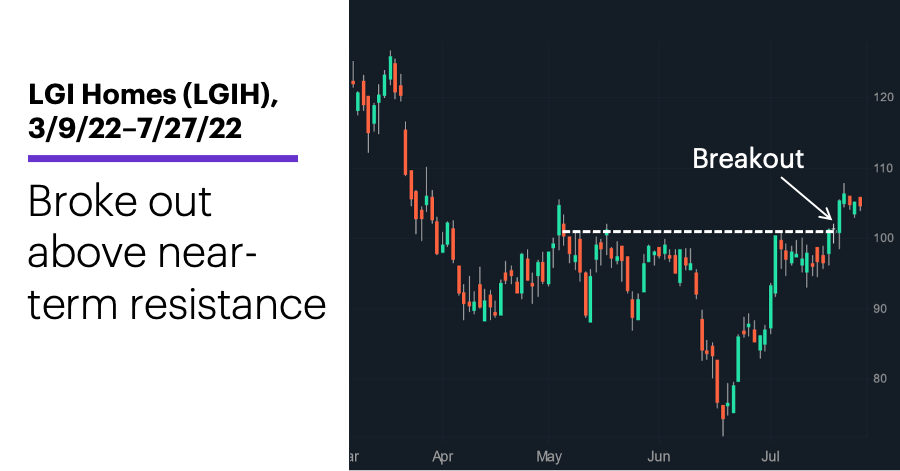 Source: Power E*TRADE. (For illustrative purposes. Not a recommendation.)
---
With prices more or less pausing this week, even bullish traders may be contemplating the possibility the stock will pull back and at least test its breakout level. Less bullish traders may be wondering whether the recent rebound has gotten a bit ahead of itself, in light of the potentially bearish nature of recent housing data, and considerations about the broader market and economy.
Which camp turns out to be correct, at least in the near term, may be evident fairly soon, since LGIH is scheduled to release earnings next Tuesday (August 2). The stock's earnings-day moves since August 2020 have been mixed, but mostly up: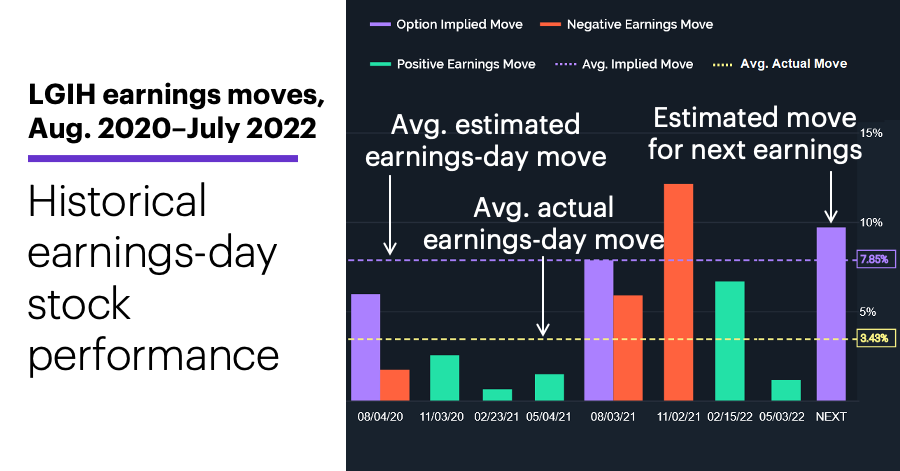 Source: Power E*TRADE. (For illustrative purposes. Not a recommendation.)
---
Purple columns represent the options market's estimate (based on implied volatility) of how much the stock will move on earnings day, the green columns positive earnings moves, and the red columns represent negative earnings moves. The purple dashed line shows the average estimated earnings move, while the dashed yellow line is the average actual earnings move. (The final purple column shows the estimated move for next week's earnings is +/-6.2%.)
On a longer-term basis (going back to December 2013), LGIH has rallied after 57% of its earnings releases (20 out of 35), and its average earnings-day gain was almost the same as its average earnings-day loss—around 6.4%. But the numbers also showed the stock's average five-day return after an earnings release was -4.7%.2
In other words, as compelling as price breakouts sometimes appear, traders should remember that the short-term picture can change quickly—especially when an earnings release is on the horizon.
Today's numbers include (all times ET): Q2 GDP, initial estimate (8:30 a.m.), Weekly Jobless Claims (8:30 a.m.), EIA Natural Gas Report (10:30 a.m.).
Today's earnings include: Amazon (AMZN), Apple (AAPL), Baxter International (BAX), Hershey (HSY), Five9 (FIVN), Southwest Air (LUV), First Solar (FSLR), Intel (INTC), Mastercard (MA), Merck (MRK).
Click here to log on to your account or learn more about E*TRADE's trading platforms, or follow the Company on Twitter, @ETRADE, for useful trading and investing insights.
---
1 Econoday.com. Case-Shiller Home Price Index and FHFA House Price Index. 7/26/22.
2 StreetInsider.com. LGI Homes (LGIH) Earnings. 7/27/22.
What to read next...
07/26/22
With earnings approaching, big options prints put spin on healthcare stock's rally.
---
07/25/22
After last week's push, can the market put together back-to-back up weeks?
---
07/22/22
Options positions surge in one of last year's IPOs as its lightly traded stock climbs off last month's lows.
---