Home is where the trend is
FBHS turned lower for second-straight day yesterday
Stock has gained more than 30% since early September
Another run-of-the-mill pullback?
Fortune Brands Home & Security (FBHS), a stock many short-term traders have probably never heard of—stood out on the tape yesterday because it did something it hasn't done very often the past few months—it went down.
Midday the stock was off more than 1.5%—nothing to get worked up about, but it did occur on a day the broad market was hitting new records, and it likely appeared to be the potential start of another one of the pullbacks that have punctuated the stock's 32% rally off its early-September low: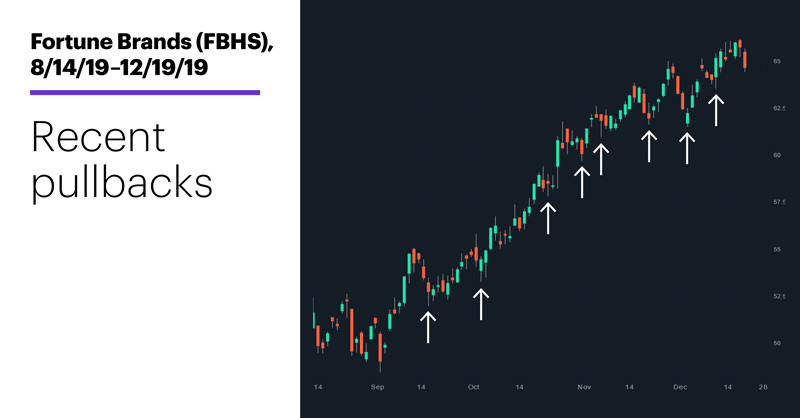 Source: Power E*TRADE
---
Or is it the start of something bigger? Fortune, which makes home fixtures and hardware (doors, locks, cabinets, faucets), is up around 70% YTD. It had several longer and deeper downturns earlier this year, but since September, its dips have lasted two to four days and have been no deeper than -4.8%.
One assumption a trader could make at this juncture is that the current dip signals a bigger pullback, or even a trend reversal. The question is, why? What is different now than it was during any of the other pullbacks that have occurred in recent months? One argument could be that the stock is higher now than it was at any of those previous points, and after such an exceptionally strong rally it's "due" to cool off.  
Fair enough. Another assumption a trader could make is that a price trend is in effect until it is clearly broken, and until that happens, new down moves will be similar to the ones that have unfolded throughout that move. In other words, this is an assumption that the current trend will extend in the near-term.
Trading always involves making assumptions. Good ones—based on analysis and evidence—can sometimes translate into successful trades.
In this case, that outlook could be supported by the bullish seasonal trends that as of yesterday were still playing out in the broad market, and the absence of any looming catalysts on the FBHS calendar that could jolt the stock (the company isn't scheduled to release earnings until the end of January). The company recently announced an increase to its quarterly dividend1 (something it's done for seven straight years), which may keep the long-term crowd interested in the stock, and data also indicates hedge funds have increased their stakes in FBHS this year.2
This assumption has the advantage of a built-in failsafe: If the current down move exceeds—either in duration or depth—the parameters established by the eight other recent pullbacks, it could be interpreted as a signal that, yes, this time things may be different, and the uptrend may be in jeopardy.
Because the future is always uncertain, trading always involves making certain assumptions. Good assumptions—those based on analysis and evidence—can sometimes translate into profitable trades (even if the best-laid plans…). It's the bad ones—those that fly in the face of the facts—that are likely to get you into immediate trouble.
It really boils down to planning your trade, and trading your plan. The market will let you know if you're wrong or right—you just have to listen.
Market Mover Update: Chipmaker Micron Technology (MU) jumped more than 3% intraday after releasing earnings yesterday, extending its run since December 11 to around 15% (see "Eastern exposure: The China trade").
Yesterday's record high for the S&P 500 (SPX) also marked the first time the index traded above 3,200, while Nasdaq 100's (NDX) new record was the tech index's first close above 8,600.
Facebook (FB) followed up on Wednesday's rally with another solid gain yesterday, while Netflix's (NFLX) 3%-plus surge made it the strongest FAANG stock so far this month.
Today's numbers (all times ET): Quadruple Witching expiration, GDP (8:30 a.m.), Corporate Profits (8:30 a.m.), Personal Income and Outlays (10 a.m.), Consumer Sentiment (10 a.m.), Baker-Hughes Rig Count (1 p.m.).
Today's earnings include: Carmax (KMX), Winnebago Industries (WGO).
Click here to log on to your account or learn more about E*TRADE's trading platforms, or follow the Company on Twitter, @ETRADE, for useful trading and investing insights.
---
1 Zack's Equity Research. Fortune Brands' Board Okays 9% Hike in Quarterly Dividend Rate. 12/11/19.
2 Insider Monkey. Is Fortune Brands Home & Security Inc (FBHS) Good Stock To Buy? 12/4/19.
What to read next...
12/19/19
One of these long-time trading mainstays recently challenged resistance.
---
12/18/19
An uptrending stock takes a 10% hit, and its put-call ratio surges. What's next?
---
12/17/19
Unusual options activity highlights potential fuel for a price move.
---