The "why" of high volatility
AXSM options volatility near 52-week highs
Stock recently stabilized, bounced after testing YTD low
Biotech awaits FDA decision on key therapy
Experienced options traders understand the importance of implied volatility (IV), since high IV can inflate options prices and low IV can make them cheaper. That's always good information to have when you're trying to buy something low or sell it high.
But as a recent market example shows, it can also be helpful to understand why IV is high or low.
Yesterday morning biopharma company Axsome Therapeutics (AXSM) had IV near its 52-week high, and also had the market's highest 30-day IV overall: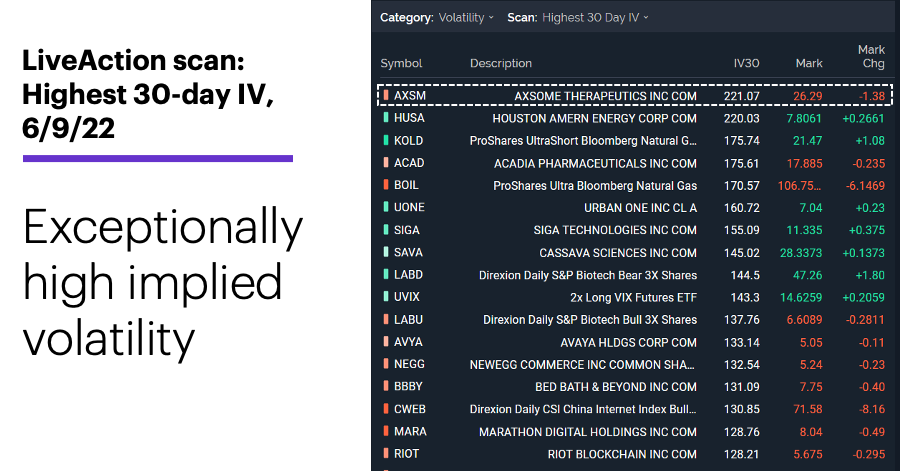 Source: Power E*TRADE. (For illustrative purposes. Not a recommendation.)
---
While historical volatility (IV) simply measures how much a stock has moved over a certain past period, IV is an estimate of a stock's future volatility. Axsome's price chart provides one clue why traders may have been expecting the stock to be volatile over the next month or so—it's certainly been volatile over the past year, including chopping its way to 45%-plus decline over the past couple of months: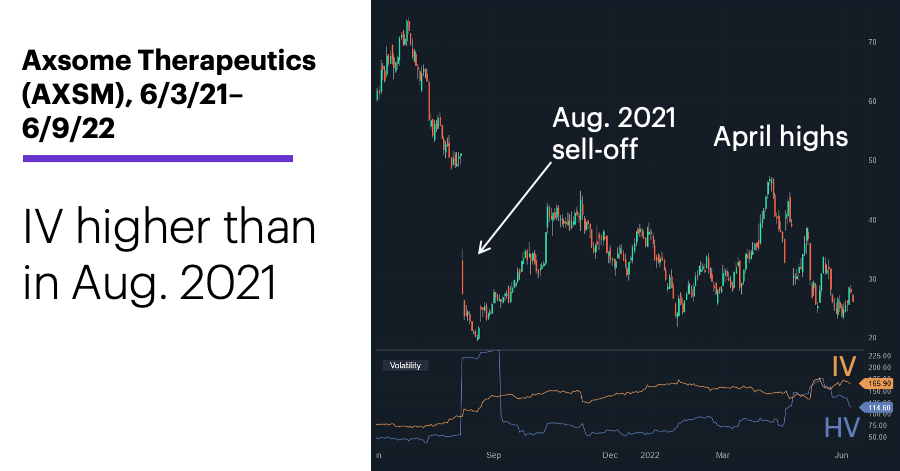 Source: Power E*TRADE. (For illustrative purposes. Not a recommendation.)
---
The bottom of the chart shows that while HV dipped recently as the stock stabilized near its year-to-date lows, IV is still near its highest levels of the past year. In fact, it's significantly higher than it was in late-August 2021 when AXSM shares tumbled 47% in one day after the Food and Drug Administration (FDA) delayed review of the company's depression drug, AXS-05, because of "deficiencies" in the company's filing with the agency.1
What the chart doesn't show is that the FDA's decision on AXS-05, which produced positive results in its latest clinical trials, is expected by the end of this month.2  The uncertainty surrounding that announcement has manifested itself in high IV—and, by association, relatively high options prices, mostly in the June and July expirations: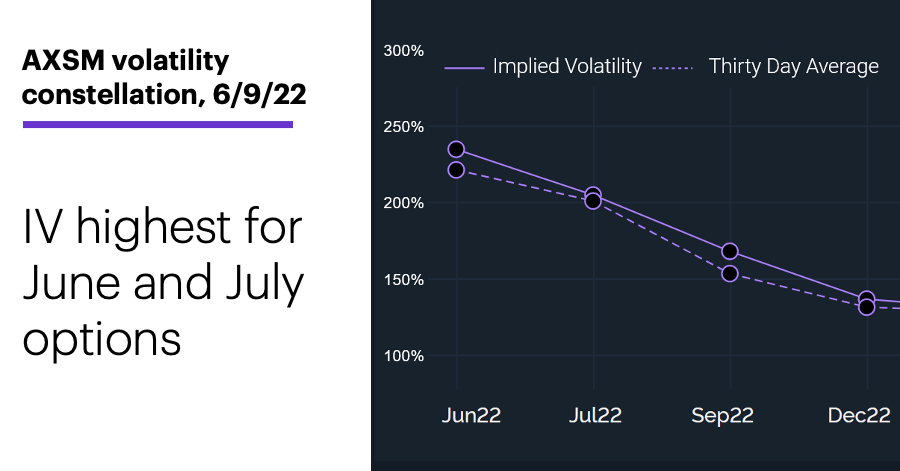 Source: Power E*TRADE. (For illustrative purposes. Not a recommendation.)
---
To get a ground-level view of the effect IV was having on options price, yesterday morning an AXSM July $15 put—a strike price roughly 42% below the stock price of $25.70—was trading around $2.20. By comparison, a comparable option in Global Foundries (GFS), which yesterday had IV near its lowest level of the past 52 weeks, was offered at $0.45—and had no bid.3
Same amount of time until expiration, strike prices roughly the same amount below the stock price—and a more than fivefold difference in price. That's the difference IV can make.
Finally, options traders understand that high IV often has a limited shelf life. Just as it typically shrinks immediately after earnings announcements, IV often drops after FDA decisions. (In other words, AXSM's relatively rich options prices may not be quite as rich in the not-too-distant future.) That always has practical implications for options traders, regardless of which direction they think a stock will take.
Today's numbers include (all times ET): Consumer Price Index, CPI (8:30 a.m.), Consumer Sentiment (10 a.m.).
Click here to log on to your account or learn more about E*TRADE's trading platforms, or follow the Company on Twitter, @ETRADE, for useful trading and investing insights.
---
1 Reuters.com. Axsome says U.S. FDA asks for no extra data for depression drug, shares surge. 8/23/21.
2 FierceBiotech.com. After Axsome's migraine med rejection, phase 3 data keep hope alive for depression drug. 5/31/22.
3 Represents the price of the Global Foundries (GFS) July $30 put option, the strike price of which was 44% below the stock's price ($53.96).
What to read next...
06/09/22
See how step-by-step analysis of options activity can help cut through earnings "noise."
---
06/08/22
Will this gaming stock's rally to multi-week highs need additional players to keep going?
---
06/07/22
Those attracted to this year's energy rally should remember that fast markets don't always reward fast traders.
---