Traders plug into tech options
CRDO up more than 40% in less than two weeks
Traders opened big positions in call options on Wednesday
Trade dwarfed existing open interest
One of the oft-mentioned benefits of analyzing options activity is that it can sometimes alert you to market dynamics that may not be immediately noticeable in a stock's price. That's true. But it can also simply highlight stocks or markets that may have otherwise flown beneath your radar.
Yesterday, tech equipment company Credo Technology (CRDO) rallied more than 6% in early trading, briefly extending its recent breakout move (up nearly 44% in eight trading days) and touching its highest level since early March: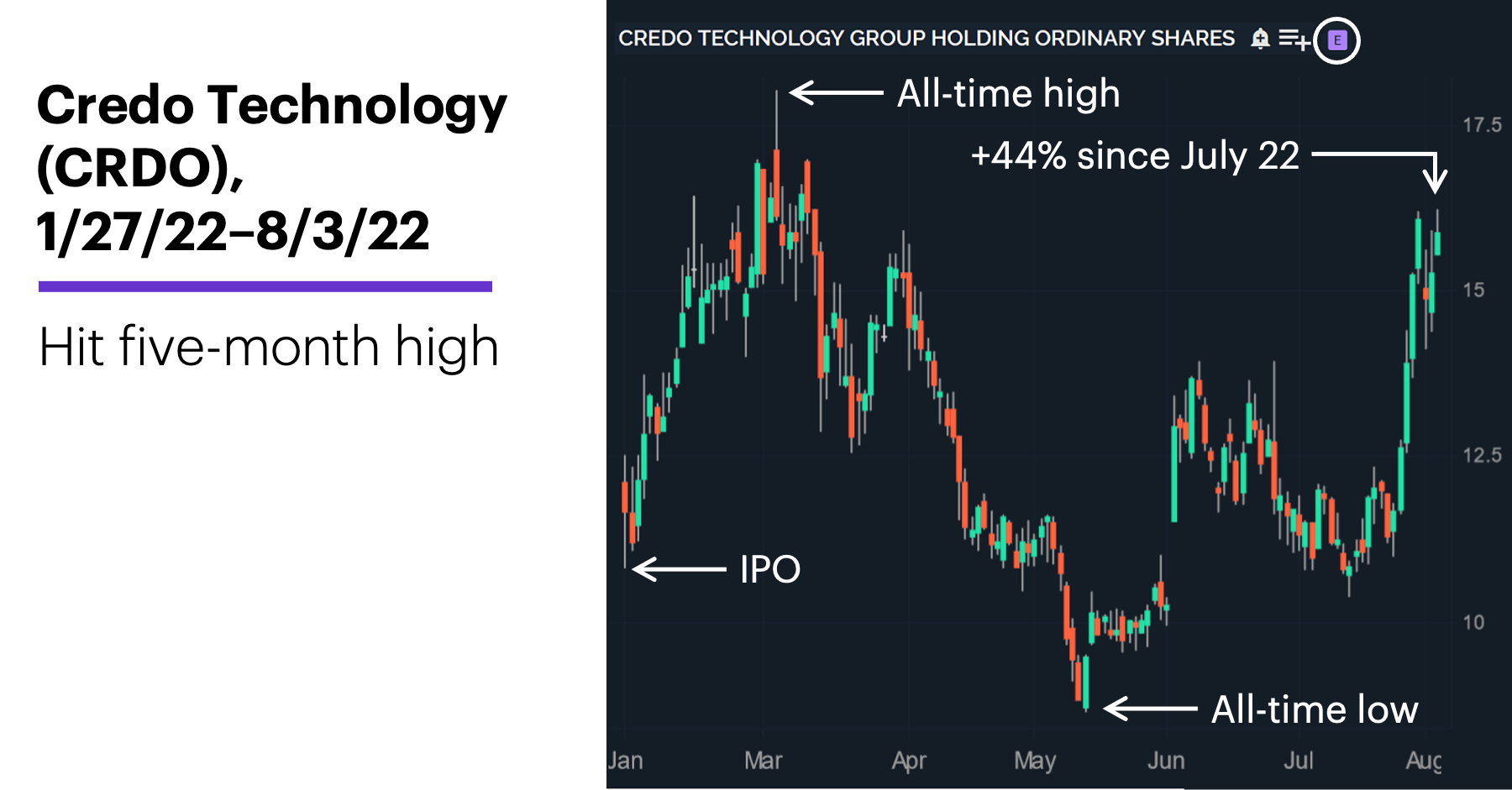 Source: Power E*TRADE. (For illustrative purposes. Not a recommendation.)
---
But CRDO options were arguably the bigger story. Credo isn't a particularly heavily traded stock (around 500,000 shares daily), and its options volume is even lighter. (The stock has been trading only since late January.) Yesterday, though, CRDO was at the top of the LiveAction scan for high call-put ratios, with more than 4,400 calls trading for every put: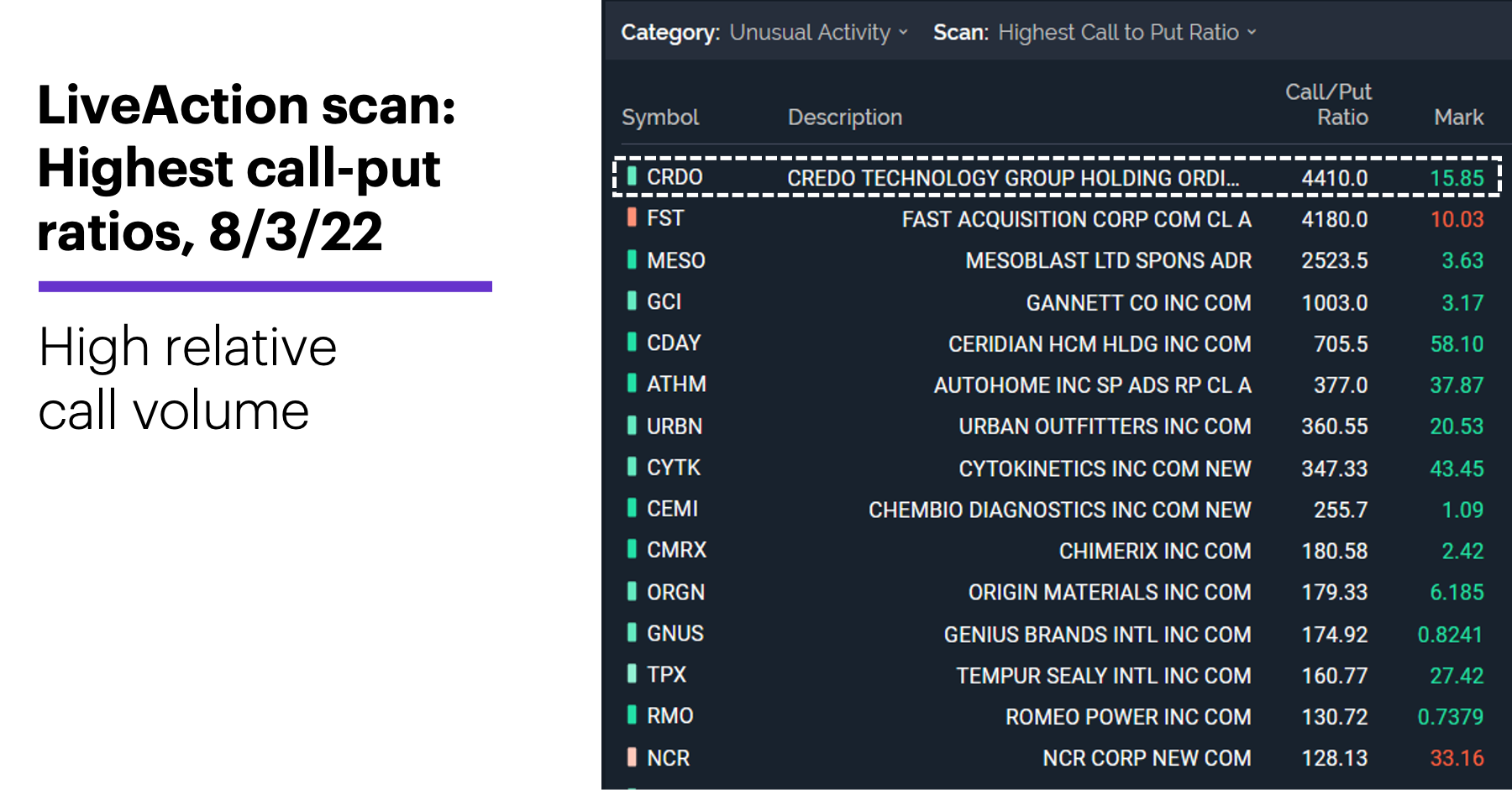 Source: Power E*TRADE. (For illustrative purposes. Not a recommendation.)
---
One contract was responsible for more than 98% of CRDO's total options activity yesterday—the September $17.50 call, which traded 4,400 contracts, the majority of which (3,789) changed hands for $0.90 ($90 per contract):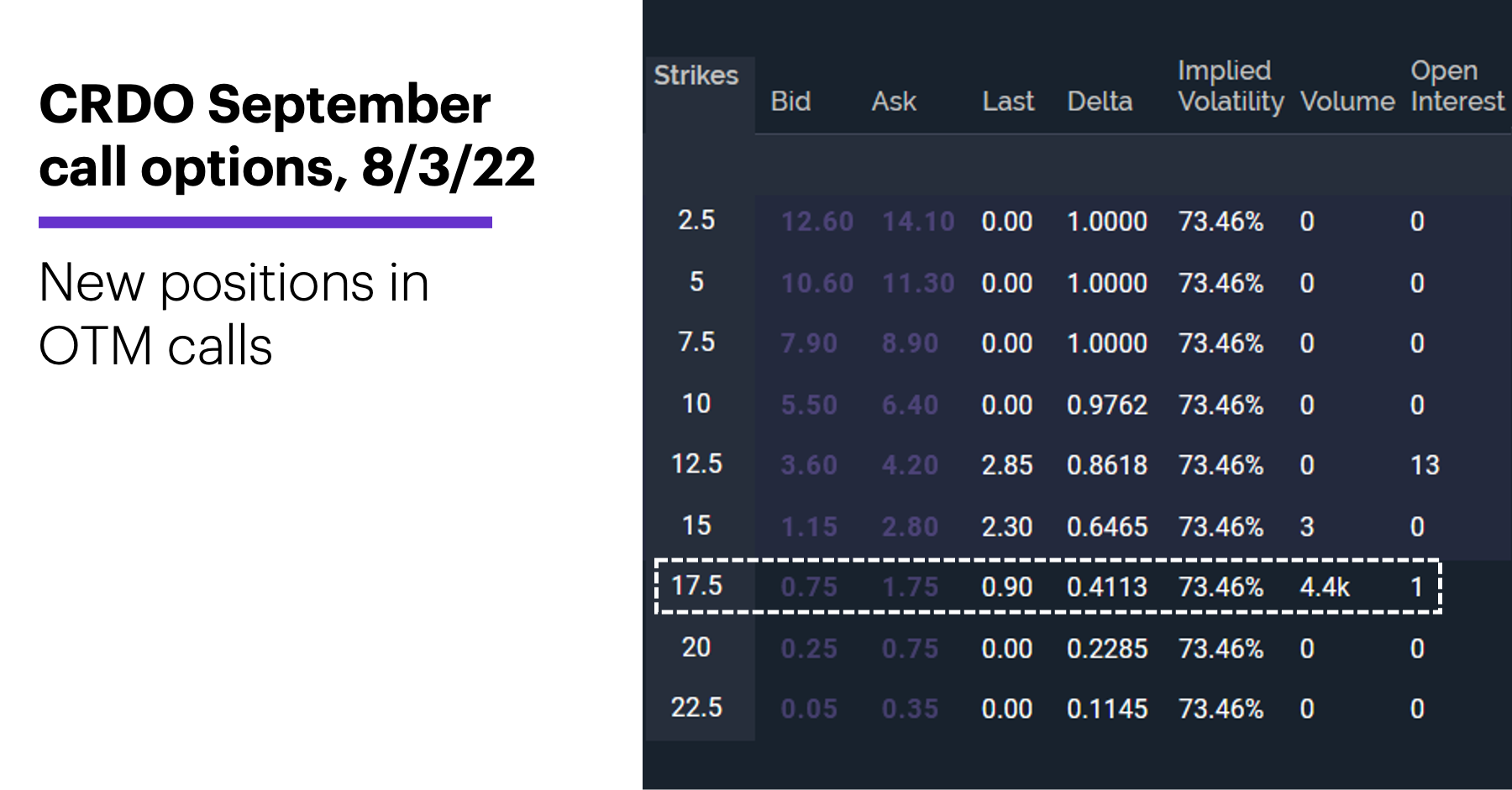 Source: Power E*TRADE. (For illustrative purposes. Not a recommendation.)
---
For some additional perspective, 4,400 contracts represented roughly 29 times as much as CRDO's total options open interest (OI) across four expirations. With the usual caveat that there are two sides to every trade—i.e., even if you considered yesterday's activity as a bullish long-call position, there had to be sellers on the other side of the transactions—the fact remains that traders were taking significant positions in CRDO.
Also, because the OI in the September $17.50 calls was only a single contract, yesterday's trades (or at least 4,399 contracts of it) represented new positions, not closures of existing ones. (Coincidentally, $17.50 is the Street's average 12-month price target for the stock.1)
The timing of the position is also worth noting, since CRDO is tentatively scheduled to release earnings next week. As of yesterday, the options market was estimating a +/- 8.5% earnings-day move—which, based on where CRDO was trading around midday on Wednesday ($15.80), translates to $17.14 on the upside or $13.46 on the downside.
Regardless of which way CRDO moves after earnings, it's likely to be an interesting day for whoever took part in yesterday's options print.
Note: You can access Power E*TRADE's earnings-days estimates by clicking on the "E" next to a stock's name, as highlighted in the CRDO price chart.
Today's numbers include (all times ET): Challenger Job-Cut Report (7:30 a.m.), International Trade in Goods and Services (8:30 a.m.), Weekly Jobless Claims (8:30 a.m.), EIA Natural Gas Report (10:30 a.m.).
Today's earnings include: ConocoPhillips (COP), Kellogg (K), Eli Lilly (LLY), Alibaba (BABA), Lantheus (LNTH), EPAM Systems (EPAM).
Click here to log on to your account or learn more about E*TRADE's trading platforms, or follow the Company on Twitter, @ETRADE, for useful trading and investing insights.
---
1 TipRanks.com. Credo Technology Group Holding Ltd Stock Forecast & Price Targets. 8/3/22.
What to read next...
08/03/22
Is the stock market's recent rebound a head fake, or evidence the bear is headed back to the woods?
---
08/02/22
As industrial stock extends its rally off retracement level, options volume surges.
---
08/01/22
US stocks notch back-to-back up weeks for the first time since April 1.
---