Hearty premiums
MYOK implied volatility much higher than historical volatility yesterday
May options had exceptionally high IV—and high premiums to match
May options entering period when time decay typically increases
When a stock has run more than 50% in 16 days without pausing to catch its breath, does it still have some gas left in the tank?
That may have been a question traders were asking yesterday about Myokardia (MYOK), a small-cap biopharma stock specializing in treatments for niche cardiovascular diseases. One of the reasons that question may have popped up is that MYOK topped the LiveAction scan yesterday morning for stocks with 30-day historical volatility (HV) less than their 30-day implied volatility (IV):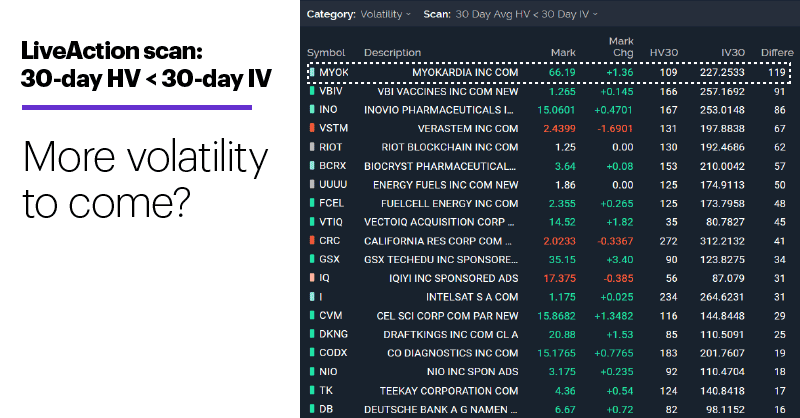 Source: Power E*TRADE
---
Because HV reflects the underlying stock's past price movement and IV is the estimate of future volatility reflected in an option's price, in this case the options market seemed to be saying it expected MYOK to make a bigger move over the next 30 days than it did over the preceding 30 days—and again, that's saying something, because since bottoming at $42.65 on April 2, the stock was up 52.4% at yesterday's high of $66.81.
Most of the IV inflation was in the options expiring on May 15, a little less than three weeks from now. The following options chain, for example, shows IVs for MYOK May puts were elevated across the board: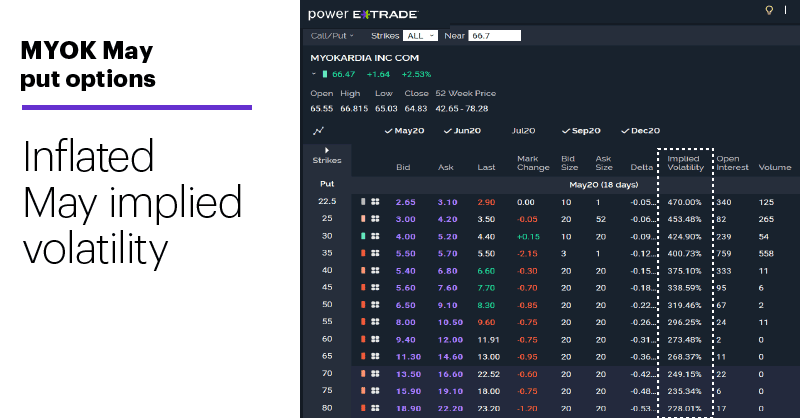 Source: Power E*TRADE
---
Two things to keep in mind about IV:
1. It's non-directional. If IV is high, it means the options market is expecting the stock to move, not that it has any idea which way it will go.
2. All else being equal, high IV generally translates into higher options prices, which is why some traders look for opportunities to short high-IV options.
One thing you could add to the second point is, "especially if there's not much time until expiration." Options typically lose value at a faster rate in the final two to three weeks of their lives—a potential edge for sellers. In other words, some traders may have felt they were looking at relatively high-priced options that were just about to enter the period when this "time decay" would pick up its pace. (In contrast, options buyers may have turned their attention to later-expiring options with lower IV.)
Whether such traders would short calls or puts (or some combination) would depend on what they thought the stock was likely to do over the next three weeks. MYOK is currently scheduled to release earnings on May 14 (one day before options expiration). If they felt the stock was likely to drop, they could sell calls, while bulls would sell puts.
The price chart below shows MYOK just reached a key price level yesterday—resistance around $66.50:
Source: Power E*TRADE
---
The stock broke below this former support level in February, tested it in early March, then dropped to form a double-bottom in early April—a reversal pattern that was "confirmed" when prices traded above the swing high separating the two lows in mid-April. The stock jumped nearly 15% over the next two days, which would have been a nice gain for traders who took that signal.
The question those bulls face now is whether the near-term volatility surge implied by the options market—if it materializes—could propel the stock past resistance, or whether it could drop the stock at least back to the level of its double-bottom confirmation.
Market Mover Update: The oil rollercoaster picked up this week where it left off the last one, as June WTI crude oil futures (CLM0) dropped more than 25% intraday to below $12/barrel.
LivePerson (LPSN) jumped more than 4% to a seven-week high (see "Right place at the right time?").
Today's numbers (all times ET): International Trade in Goods (8:30 a.m.), Retail Inventories (8:30 a.m.), Wholesale Inventories (8:30 a.m.), S&P Corelogic Case-Shiller HPI (9 a.m.), Consumer Confidence (10 a.m.), FOMC meeting begins.
Today's earnings include: Alphabet (GOOGL), Southwest Airlines (LUV), Advanced Micro Devices (AMD), Rockwell Automation (ROK), Merck (MRK), Ford (F), Starbucks (SBUX), Caterpillar (CAT), Pfizer (PFE), Paycom Software (PAYC), PepsiCo (PEP), United Parcel Service (UPS).
Click here to log on to your account or learn more about E*TRADE's trading platforms, or follow the Company on Twitter, @ETRADE, for useful trading and investing insights.  
---
What to read next...
04/27/20
Stocks dip as crude goes on a wild ride and a potential coronavirus drug suffers a setback.
---
04/24/20
Options traders scoop up calls on communications tech stock as chart pattern tightens.
---
04/23/20
High-end retailer's options activity kicks into gear during a pause in the stock action.
---