Health care gut check
GKOS tumbled 28% intraday Wednesday on Medicare-Medicaid news
Proposed fee changes not yet carved in stone
Options volatility, put premiums soared
Few people may have noticed it, being distracted by inflation chatter and the beginning of earnings season, but the government released a somewhat obscure document this week that could have a big impact on the bottom lines of many health care companies.
On Tuesday, the Centers for Medicare and Medicaid Services (CMS) proposed a rule change for its 2022 fee schedule.1 In a nutshell, because the government foots the bill for Medicare and Medicaid, it gets to establish the fees health care providers can charge for products and services covered by these programs.
Medical tech and pharma company Glaukos (GKOS), which specializes in glaucoma, corneal disorder, and retinal disease therapies, found out the CMS's proposal would reduce what it could charge. The market reaction was swift, sending GKOS down as much as 28% in early trading—the stock's second-biggest intraday decline ever: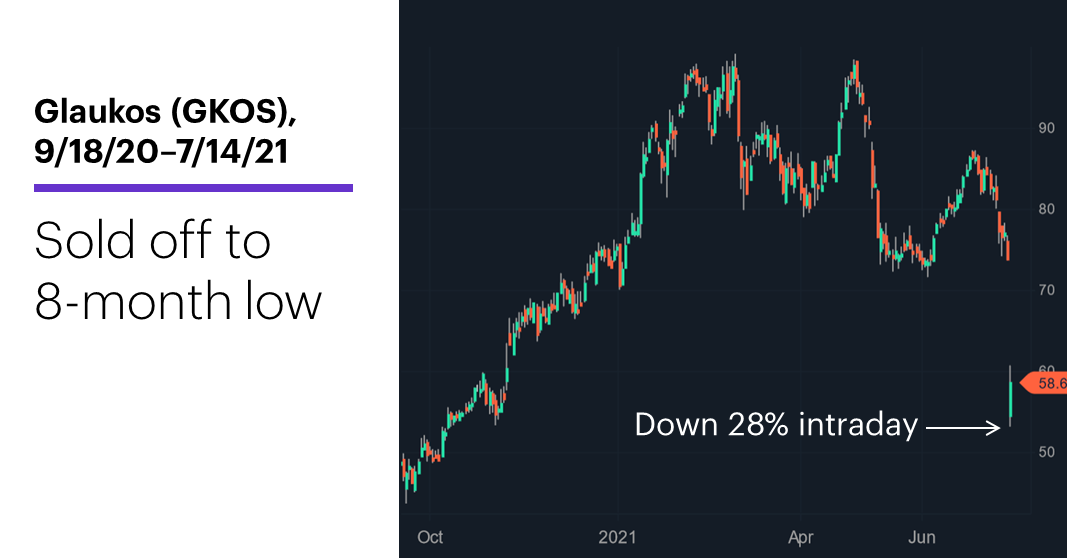 Source: Power E*TRADE
---
The news may have even caught the company a little off guard, judging by the CEO's response that it was "extremely disappointed" in the CMS's proposed adjustments to its fee schedule.
But "proposed" is a key word here, since reading past the headline revealed that the schedule is subject to a mandatory 60-day comment and review period before it can be adopted. In other words, yesterday's news may or may not be the final word on next year's fees.
Only time will tell if traders overreacted to the news (the stock had trimmed its loss to around 20% by midday), but the sell-off certainly had the expected effect on the options market. For example, the August $75 puts, which had been slightly out of the money when the market closed on Tuesday, jumped more than 225% yesterday:
Source: Power E*TRADE
---
Translation: Volatility surged. GKOS's 30-day options implied volatility (IV) was well above average, and around 15 percentage points above its historical volatility—even before yesterday's sell-off, which means options traders were betting GKOS would be more volatile over the next 30 days than it was over the past 30 days.
All else being equal, these are the types of volatility conditions that can make options pricier than they usually are. In such situations, some traders look to sell options instead of buy them—e.g., a trader who is bullish on a stock could sell its puts instead of buying its calls. (Options sellers can also benefit from having time decay work in their favor instead of against them.) Similarly, traders preferring to buy options may choose to wait until volatility has subsided.
Market Mover Update: After hitting a four-day high of $75.52/barrel on Tuesday, August WTI crude oil (CLQ1) slumped as low as $72.21 yesterday amid reports that OPEC resolved its squabble with the United Arab Emirates over future production levels.2
Walgreens-Boots Alliance (WBA) appeared on the LiveAction scan for largest positive net deltas yesterday, and it also posted its second-straight day on the scan for unusual call options volume (see "The number of the day is…").
Today's numbers include (all times ET): Import and Export Prices (8:30 a.m.), Industrial Production (9:15 a.m.), Capacity Utilization (9:15 a.m.).
Today's earnings include: UnitedHealth (UNH), Morgan Stanley (MS), Alcoa (AA), U.S. Bancorp (USB), Taiwan Semiconductor (TSM), Cintas (CTAS).


Today's IPOs include: F45 Training (FXLV), Membership Collective (MCG), Sight Sciences (SGHT), Sera Prognostics (SERA), Erasca (ERAS).
Click here to log on to your account or learn more about E*TRADE's trading platforms, or follow the Company on Twitter, @ETRADE, for useful trading and investing insights.
---
1 CMS.gov. Calendar Year (CY) 2022 Medicare Physician Fee Schedule Proposed Rule. 7/13/21.
2 Reuters. Saudi, UAE reach compromise to unlock more oil supply, says source. 7/14/21.
What to read next...
07/14/21
Snow in summer: Do traders think former blockbuster IPO can climb mountain again after selling avalanche?
---
07/13/21
There's more to bank earnings than the high-profile announcements scheduled for this week.
---
07/12/21
Market dips, then rebounds after Covid elbows its way back into the spotlight.
---