Headline-grabbing trade comes with fine print
33,000-contract options trade printed in IP on Thursday
Stock pushed above resistance despite market weakness
Open interest suggests first impressions may be deceiving
Big price moves and big trades can get the pulse racing, but it's always important to take a moment before acting on eye-popping market developments. The fine print may contradict the headline—or at least cast it in a different light.
While the broad market was meandering in negative territory yesterday morning after Wednesday's upsurge, International Paper (IP) was up more than 1% in early trading: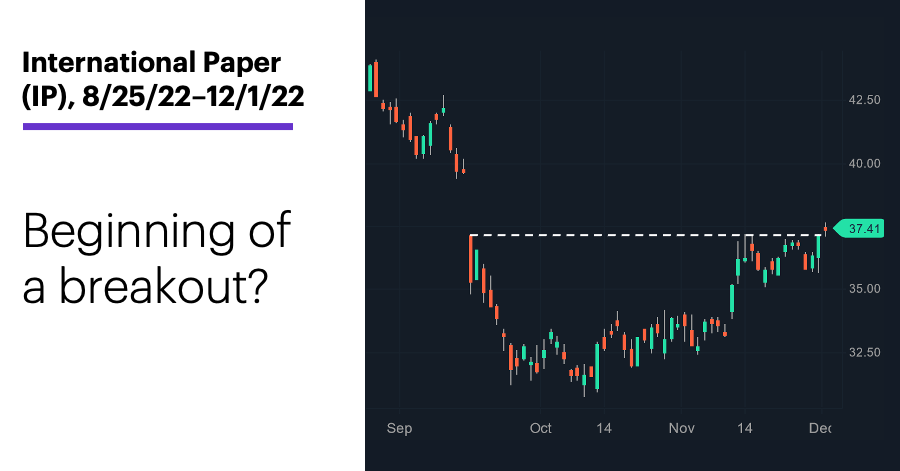 Source: Power E*TRADE. (For illustrative purposes. Not a recommendation.)
---
The move pushed shares just above a resistance level defined by last month's consolidation highs and the bottom of the September 15–16 down gap.
Considering prices had already knocked twice at this door over the past couple of weeks, some traders may have been wondering if IP—which had already rallied around 20% off its October lows—was gathering momentum for a full-fledged upside breakout.
That line of thought may have gotten some support from IP's options activity. Call volume on Wednesday was nearly 29 times average, with 33,100 of the January $50 calls changing hands: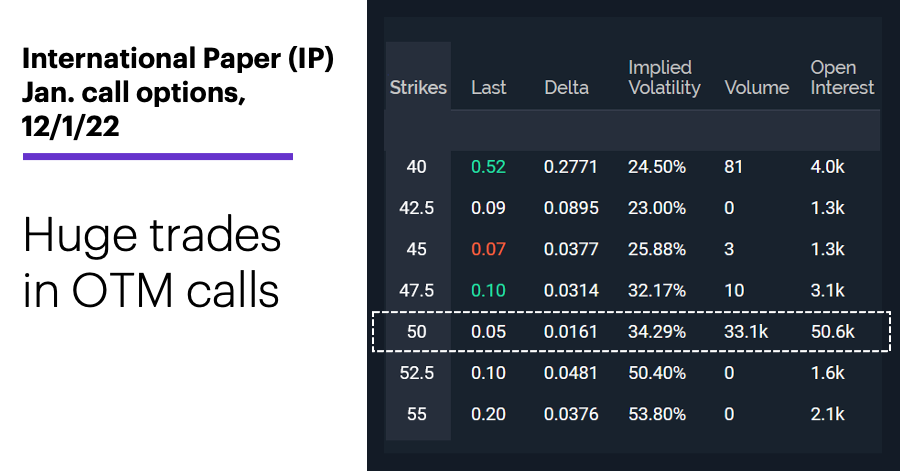 Source (data): Power E*TRADE. (For illustrative purposes. Not a recommendation.)
---
With IP trading around $37.50 yesterday, those options were well out of the money, but with the potential to be exercised, they represented a stock position in excess of $165 million—by any measure, a significant position.
The number immediately to the right of the volume potentially turns the entire picture upside down, though. The existing open interest (OI) in the January $50 calls was more than 50,000 contracts, which means that instead of a large trader opening a new position, it's quite possible a trader was cutting back an existing position by roughly 65%.
Today's OI total should tell the tale. And that may also provide some useful context for traders considering IP's short-term breakout potential.
Market Mover Update: Word Wrestling Entertainment (WWE) wasted no time in extending its pullback, falling more than 4% intraday on Thursday, although it trimmed its loss by the close (see "Dips vs. pullbacks").
GIII Apparel (GIII) made one of yesterday's bigger moves, selling off more than 40% intraday after announcing mixed earnings results and lower-than-expected forward guidance.
Today's numbers include (all times ET): Employment Report (8:30 a.m.), vehicle sales.
Today's earnings include: Cracker Barrel (CBRL), Genesco (GCO).
Click here to log on to your account or learn more about E*TRADE's trading platforms, or follow the Company on Twitter, @ETRADE, for useful trading and investing insights.
---
What to read next...
12/01/22
Was this uptrending stock's latest pullback another opportunity for bulls?
---
11/30/22
Find out how breaking news altered this biotech's options landscape.
---
11/29/22
Retail stock's options volatility falls to lowest levels of the year after earnings release.
---