Growth, value, and breakouts
ABBV in three-month consolidation after Nov.-Dec. rally
Stock has growth and value characteristics
Earnings scheduled for end of month
While the value vs. growth debate may have many traders and investors thinking about pivoting out of certain stocks and into others, the two camps may overlap more than some people think.
Pharma giant AbbVie (ABBV), for example, has gotten nods from both: It has fat, investor-friendly dividends (a value stock characteristic),1 but also above-average earnings and cash-flow projections,2 along with a track record that includes the occasional energetic price rally (growth stock characteristics).
Case in point: AbbVie rallied around 126% between January 2016 and its January 2018 all-time high of $125.86 (the high point in the weekly chart inset, below). But after a 39% rally off its late-October 2020 low, ABBV has been stuck in a trading range (roughly $101–$113), and has drifted toward its lower boundary so far this week: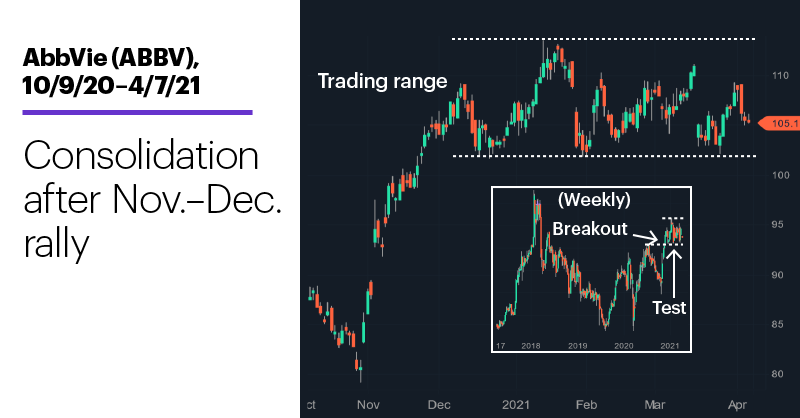 Source: Power E*TRADE
---
The weekly inset also shows the current range formed after the stock broke out above its July 2020 highs, while the pullbacks to the range bottom in January and March represent (so far) successful tests of that support level.
Although congestion phases like this generally frustrate investors, many traders look for opportunities to trade consolidation breakouts because of the potential for the low-volatility condition represented by the range to morph into a high-volatility momentum move, up or down. (Yesterday, for example, ABBV's historical volatility was around 35% lower than it was in mid-November, while the implied volatility for its July options was below average.)
Situations like these offer a lesson in how traders can potentially use vertical options spreads. The following chart shows the risk-reward profile for a vertical call spread, which would typically consist of a long call option near (or a little above) the current stock price, along with a short call option with the same expiration but a higher strike price: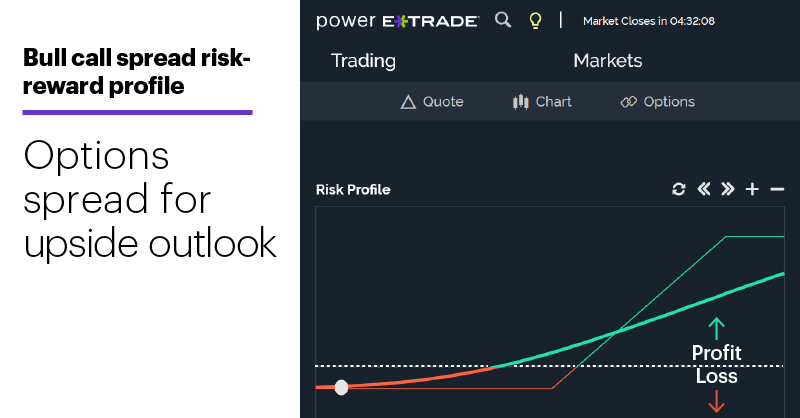 Source: Power E*TRADE
---
Traders expecting a stock to break out of the upside of a range may consider this type of spread, while those anticipating a downside breakout could invert the strategy into a bearish vertical put spread by combining a long put with a lower-strike short put.
A final note: The reduced volatility that often occurs as a trading range extends can also lower options premiums, potentially making long-options strategies more affordable than they would be in high-volatility situations.
Today's numbers (all times ET): Weekly jobless claims (8:30 a.m.), Jerome Powell speech for the International Monetary Fund Debate on the Global Economy (12 p.m.).
Today's earnings include: WD-40 (WDFC), Conagra (CAG), Constellation Brands (STZ), Levi Strauss (LEVI).
Click here to log on to your account or learn more about E*TRADE's trading platforms, or follow the Company on Twitter, @ETRADE, for useful trading and investing insights.
---
1  Zacks Equity Research. Here is Why Growth Investors Should Buy AbbVie (ABBV) Now. 2/9/21.
2  Barron's. Barron's Stock Screen: The 5 'Dividend Aristocrats' With the Fastest-Growing Payouts. 4/7/21.
What to read next...
04/05/21
US stocks start Q2 by pushing to new records as Capitol Hill braces for an infrastructure showdown.
---
04/01/21
EV-related stocks get a jolt as the Biden administration rolls out infrastructure plan.
---