Ground-floor rally?
LGIH rallied more than 20% on Monday
Potential double-bottom formation?
Gold rebounds to press resistance around $1,700
True, there wasn't much red on yesterday's stock ticker, but even on such a strong up day some sectors and stocks were a whole lot greener than others.
And not necessarily the ones you'd expect, either. With the S&P 500 (SPX) up more than 5% halfway through the day, for example, the S&P homebuilders index was up around 12%, and certain names, such as LGI Homes (LGIH), had gained twice as much as that: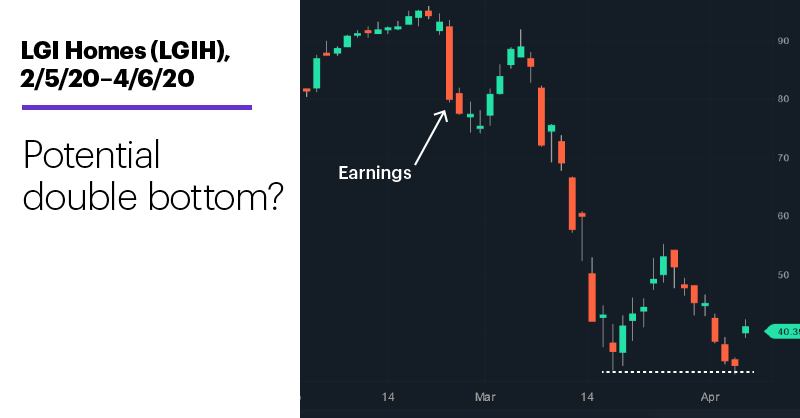 Source: Power E*TRADE
---
On March 18 (its initial sell-off low), LGIH was down 50% from its February 20 high. After a five-day rally the stock turned down again, falling to a fresh low of $34.39 on Friday before exploding more than 20% yesterday—with no company specific news crossing the wire.
That emphatic bounce will likely have some traders thinking "double bottom," which is just what it sounds like—a successful test of a sell-off low that marks a significant bottom. Many technical traders will tell you a double bottom is "confirmed" when prices push above the rebound high separating the two lows (in this case, the March 25 high around $55).
Homebuilders may seem like a strange group of stocks to lead the market higher given the coronavirus economic challenges that are still looming on the horizon. But the other side of the coin is that the new low-interest-rate environment is poised to make mortgages cheaper than they've been in a while, and given the tight housing supply that existed before the sell-off occurred,1 some traders may see the potential for an outsized recovery if the worst-case pandemic scenarios for the US don't come to pass.
Add to that what could be a good-old-fashioned "oversold" condition—the S&P homebuilder index suffered its worst month ever in March—and some short-term traders could be looking for a stock like LGIH (which crushed its earnings numbers on February 25, by the way2) to challenge that March high, regardless of whether a full-blown uptrend emerges.
Nonetheless, to keep the risk-reward balance in their favor, experienced traders will probably be inclined to take their shots after the stock gives back at least some of yesterday's surge.
Gold glitters. Less than three weeks after surprising many traders by crumbling at the same time the stock market was selling off, June gold futures (GCM0) yesterday jumped back above $1,700—the third time it's returned to this level since first climbing to it in February: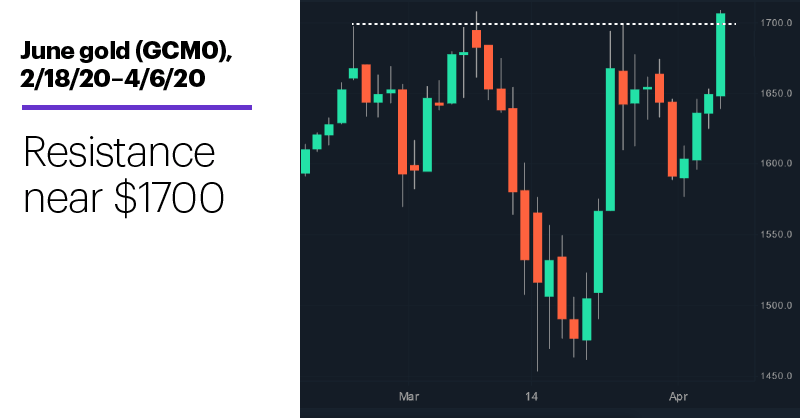 Source (data): Power E*TRADE
---
While this could simply turn out to be the latest instance of gold retreating from the $1,700 zone, a couple of things have changed since mid-February. First, the market has bounced back from a major flush-out that could have been expected to derail bullish momentum for the foreseeable future. The fact that it didn't suggests there's some commitment on the long side of the ledger.
The longer-term chart below shows gold's March collapse bottomed around the level of its late-2019 lows. Since March 19, the market has jumped around 15%: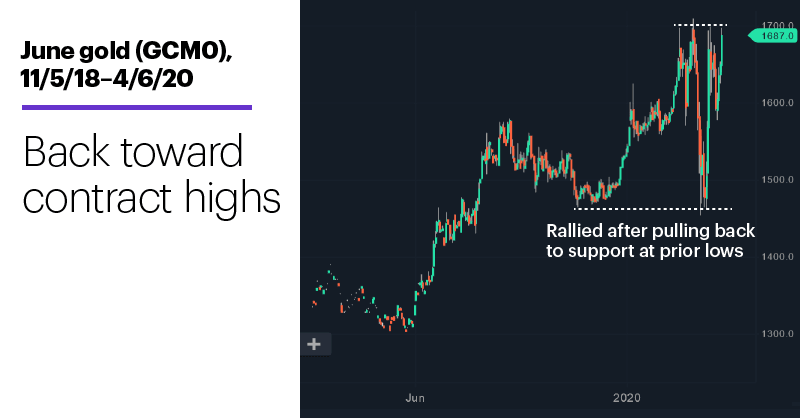 Source: Power E*TRADE
---
Second, gold bulls no doubt hope that, in addition to fueling upside momentum by triggering stop orders, a move above this now well-known resistance level will get continued support because of the longer-term inflationary threat posed by the Fed's massive quantitative easing program (see "Fed all in, markets wait for Congress").
It's the third time in the past few weeks gold has knocked on this door. Maybe this time someone will be around to answer.
Market Mover Update: Friday's VIX signal—a sharp drop in the stock market combined with a lower VIX close—played out yesterday in a 4% intraday rally for the SPX.
Today's numbers (all times ET): JOLTS (10 a.m.), Consumer Credit (3 p.m.).
Today's earnings include: Levi Strauss (LEVI), Smart Global Holdings (SGH).
Click here to log on to your account or learn more about E*TRADE's trading platforms, or follow the Company on Twitter, @ETRADE, for useful trading and investing insights.  
---
1 StreetInsider.com. LGI Homes (LGIH) Tops Q4 EPS by 18c, Revenues Beat. 2/25/20.
2 CNBC. Homebuilder ETF just had its worst month ever, but it's on the cusp of a comeback, chart analyst says. 3/31/20.
What to read next...
04/06/20
Modest losses for US stocks last week despite historic job-loss numbers.
---
04/03/20
Communications tech stock jumps after video chat announcement.
---
04/02/20
Companies that have what people need in the new world of social distancing and hunkering down have seen their stocks jump. Can it last?
---