Great expectations
LLY dropped Monday after mixed trial results for its Alzheimer's drug
Move broke shares out of five-week trading range
Call volume outpaced put volume despite stock sell-off
Experienced traders understand that in the markets, there's often a difference between information and expectations about that information. For example, even when a piece of data appears to be "good"—say, a lower unemployment rate—the market can still react negatively if the Street was expecting an even bigger decrease.
Traders may be gauging whether or not pharma giant Eli Lilly (LLY) is experiencing something along these lines after the company released the latest test results for its experimental Alzheimer's treatment, donanemab. While the drug showed modest success in slowing cognitive decline (the Alzheimer's Association described the results as "encouraging"),1 the market seems to have expected more of a breakthrough, at least judging by the stock's sharp sell-off yesterday: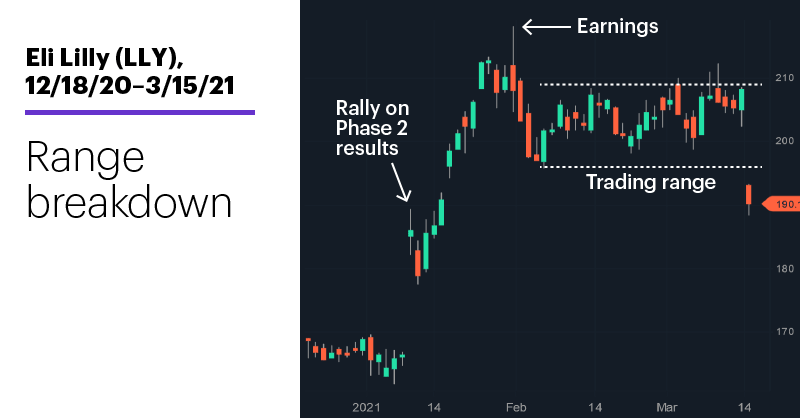 Source: Power E*TRADE
---
Yesterday's 10% intraday drop broke the stock out of the five-week trading range it began forming not too long after it released earnings on January 29, and brought it a little closer to the huge up gap that accompanied the initial donanemab Phase 2 trial results. But in addition to the expectation gap, there can also be a difference between immediate and longer-term market reactions to specific news catalysts—call it a period of digestion.
Most people wouldn't have been surprised to find that LLY's options volume was higher than average yesterday, but they may not have expected call volume to be much higher than put volume, since all else being equal, calls tend to be vehicles for playing the long side of a market. But by the early afternoon LLY's call volume was nearly six times average: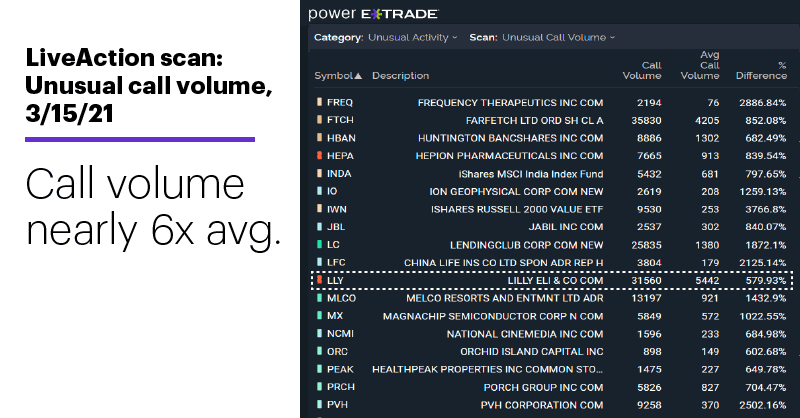 Source: Power E*TRADE
---
Another potential surprise: While sharp sell-offs often trigger spikes in options volatility (and inflate options prices in the process), LLY's implied volatility (IV) was below average for all expirations through May: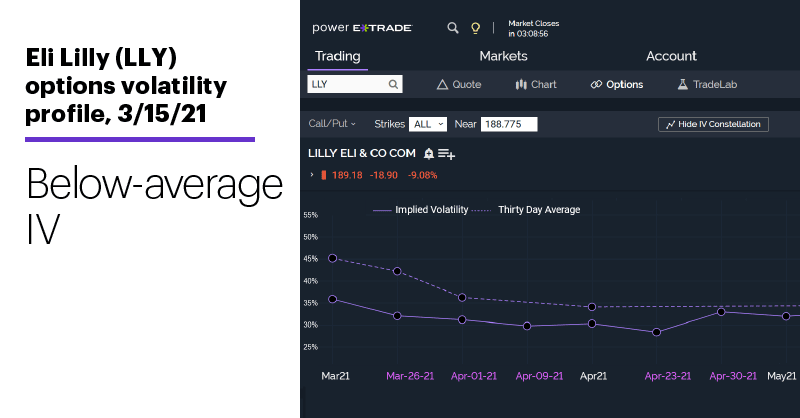 Source: Power E*TRADE
---
In other words, LLY bulls who were interested in buying call options may have been pleasantly surprised to find they weren't fighting too much of an uphill battle against high IV.
Although there appeared to be a great deal of anticipation surrounding the latest donanemab results, the story is far from over, and LLY isn't just about one drug. The company handily topped earnings and revenue estimates (and provided in-line forward guidance) last month,2 and even after yesterday's pullback, shares were up around 45% since October 30.
The lesson: There's often a disconnect between expectations and reality in the markets—and also between initial impressions and the longer-term processing of information.
Today's numbers (all times ET): Retail Sales (8:30 a.m.), Import and Export Prices (8:30 a.m.), Industrial Production (9:15 a.m.), Capacity Utilization (9:15 a.m.), NAHB Housing Market Index (10 a.m.) , Business Inventories (10 a.m.) .
Today's earnings include: FuelCell Energy (FCEL), Lennar (LEN), Coupa Software (COUP), CrowdStrike Holdings (CRWD), Guess (GES), Jabil (JBL), Smartsheet (SMAR).
Today's IPOs include: Jowell Global (JWEL).
Click here to log on to your account or learn more about E*TRADE's trading platforms, or follow the Company on Twitter, @ETRADE, for useful trading and investing insights.
Ratings information and research reports are provided by Morgan Stanley are for informational and educational purposes only and should not be used or construed as investment advice, financial guidance, or an offer, solicitation, or recommendation to buy, sell, or hold any security, financial product or instrument discussed therein or to open a particular account or engage in any specific investment strategy.  The analysis and information provided is not individually tailored investment advice and is prepared and made available without regard to your individual financial circumstances and objectives. The securities and strategies discussed or referred to in this content may not be appropriate for you. Your decision to buy, hold or sell a security should depend on your individual circumstances (such as your investment objectives and experience, time horizon, liquidity needs, financial situation and existing holdings) and other considerations. Please see the relevant research report for additional important disclosures. E*TRADE Securities LLC is an affiliate of Morgan Stanley & Co. LLC and Morgan Stanley Smith Barney LLC. Please see vendor disclosures and provider methodologies for additional third party and affiliate supplied information regarding E*TRADE's non-affiliated and affiliated research providers and their reports.
---
1 The Wall Street Journal. Lilly Alzheimer's Drug Shows Modest Benefit in Clinical Trial. 3/13/21.
2 StreetInsider.com. Eli Lilly & Co. (LLY) Tops Q4 EPS by 39c, Revenues Beat; Offers FY21 EPS/Revenue Guidance. 1/29/21.
What to read next...
02/25/21
Is this high-flying tech stock's sell-off similar to other buying opportunities in recent months?
---
02/24/21
Sometimes there is a certain degree of method to the apparent madness of earnings volatility.
---
02/23/21
Looking for stocks that buck the market's trend on a given day can potentially highlight pockets of hidden momentum.
---