Golden rule
Gold reversed intraday Wednesday after hitting six-day low
Market has held above November's trend-retracement low
Some gold-mining stocks testing key support
Gold hasn't been doing much lately. Time for traders to pay attention?
Gold bugs certainly haven't had much to get excited about since the yellow metal soared to record highs above $2,000/ounce last August. The market quickly descended into a funk, with prices sliding to their lowest level since June by the end of November: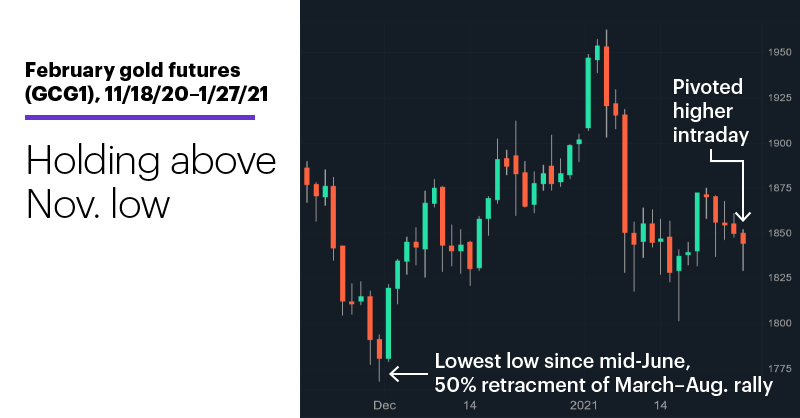 Source: Power E*TRADE
---
That low, by the way, also happened to represent a 50% retracement of the March–August 2020 rally, which was followed by a 10% rebound into early January before another sharp pullback kicked in. Since then, though, the market has more or less held its ground, with February gold futures (GCG1) dipping as low as $1,800.80 on January 18 before bouncing above $1,850—but perhaps most importantly to gold bulls, holding above that November low.
Yesterday's intraday reversal after an early sell-off to a six-day low may have had long-side players anticipating the possibility of a continued pivot to the upside—especially with the Fed holding the line on low interest rates, the dollar still entrenched in a downtrend, and some nervousness about potentially disruptive speculative action in some corners of the market (see "Market Mover Update," below).
Many of the biggest gold-mining stocks traded in sync with gold futures yesterday—selling off early then rebounding later in the morning, but the following chart shows Barrick Gold (GOLD) dropped just below a highly visible technical level—the support defined most recently by the November and December lows, but which extends back to the June low and the February high:
Source: Power E*TRADE
---
Some traders may consider it an important inflection point: The ability to hold such support, especially in conjunction with an upswing in gold itself, could encourage bulls, while any significant breakdown below the level could trigger stop orders and produce some meaningful downside follow-through.
But "more significant" will be a key issue. In these types of situations, experienced traders are always prepared for the possibility of a "bear-trap"—a small or brief breakdown that quickly reverses to the upside, squeezing short sellers.
Market mover update: Speaking of squeezes, the over-the-top price action in GameStop (GME) continued yesterday, and appeared to bleed into a few other stocks, too—including AMC Entertainment (AMC), which skyrocketed more than 300% intraday (GME's max intraday gain was 157%). Volume in AMC exceeded a billion shares.
Also, any options trader who downplays the importance of implied volatility (IV) need only ponder this tidbit from yesterday's trading: When GME was up 142% yesterday morning (trading around $358), a February $20 put—a contract that would give its buyer the right to sell the stock $338 below its market value at the time—was trading 41% higher on the day. The IV on the option? A whopping 631%.
Today's numbers (all times ET): GDP (8:30 a.m.), Advance International Trade in Goods (8:30 a.m.), Weekly Jobless Claims (8:30 a.m.), Advance Retail Inventories (8:30 a.m.), Advance Wholesale Inventories (8:30 a.m.), New Home Sales (10 a.m.), Leading Indicators (10 a.m.).
Today's earnings include: American Airlines Group (AAL), Southwest Airlines (LUV), McDonald's (MCD), Sherwin-Williams (SHW), Northrop Grumman (NOC), Eagle Materials (EXP), Mastercard (MA), Juniper Networks (JNPR), Visa (V).
Click here to log on to your account or learn more about E*TRADE's trading platforms, or follow the Company on Twitter, @ETRADE, for useful trading and investing insights.  
---
What to read next...
01/27/21
Is options action in this IT services stock pointing to a possible breakout of its multi-week trading range?
---
01/26/21
With earnings approaching, traders have kept some wind under this discount airline's wings.
---
01/25/21
Stocks push to new records as traders look forward to heart of earnings season.
---