Gold holds its ground
Gold recently posted its biggest up move of the year
Market rebounded in late March after testing nine-month low
Gold-mining stocks a mixed bag
If you haven't heard much about gold lately, there's a good reason.
The financial world loves nothing more than a rally, and since gold soared to all-time highs last August—pushing above $2,000/ounce for the first time in history—bears have mostly dominated the market.
Sure, experienced futures traders are generally more comfortable than stock traders in operating from the short side, but bottom line: no rally, no headlines. Just about a month ago, gold was flirting with bear-market status, having fallen nearly 20% from its August 2020 peak: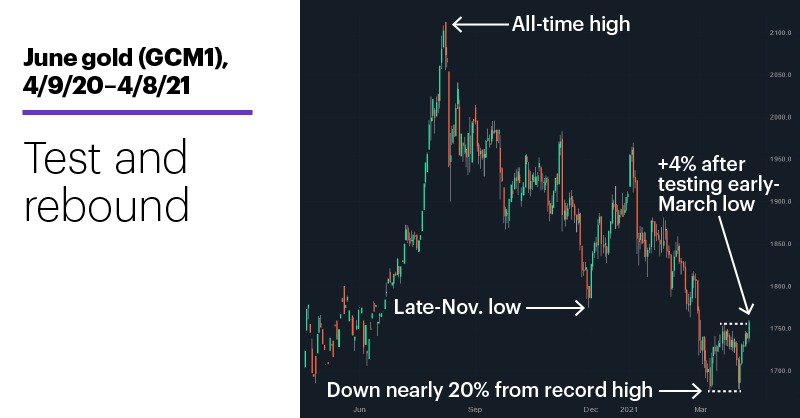 Source: Power E*TRADE
---
But the June gold futures (GCM1) chart also shows that as of yesterday the market had actually put together its biggest six-day gain since it rallied off its late-November lows: The market has rebounded more than 4% after testing its early-March lows around $1,676–$1,677, and yesterday's gain briefly pushed prices above their mid-March high of $1,756 (a development that may have piqued the interest of some breakout traders).
Regardless of whether gold can build on this momentum—some analysts have argued that gold and gold-mining stocks may be due for at least a "relief rally"1—equity traders should keep in mind that "commodity stocks" like gold-mining companies are not commodities themselves. Yes, there's likely to be a correlation between a commodity and the stocks of companies in the business of producing or selling it, but they won't necessarily move in lockstep.
Not only did several gold-mining stocks gain more than gold in the final, high-momentum phase of last year's rally (June–August), the following chart shows that three of the biggest, Newmont (NEM), Barrick Gold (GOLD), and Royal Gold (RGLD), also lost more than gold on the way down: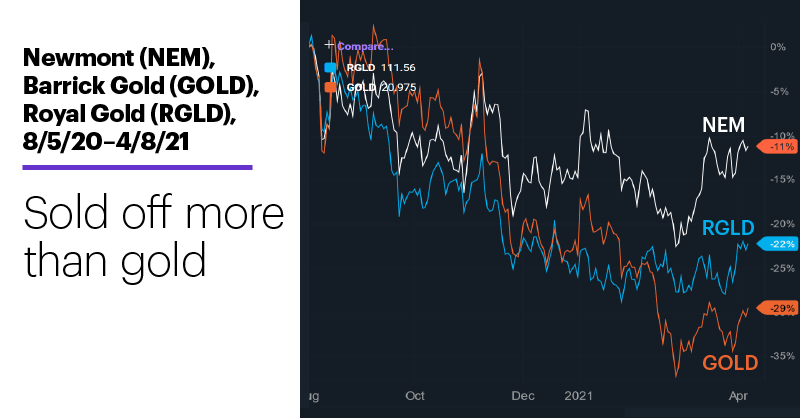 Source: Power E*TRADE
---
All three had fallen more than 20% from their August highs at some point earlier this year, and two of them (RGLD) and (GOLD) are still below that threshold. That said, all have shown evidence of tracking gold's recent rebound, with NEM outpacing both the metal and the two other miners by a wide margin.
Finally, traders who have noticed the word "inflation" creeping back into financial headlines in recent months should keep in mind that gold's historical track record as an inflation hedge is sketchy, at best.2 Gold has, however, staged some of its biggest up moves during periods of economic and market disruption—as illustrated by last year's record-setting run, as well as in the rally that kicked off during the 2008–2009 financial crisis.
As many people are fond of saying, the (stock) market hates uncertainty. But uncertainty can be a bullish catalyst, too. It just depends on the market.
Today's numbers (all times ET): Producer Price Index, PPI (8:30 a.m.), Preliminary Wholesale Inventories (10 a.m.).
Today's earnings include: JinkoSolar (JKS).
Click here to log on to your account or learn more about E*TRADE's trading platforms, or follow the Company on Twitter, @ETRADE, for useful trading and investing insights.
---
1 Barron's. Gold Is Due for a Comeback. Barrick Is a Good Way to Play It. 4/5/21.
2 MarketWatch.com. Opinion: How stocks, gold, bitcoin and TIPS can hedge rising inflation. 1/19/21..
What to read next...
04/08/21
"Hybrid" pharma stock's consolidation may have breakout traders testing the momentum waters.
---
04/07/21
Addition to S&P 600 small-cap index pushes biopharma stock toward all-time highs.
---
04/06/21
Lithium producers are testing support levels after significant pullbacks from long-awaited rallies.
---