Mining stocks diverge from metals
Gold up roughly 7% this year after pullback from March high
Many mining stocks up more than 30% year to date
Heavy put options volume in RGLD as stock tested resistance
On Monday, June gold futures (GCM2) pushed above $2,000/ounce for just the sixth day this year, and the first time since March 11. After a six-week rally that pushed the metal's year-to-date gain to around 13% on March 8, gold pulled back sharply for a week, and has since moved mostly sideways. As of yesterday, it was up around 7% for the year.
Meanwhile, the S&P metals & mining stock group is up more than 30% so far this year. For example, just five trading days after hitting a record intraday high of $147.70, Royal Gold (RGLD) was up around 35% in 2022 on Tuesday, five times as much as June gold: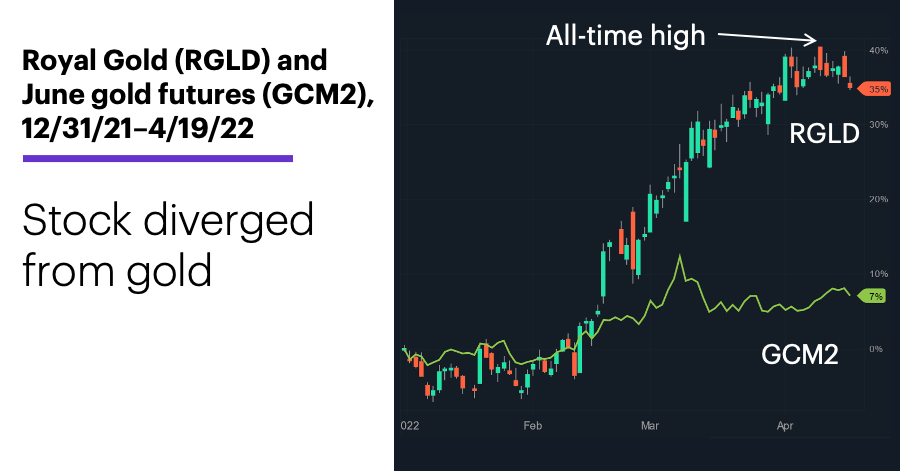 Source: Power E*TRADE. (For illustrative purposes. Not a recommendation.)
---
While it can't be said often enough that commodities and "commodity stocks" don't always move in lockstep—stocks represent individual companies, and their performance depends on more than the prices of the raw commodities they deal in—the recent divergence between many mining stocks and the products they extract from the earth may have raised a few eyebrows in the trading community.
This week ushered in some unusual options activity in RGLD, though. On Monday, when gold closed higher for the day, RGLD closed down on heavy put options volume:
1. Put volume was more than 19 times average (4,623 contracts vs. 241).
2. Positions were concentrated in out-of-the-money strike prices, with the two biggest chunks occurring in the July $130 puts (2,200 contracts) and the October $65 puts (1,100 contracts).
3. The majority of this volume represented new positions, not the liquidation of existing ones: open interest in both contracts increased from Monday to Tuesday.
Despite its record intraday high on April 11, RGLD has actually been drifting sideways to lower since setting its all-time closing price on April 1. A weekly chart shows the loss of momentum occurred as the stock was challenging its former all-time high from 2020:
Source (data): Power E*TRADE. (For illustrative purposes. Not a recommendation.)
---
With the usual disclaimer that there are two sides to every trade, an increase in the number of new put positions in a stock that has paused near a prominent resistance level—after a high-momentum rally—raises the possibility that the traders who bought those options may have been thinking about a potential loss of upside momentum.
Note: RGLD is currently scheduled to release earnings in the first week of May.
Market Mover Update: Speaking of price pauses near conspicuous price levels, the S&P 500's pullback from its late-March high is still in effect, but if the index does manage to turn Tuesday's bounce into something bigger, some traders will point out the pivot occurred in the vicinity of two nearly overlapping technical levels: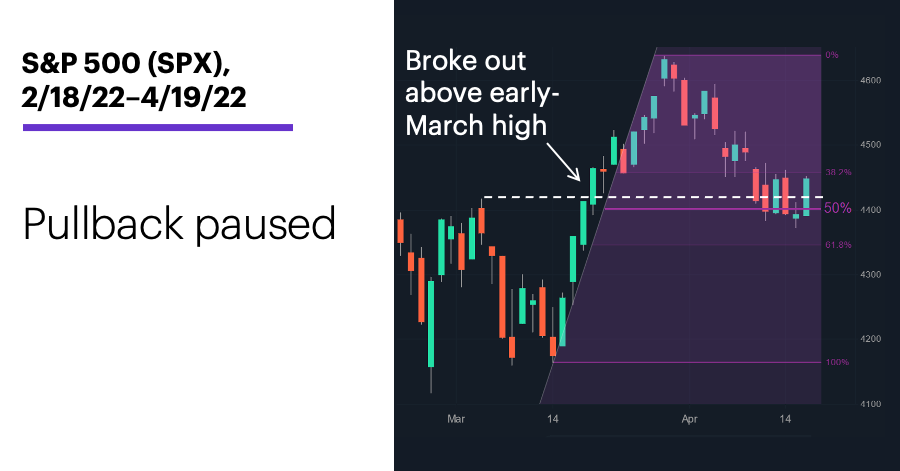 Source: Power E*TRADE. (For illustrative purposes. Not a recommendation.)
---
Last week the SPX pulled back to test the breakout above its early-March highs, a level that is just a little above the 50% retracement of the index's March 14–29 rally.
Today's numbers include (all times ET): Mortgage Applications (7 a.m.), Existing Home Sales (10 a.m.), EIA Petroleum Status Report (10:30 a.m.), Beige Book (2 p.m.).
Today's earnings include: Lam Research (LRCX), United Airlines (UAL), Procter & Gamble (PG), Abbott Laboratories (ABT), Lithia Motors (LAD), Alcoa (AA), Tesla (TSLA), Crown Castle (CCI), Steel Dynamics (STLD).
Click here to log on to your account or learn more about E*TRADE's trading platforms, or follow the Company on Twitter, @ETRADE, for useful trading and investing insights.
---
What to read next...
04/19/22
Find out about the Nasdaq 100's performance after down moves like the one that occurred over the past two weeks.
---
04/18/22
Stocks slump mid-month amid the latest inflation data and disappointing news out of Ukraine.
---
04/14/22
Sharp sell-off in biopharma stock highlights impact of volatility on options prices.
---