Gold showing its true colors?
Gold up more than 8% since late January
Prices at highest levels in more than a year
Correlation to inflation not historically strong
Until just a few weeks ago, many investors were likely focused primarily on rising inflation. For several months a steady stream of data points showed that prices were, in fact, rising at their fastest clip in decades, fueling concerns about the potential market impact of the Fed's first rate hikes in more than three years.
Against that backdrop, gold's recent rally to its highest levels in more than year may appear to fit the narrative, since the metal has long had a reputation as an inflation hedge. April gold futures (GCJ2) spiked as high as $1,976.50 last Thursday (the highest the market has been since September 2020), and  closed at $1,947.60 on Tuesday.
But is the move really about inflation? Although gold has been trending higher since the end of September, the majority of its roughly 12.5% gain has come in just the past month or so. April gold rallied 8.7% between January 28 and Tuesday, and last Thursday's spike high occurred as Russia invaded Ukraine: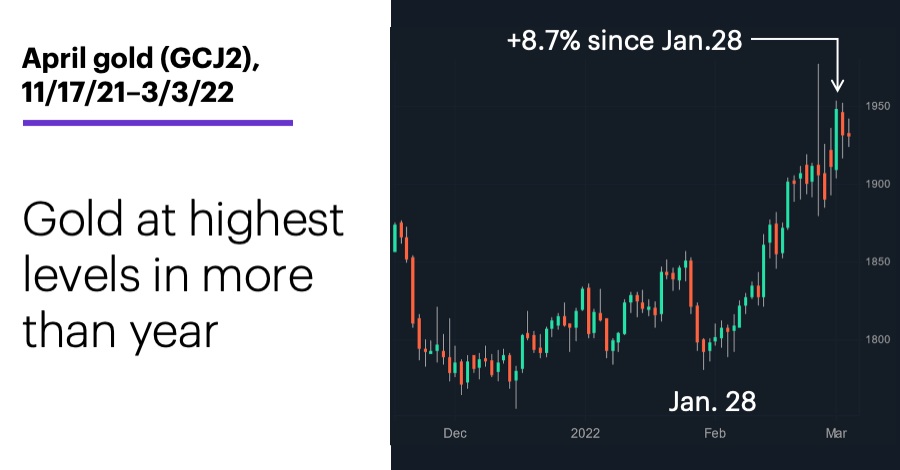 Source: Power E*TRADE. (For illustrative purposes. Not a recommendation.)
---
While it's unrealistic to expect markets to realign on a dime, it's important to remember that inflation was an issue long before late January. In other words, some investors may have wondered why, if gold is an inflation hedge, it had waited so long to react.
That's not to dismiss the gold market's recent performance—it has, after all, gained ground in recent weeks as the stock market declined—or what it may do in the future. (Also, since the beginning of the year, the metals and mining industry group is the only positive area of the S&P 500 materials sector, up around 16% as of Thursday.) But traders and investors may want to separate gold's performance from its supposed connection to inflation.
The following chart shows why. It compares gold to inflation—in this case, the Consumer Price Index (CPI)—since the beginning of January 2019. (The most recent CPI reading, reported on February 10, reflects January data.) The critical period, November 2020–January 2022, is highlighted by the two dashed lines—that's when the CPI really began to accelerate to the upside, jumping roughly 8%: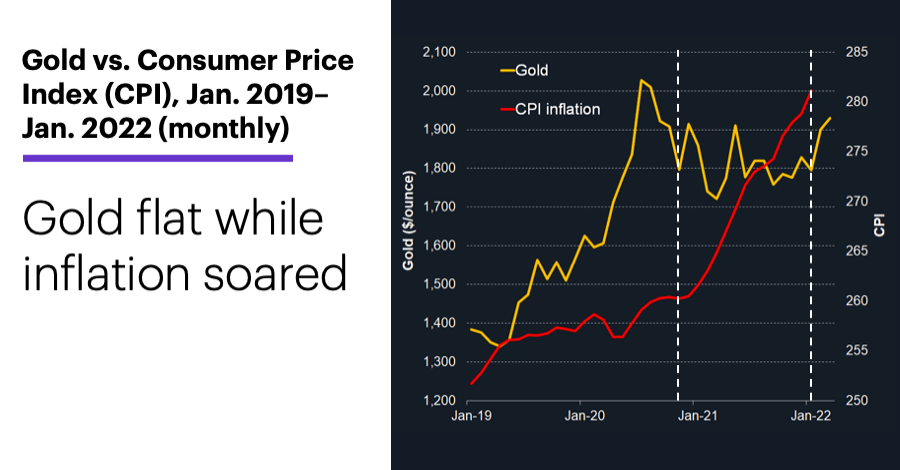 Source (data): Bureau of Labor Statistics and Federal Reserve. (For illustrative purposes. Not a recommendation.)
---
Gold, however, went absolutely nowhere during this period—it was actually marginally lower on a monthly closing basis.
This episode is not an isolated example. The reality is that gold has shown little evidence of being a useful hedge against sustained inflation. Instead it's doing what it often does—rallying during times of stock market stress and geopolitical turmoil.
Market Mover Update: As noted in "Exhaust vs. exhaustion," palladium has really been the metal on the move recently. Russia has been the top palladium producer in recent years, and prices have climbed amid concerns that supply may be disrupted.1 June palladium futures (PAM2) rallied around 4% on Thursday to hit 2,786—their highest level since last July.
Deere (DE) is up more than 10% since testing the lower boundary of its longstanding trading range last week (see "Options strangle gets extra squeeze").
Today's numbers include (all times ET): Employment report (8:30 a.m.).
Today's earnings include: Hibbett (HIBB).
Click here to log on to your account or learn more about E*TRADE's trading platforms, or follow the Company on Twitter, @ETRADE, for useful trading and investing insights.
---
1 Reuters. Palladium rises as Russia sanctions cloud supply outlook, gold jumps. 3/3/22.

What to read next...
03/03/22
A tech stock's recent move underscores some of the key factors options traders need to keep in mind about volatility.
---
02/28/22
Stocks sell-off, then surge as Russia invades Ukraine.
---
02/25/22
This week may feel unique, but the market may provide a roadmap for similar moves.
---