Who's in driver's seat after earnings skid?
KMX fell 24% intraday post-earnings last Thursday
Earnings sell-offs more common for stock in recent years
Contrarians wise to practice patience?
Large price moves can sometimes trigger big reactions from traders and investors, some of whom will reflexively assume "There's more to come!" while others (contrarians) are more likely to think "This is going to reverse!"
Both camps' immediate reactions probably reflect their psychological biases—which we all have—along with their more recent experiences. For example, if you watched a certain pattern unfold the same way four times over the past month, chances are you'll expect the same result if it pops up again tomorrow.
Consider what happened recently in auto retailer CarMax (KMX). After a three-day upswing, KMX gapped lower and fell as much as 24.2% intraday last Thursday after missing its headline earnings and revenue numbers by a wide margin:1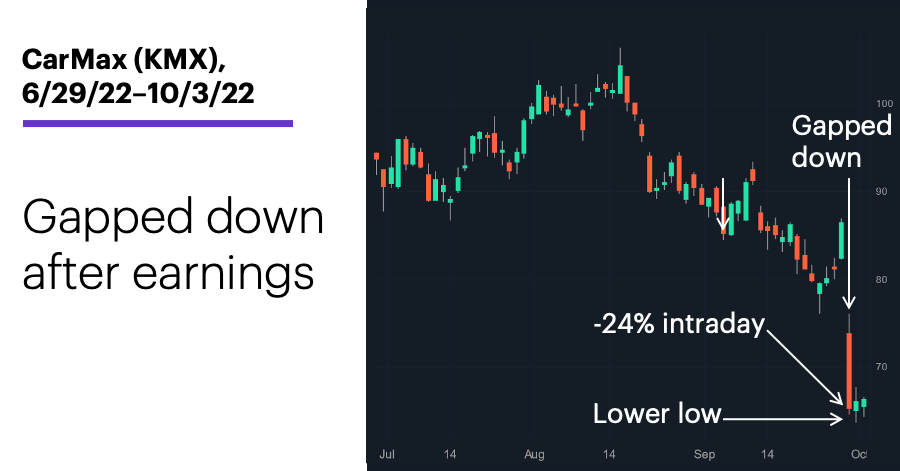 Source: Power E*TRADE. (For illustrative purposes. Not a recommendation.)
---
The move dropped shares to their lowest level since April 2020, although KMX has been trending lower since last November, when it hit an all-time high of nearly $156.
It's true that high-momentum price moves are often reversed, at least partially, in the near term. In this case, for example, KMX closed slightly higher on Friday (after initially falling to a lower low) and rallied robustly on Monday. That said, there were indications that contrarian bargain hunters may have wanted to view KMX's drop with a degree of caution. First, the stock is no stranger to earnings sell-offs: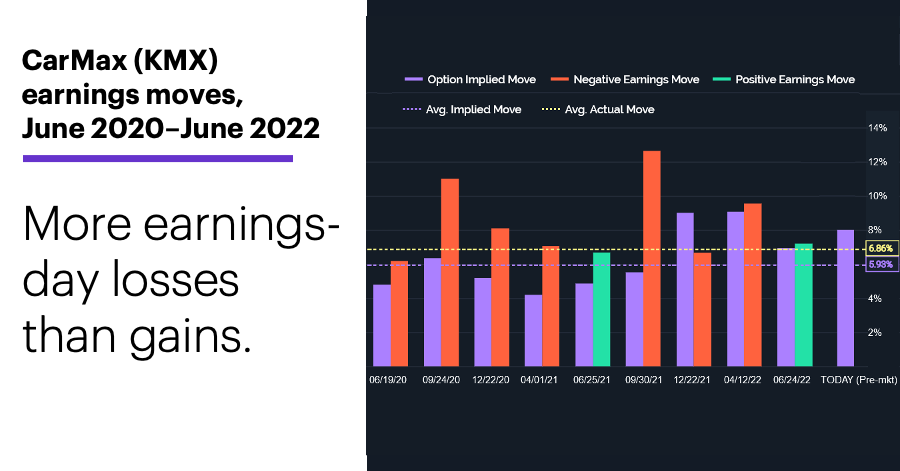 Source: Power E*TRADE. (For illustrative purposes. Not a recommendation.)
---
Before Thursday, KMX had fallen on earnings days seven out of nine times since June 2020, and two of those drops were larger than 10%.
Second, the stock has gapped lower (i.e., whenthe current day's high is below the previous day's low) and fallen 10% or more intraday 23 other times since 1997. Here's what happened after:
• Five trading days (one week) later, the stock was lower 70% of the time, and had fallen an additional 2.9%, on average.2
That means a trader who bought KMX on each of these past sell-offs would have usually been in an even bigger hole a week later. As is often the case in the markets, though, there was more gray to the situation than black and white. After two weeks, the stock was higher 52% of the time with an average gain of 1.4%, and after a month it was higher 61% of the time with an average return of 7.5%.
In other words, the contrarian crowd may have been "right" more often than not—as long as they didn't rush in too quickly.
Finally, even though as of yesterday KMX was up more than 5% from last Thursday's close, Friday's initial 2.4% intraday sell-off produced relatively big moves in some options prices. The November $65 put, for example, closed at $4.90 last Thursday but traded as high as $5.60—a 14% increase—before turning lower.
Market Mover Update: Monday's major economic numbers—the ISM Manufacturing Index and Construction Spending—may have both come up short of estimates, but that didn't stop the S&P 500 (SPX) from logging its biggest gain on the first trading day of October (+2.6%) since 2002. Check back tomorrow for more details about October trading patterns.
Today's numbers include (all times ET): Factory Orders (10 a.m.), JOLTS (10 a.m.), Vehicle Sales.
Today's earnings include: Acuity Brands (AYI), Smart Global (SGH).
Click here to log on to your account or learn more about E*TRADE's trading platforms, or follow the Company on Twitter, @ETRADE, for useful trading and investing insights.
---
1 StreetInsider.com. CarMax Inc. (KMX) Earnings. 9/29/30.
2 All figures reflect CarMax (KMX) daily prices, 2/4/07–9/29/22. Supporting document available upon request.
What to read next...
09/21/22
Conspicuous options trades may lead traders in one direction when the market may be going the other way.
---
09/20/22
A rare tech stock that's rallied in 2022 sees some unusual options trading as it consolidates.
---
09/19/22
With Fed rate decision looming, market falls to two-month low after hotter-than-anticipated data.
---