Gainers among the losers
SAVA jumped Monday morning as market dropped
Stock rallied more than 400% in three days earlier this month
Company's Alzheimer's drug showed promise in clinical trials
Whenever the market is leaning in one direction, it's a good idea to check out stocks that are moving the other way—sometimes you may find interesting price action you may have otherwise overlooked.  
Early Monday morning, for example, all the major US stock indexes were solidly in the red—selling that followed mixed trading in Asia and weakness in European markets. Some stocks were down more than others, of course (tech was particularly weak), but some were doing a good job of fighting the bearish trend.
The LiveAction scan for biggest percentage gainers showed plenty of stocks with double-digit percentage gains, including Cassava Sciences (SAVA), which was up nearly 12% roughly 30 minutes into the trading day: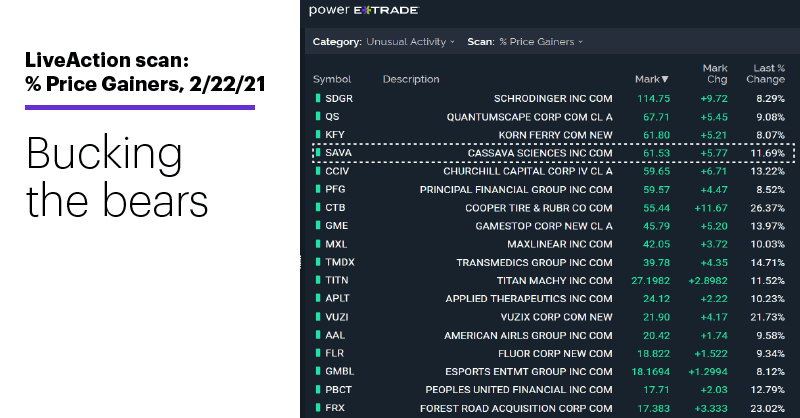 Source: Power E*TRADE
---
If you didn't see it then, you may have missed it—SAVA slipped into the red later in the day—but its appearance on the scan highlighted an interesting story.
There are all kinds of reasons a stock will buck the day's trend—you can often chalk it up to an earnings release, as was the case yesterday for Cooper Tire and Rubber (CTB) and Korn Ferry (KFY). Not so for SAVA, a biotech specializing in treating Alzheimer's disease. Cassava last reported numbers in November, and isn't scheduled to update again until March. But the company did announce it had successfully concluded a key meeting with the U.S. Food and Drug Administration (FDA) that lays the groundwork for the all-important Phase-3 clinical trials for its Alzheimer's drug, simulfilam.
This news arrived just about three weeks after what was arguably the much bigger piece of news—results from simufilam's Phase-2 trials that showed improvement in Alzheimer's patients' cognition and dementia symptoms.1 That report was followed by a three-day, 411% surge that peaked at $117.54 on February 4. The euphoria was short-lived, though, as the stock closed 62% below that high (at $44.80) the following day: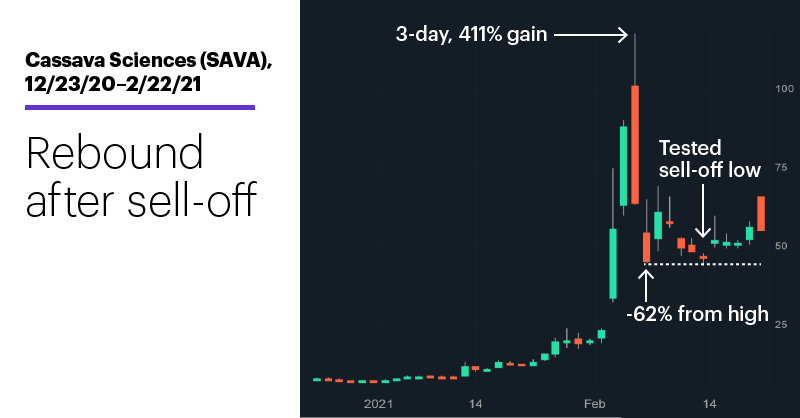 Source: Power E*TRADE
---
Are traders taking a second glance at what may have looked like a typical bubble-and-burst scenario? Over the past two weeks SAVA has bounced sharply, dropped again to test the initial sell-off low on February 12, then pushed higher again last week (which was a down week for the broad market) before yesterday's early pop. And even after the intraday sell-off, the stock was still up roughly 20% from its February 5 low.
That rally doesn't mean SAVA has an unobstructed path to its recent highs. The race to develop a successful Alzheimer's treatment is a long way from the finish line (approval of SAVA's drug, if successful, isn't expected until 20262), but whenever a stock bucks the market trend—even temporarily—it's worthwhile investigating what's behind the move and whether that against-the-current behavior signals the potential for further momentum.
Today's numbers (all times ET): Case-Shiller Home Price Index (9:00 a.m.), FHFA House Price Index (9 a.m.), Consumer Confidence (10 a.m.), Jerome Powell presents the Fed's semi-annual Monetary Policy Report to the Senate Banking Committee (10 a.m.).
Today's earnings include: Verisk Analytics (VRSK), Toll Brothers (TOL), Hyliion (HYLN), Home Depot (HD), Dillard's (DDS), LGI Homes (LGIH), Penumbra (PEN), Square (SQ), Intuit (INTU), Upwork (UPWK), Medtronic (MDT).
Click here to log on to your account or learn more about E*TRADE's trading platforms, or follow the Company on Twitter, @ETRADE, for useful trading and investing insights.  
---
1 MarketWatch.com. Cassava Sciences stock nearly triples toward a 10-year high after upbeat data on Alzheimer's treatment. 2/2/21.
2 TipRanks.com. Cassava: Potential Alzheimer's Treatment Opens Door for Lucrative Licensing Deal. 2/18/21.
What to read next...
02/22/21
Stocks dip as small caps and tech give back some gains.
---
02/19/21
Just a predictable retrenchment, or is the sun setting on the alt-energy rally?
---
02/18/21
Options activity ramps up as stock pressures its three-year highs.
---