A fundamentally technical situation
Intel (INTC) tests key level after climbing off July lows
Stock's low P/E a potential draw for investors?
Earnings scheduled for next week
When does a fundamental metric like a stock's price-earnings (P/E) ratio matter to a trader?
Pretty much never—except, perhaps, when it potentially dovetails with a shorter-term trade opportunity based on more immediate market dynamics.
In a market awash in high valuations, chipmaker Intel (INTC) was recently cited for its relatively low forward P/E multiple,1 meaning the stock could be underpriced from a fundamental perspective—emphasis on "could be," since low P/E ratios don't necessarily translate into automatic long-term uptrends. Nonetheless, all else being equal, most investors who believe in a company's long-term prospects would prefer to buy it when it has a low P/E ratio rather than a high one.
Intel's relatively low multiple—not to mention its underperformance (since the March lows) vs. the semiconductor sector, which hit new record highs earlier this week—probably has something to do with the fact that it tumbled 21% in the last six days of July after its last earnings announcement. Although INTC topped its headline numbers, the company also revealed its next-generation chip would be delayed by roughly six months:2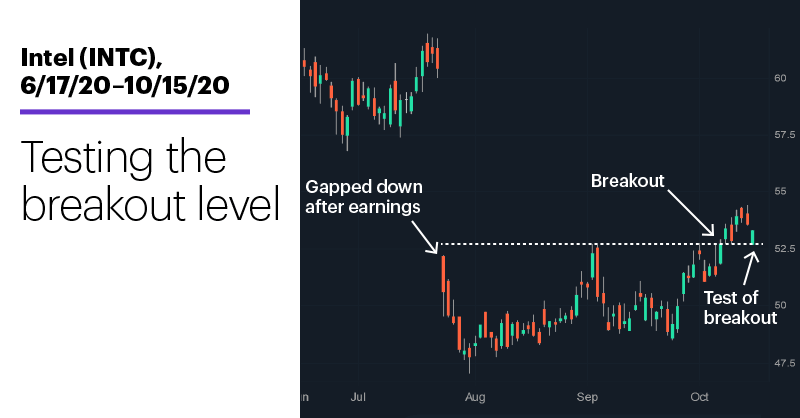 Source: Power E*TRADE
---
From a trader's perspective, though, what may be more interesting is the fact that yesterday's intraday sell-off dropped INTC to a near-term technical level—the breakout of the September and October swing highs (which is also the approximate bottom of the July down gap). But after falling 1.7% in early trading, INTC was back to breakeven by 2 p.m. ET—outperforming both the semiconductor sector and tech as a whole.
The fact that INTC hasn't yet challenged its July sell-off low (it's actually rallied around 12% over the past 11 weeks) may lead some shorter-term bulls to look for possible upside if yesterday's test of the breakout level turns out to be a success.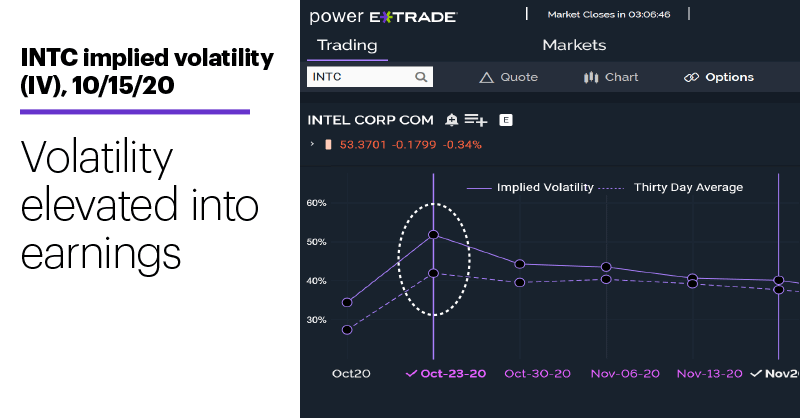 Source: U.S. Census Bureau
---
Another reason traders may be looking for momentum to pick up: Intel is currently scheduled to release earnings next Thursday (October 22), and implied volatility for the October 23 options was running around 10 percentage points above its 30-day average yesterday (above).
Details of the earnings release will no doubt play a large role in how things play out—i.e., did the company get its primary bad news out of the way in July?—but traders looking for near-term momentum may be factoring in the potential bullish tailwinds provided by INTC's fundamental attractiveness.
Fundamentals may not provide specific trade catalysts, but all things considered, it's better to have them at your back instead of in your face.
Market Mover Update: Speaking of INTC, the October $50-$55 bull call spread, which expires today, was trading as high as 4.00 yesterday afternoon—more than three times what it was going for on August 21 (see "Chipmaker entering the zone?"). Palomar Holdings (PLMR) bucked yesterday's sell-off with a 5%-plus intraday rally (see "Eye of the hurricane").
Today's numbers (all times ET): Retail Sales (8:30 a.m.), Industrial Production (9:15 a.m.), Business Inventories (10 a.m.), Consumer Sentiment (10 a.m.).
Today's earnings include: J.B. Hunt Transport (JBHT), VF (VFC), Kansas City Southern (KSU), NVR (NVR), Schlumberger (SLB).
Click here to log on to your account or learn more about E*TRADE's trading platforms, or follow the Company on Twitter, @ETRADE, for useful trading and investing insights.  
---
1 CNBC.com. These stocks trading at discounts to their valuations may be worth buying, traders say. 10/15/20.
2 MarketWatch.com. Intel stock falls as next generation of chips delayed, sending AMD shares higher. 7/23/30.
What to read next...
10/15/20
A recent SPAC launch stumbled out of the gate, but contrarian traders may be looking for it to get back in the race.
---
10/14/20
A high-profile investment drives up a stock one day, but sellers rush in the next. What will traders be looking for now?
---
10/13/20
The market's so-called "fear gauge" can provide useful insights into market dynamics, but you first need to understand what it really represents.
---