Full-boil oil
Energy sector portion of earnings season in full swing
Oil stocks have soared in January as broad market struggles
Some crude oil catalysts could have two edges
Although the market is still above Monday's sell-off low, the S&P 500 (SPX) dipped into correction territory for the fourth time this week after surrendering yesterday's early gains. But the following chart gives an idea of how much deeper the index's hole would be if not for the energy sector, which was up around 20% for the year on Thursday morning: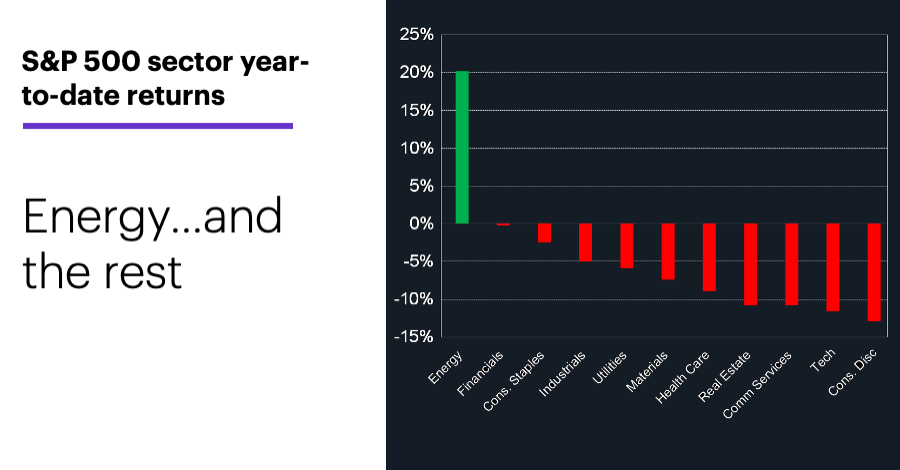 Source: Power E*TRADE. Performance as of 9:45 a.m. ET on 1/27/22. (For illustrative purposes. Not a recommendation.)
---
Aside from a more or less breakeven financial sector, energy stocks have been a green island in a sea of red.
If there was any mystery about the oil patch's recent Teflon performance, the following chart will make things crystal clear. March WTI crude oil futures (CLH2) hit yet another new contract high ($88.54/barrel) on Thursday before they slid into the red for the day. Nonetheless, the market was up more than 17% this month, and oil prices are as high as they've been since early October 2014: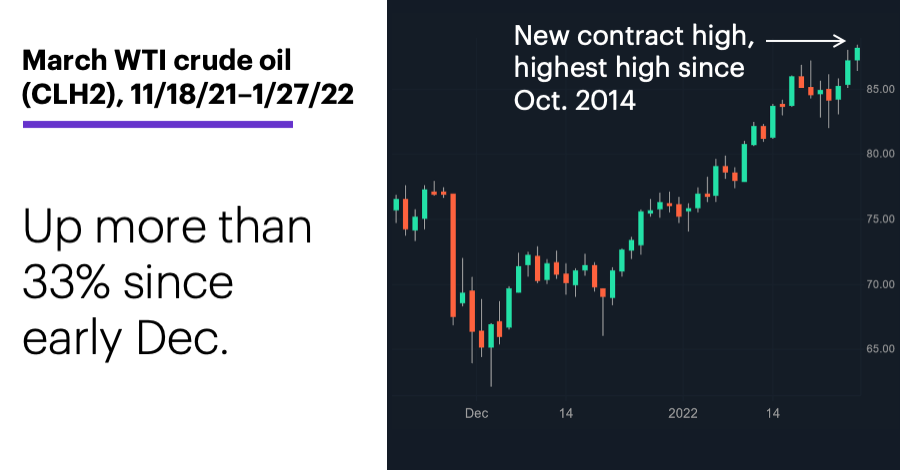 Source: Power E*TRADE. (For illustrative purposes. Not a recommendation.)
---
When you're in the business of acquiring, refining, or supplying a certain raw commodity, your bottom line tends to get a boost when the price of that commodity increases more than 570% over the past 21 months and around 33% over just the past six weeks. But if the oil rally explains much of the energy sector's strength, what explains the oil rally?
Crude crashed along with the stock market in Spring 2020, and more or less tracked with equities to the upside during the record-setting rebound that followed, and for much the same reason—anticipation of a revived global economy, which had ground to a halt during the pandemic's initial lockdown phase. No economic activity, no oil demand. Renewed economic activity, renewed oil demand. But that doesn't necessarily explain the most recent activity, as oil and oil stocks continued to push to new highs while the bulk of the stock market suffered its steepest decline in nearly two years.
Morgan Stanley analysts recently forecasted European (Brent) crude oil prices—which trade at a slight premium to US (WTI) oil prices—could reach $100/barrel in the second half of the year because of a "triple deficit" of inventories, spare capacity, and investment.1 (The oil industry has not been immune to the supply chain issues that have impacted virtually every corner of the economy.)
But there's been another catalyst at work in the most recent leg of the oil rally—concerns that Russia may invade Ukraine. Russia is Europe's largest oil supplier and Ukraine is also a major hub for Russian natural gas supplies.2 Any conflict could potentially impact energy infrastructure in the region, as well as trigger sanctions against Russia—all of which could potentially drive up energy prices across the board.3
As it often does, uncertainty is generating volatility—upside volatility, that is, in oil and oil stocks. But as traders who've studied the 1991 Gulf War and the 2003 invasion of Iraq know, the uncertainty of conflicts that are expected to disrupt the energy industry can have a bigger impact on oil prices than the conflicts themselves. In both those cases, oil rallied in the lead-up to military action, then retreated when it actually began.
Analogs are never perfect, and no one knows what's going to happen with Russia and Ukraine. But catalysts come and go, and some traders may wonder whether any resolution short of a full-blown military confrontation could at least temporarily diminish some of the bullish tailwinds the oil patch has been enjoying.
Market Mover Update: As of Thursday, there were nine US-traded commodities (palladium, WTI crude oil, heating oil, Brent crude oil, orange juice, RBOB gasoline, natural gas, soybean oil, hogs) that were up at least 10% for the year, and only one (lumber) that was down 10% or more.
Today's numbers include (all times ET): Personal Income and Outlays (8:30 a.m.), Employment Cost Index (8:30 a.m.), PCE Price Index (8:30 a.m.), Consumer Sentiment (10 a.m.).
Today's earnings include: Chevron (CVX), Colgate-Palmolive (CL), Phillips 66 (PSX), Caterpillar (CAT).
Click here to log on to your account or learn more about E*TRADE's trading platforms, or follow the Company on Twitter, @ETRADE, for useful trading and investing insights.
---
1 Reuters. Morgan Stanley expects oil at $100 a barrel in second half of year. 1/21/22.
2 EIA.gov. Russia overview. 12/13/21.
3 CNN.com. Gas prices could soar if Russia invades Ukraine. 1/21/22.
What to read next...
01/27/22
Do traders think this week's market action signals more or less volatility on the horizon?
---
01/26/22
Will this high-profile stock's sell-off attract bargain hunters?
---
01/25/22
When the market is in sell-off mode, many traders watch the VIX for signs of capitulation—short-term and long-term.
---