From the lab to the Street
Laboratory Corp. (LH) up 100% since March, 26% in past month
Scheduled to release Q2 numbers next week
Historical patterns shows potential earnings pivot
Whenever earnings approach, traders have to be prepared for action in the options market, as players position themselves for a potential volatility burst when a company releases its numbers.
Diagnostics and testing stock Laboratory Corporation of America (LH), for example, showed up on yesterday's high call-put ratio scan, with earnings scheduled for next Tuesday (July 28):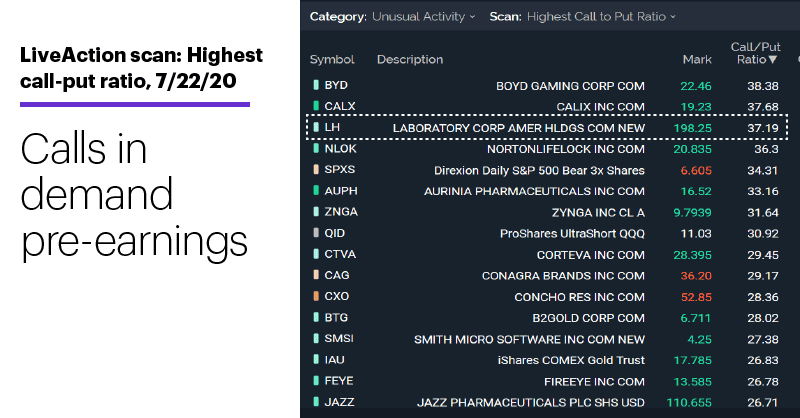 Source: Power E*TRADE
---
Long a major player in the medical diagnostics arena, LH earlier this month announced it received Emergency Use Authorization (EUA) from the Food and Drug Administration (FDA) for what it says is the first coronavirus test collection kit physicians can use to test patients remotely.1
Any question as to why LH calls were outpacing puts yesterday was seemingly explained by the stock's price chart, which shows prices pushed to new record highs in recent days, just four months after shares fell to their lowest level since February 2016: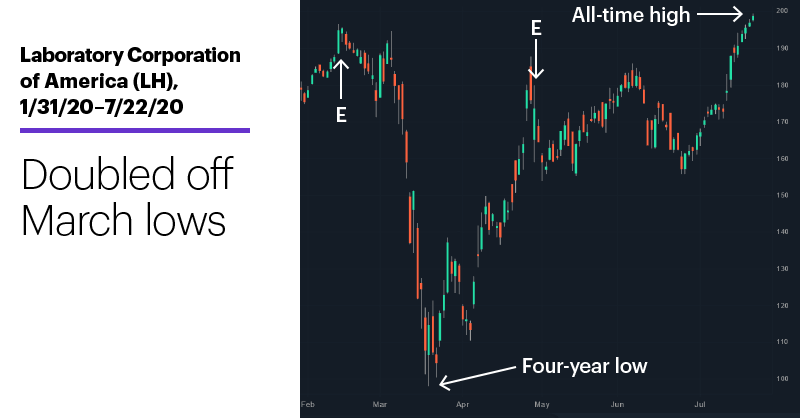 Source: Power E*TRADE
---
The stock's 100%-plus rally off that low kicked into a higher gear in the past month, as prices jumped 26% after pivoting higher off support at the April and May lows. On the options front, prices for August $195 calls, which were some of the most heavily traded yesterday, jumped more than 750% (from around $1.06 to above $9) over the same period.
The chart also marks LH's last two earnings releases, from April 29 and February 2013. Two things to note:
1. The company beat its headlines numbers in both instances—and outright crushed them on April 29, when it topped earnings by nearly 35%.2
2. The stock rallied leading up to earnings and pulled back immediately after them.
These two examples aren't necessarily flukes, since data shows LH has topped earnings estimates 17 times in the past 20 quarters, while its average one-week post-earnings move is -3.4%.3 (Scroll back a little more on an LH price chart and you'll see a similar dynamic played out after the July and October 2019 earnings releases.)
Circling back to yesterday's options action, it turns out that while 1,500 of the August $195 calls changed hands, the number of outstanding positions in the contract (the "open interest") was less than 900, which means at least some traders were cashing out their calls instead of getting into new trades.
But given how much these options have rallied in recent weeks, it wouldn't be surprising if some traders booked profits on their positions—especially if they thought LH's post-earnings tendency was potentially going to play out again next week.
Metals on the move: Gold headlines have piled up as the market has inched closer to its all-time high around $1,920/ounce (prices topped $1,870 yesterday), but just outside the spotlight, silver and platinum have—again—outperformed their more-famous cousin (see "More precious than gold").
The following hourly chart shows September silver (SIU0) and October platinum (PLV0) futures—both of which rallied more than August gold (GCQ0) since mid-March—accelerated to the upside the first three days of this week: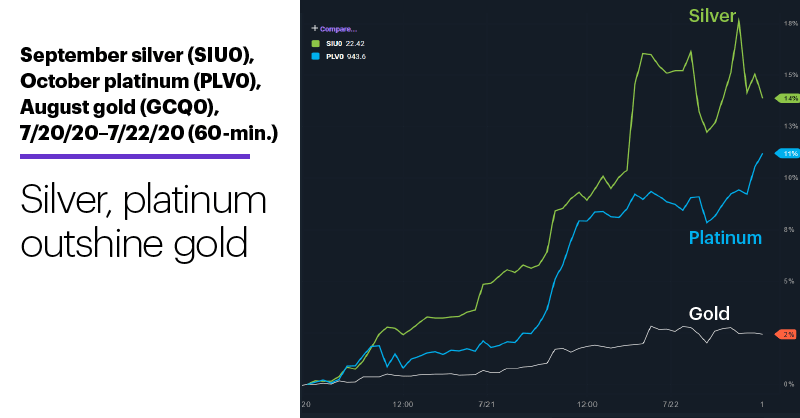 Source: Power E*TRADE
---
Today's numbers (all times ET): Jobless Claims (8:30 a.m.), Leading Indicators (10 a.m.).
Today's earnings include: American Airlines Group (AAL), AT&T (T), Edwards Lifesciences (EW), Hershey (HSY), Intel (INTC), Union Pacific (UNP), Kimberly-Clark (KMB), Dow (DOW), PulteGroup (PHM), Twitter (TWTR).
Click here to log on to your account or learn more about E*TRADE's trading platforms, or follow the Company on Twitter, @ETRADE, for useful trading and investing insights.  
---
1 Zacks.com. LabCorp Launches At-Home Coronavirus Test Collection Kit. 7/8/20.
2 Nasdaq.com. Laboratory Corporation of America Holdings Common Stock, Earnings Per Share. 7/22/20.
3 StreetInsider.com. Laboratory Corp (LH) Earnings. 7/22/20.
What to read next...
07/22/20
Bulk retailers weathered the lockdown better than most businesses, and price action suggests buyers may be lining up for some of their stocks, too.
---
07/21/20
One of the hottest areas of tech is one you probably don't pay much attention to.
---
07/20/20
Last week saw an inversion of the market status quo, as traders rotated away from tech.
---