Fresh records, served (almost) daily
Dow hits first new all-time highs since July
Fifth-straight up week for SPX, sixth for NDX
This week: Fed chair to testify before Congress
There wasn't any blockbuster news last week, but that didn't prevent the major US stock indexes from setting new records every day but one. But the news that did emerge appeared to put some wind in the market's sails.
The Dow Jones Industrial Average (DJIA) notched its first record highs since July, the Nasdaq 100 (NDX) pushed its year-to-date (YTD) gain past 30%, and the S&P 500 (SPX) closed out its first five-week winning streak since March 1: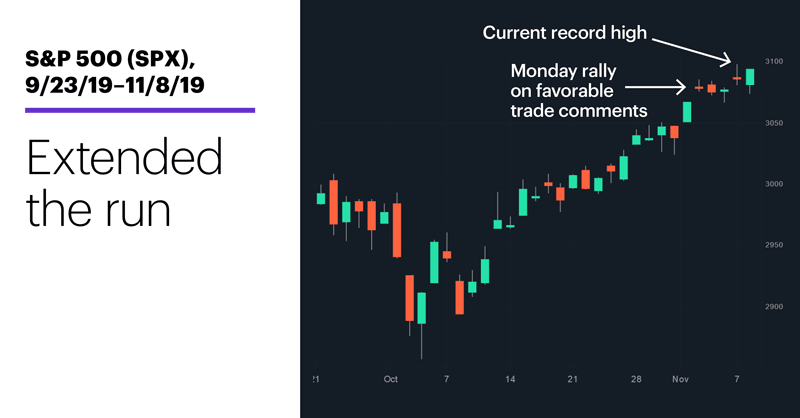 Source: Power E*TRADE
---
As was the case a week earlier, much of the heavy lifting occurred on Monday, as stocks jumped following comments from US Commerce Secretary Wilbur Ross that there was a good chance the US and China could sign off on the initial portion of a trade deal before the month was over.1
The week's other significant bump came on Thursday amid more friendly trade news—reports that the US and China would gradually roll back tariffs if trade negotiations keep progressing.2 The SPX, NDX, and DJIA all rallied to new records, with the SPX topping out less than three points shy of 3,100.
Wednesday was the only day of the week that a major index failed to hit either a new intraday or closing high. Even reports on Friday that—surprise!—the White House may not be committed to rolling back tariffs after all didn't stop the SPX and NDX from closing out the week at record levels.3
The DJIA enjoyed the week's largest gain, followed by the NDX, which on a YTD basis now leads its next- competitor (the SPX) by around seven percentage points: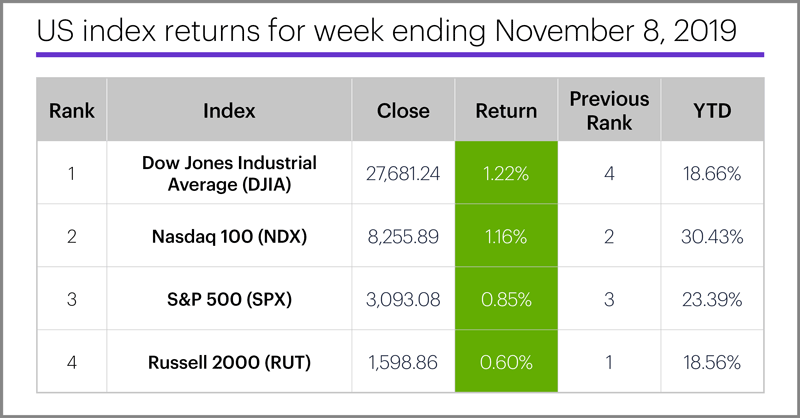 Source: Power E*TRADE
---
The strongest S&P 500 sectors last week were financials (+2.3%), energy (+2%), and materials (+1.8%). The weakest sectors were utilities (-4%), real estate (-3.8%), and consumer staples (-0.7%).
Power moves: Stryker's (SYK) bid to take over Wright Medical Devices (WMGI) sent the latter stock soaring 32% on Monday. On Friday, Ubiquiti (UI) shot up 33% to $176.74. On the downside, Myriad Genetics (MYGN) slid -40% to $20.93 on Tuesday, and Bluelinx (BXC) tumbled -42% to $17.87 on Wednesday.
Futures action: December WTI crude oil (CLZ9) rallied to its highest levels since September, ending the week around $57.40/barrel. December gold (GCZ9) broke below its October lows to end last week around $1,459/ounce, its lowest level since August 5.
Coming this week
Today is a bank holiday—no trading in Treasuries—but equities, options, and futures trade as usual. And keep an eye on Fed Chairman Jerome Powell's testimony before Congress on Wednesday:
●Monday: US holiday: Veterans Day (equity markets open, Treasury markets, banks closed)
●Tuesday: NFIB Small Business Optimism Index
●Wednesday: Eurozone Industrial Production, Consumer Price Index (CPI), Atlanta Fed Business Inflation Expectations, Jerome Powell testifies before congressional Joint Economic Committee
●Thursday: Producer Price Index (PPI)
●Friday: Retail Sales, Empire State Manufacturing Survey, Import and Export Prices, Industrial Production, Business Inventories
High-profile retail, consumer, and tech stocks spice up this week's earnings calendar:
●Monday: Global Blood Therapeutics (GBT), Tencent Music (TME), DXC Technology Co (DXC), FibroGen Inc (FGEN), Franco Nevada (FNV)
●Tuesday: 58.com (WUBA), Jumia Technologies (JMIA), Advance Auto Parts (AAP), Rockwell Automation (ROK), CBS (CBS), Dillard's (DDS), D.R. Horton (DHI), Tyson Foods (TSN), Huazhu Group (HTHT), Tilray (TLRY), YY (YY), SAGE Therapeutics (SAGE)
●Wednesday: Applied Materials (AMAT), Luckin Coffee (LK), Progressive (PGR), Cisco Systems (CSCO), Ctrip.com (CTRP), Nordstrom (JWN), NetApp (NTAP), Williams-Sonoma (WSM), Canopy Growth (CGC)
●Thursday: Change Healthcare (CHNG), Weibo (WB), NVIDIA (NVDA), Viacom (VIAB), Walmart (WMT), Brookfield Asset Management (BAM)
●Friday: JD.com (JD)
Go to the E*TRADE market calendar (logon required) for an up-to-date earnings schedule and a complete list of splits, dividends, IPOs, and economic reports. The Active Trader Commentary also lists earnings announcements, IPOs and economic report times each morning.
There is so much cash on the sidelines coming into year-end. This could push the market up more than people think right into the year-end.
The VIX clicks. In the 11 days since the S&P 500 started hitting fresh records on October 28, the index has had four down days, none of them significant and most of them barely noticeable.
But it's worth noting that two of those down days—October 29 and November 5—followed days both the CBOE Volatility Index (VIX) and the SPX closed higher. As a refresher, the VIX measures the implied volatility (IV) of SPX options—the market's estimate of future volatility—which typically declines when the SPX rallies (reflecting less fear about the market) and increases when the SPX sells off (reflecting more fear about the market).
When the VIX rallies when the SPX rallies—especially when the SPX is making a longer-term high—it can signal that traders are experiencing heightened anxiety about the market's rise, a condition sometimes followed by a dip or downturn. Since 2017, in fact, such days have been followed by at least one down day 65% of the time.5
And although insignificant declines like the ones that have occurred in past several days are often the result, these VIX signals have also accompanied more significant highs, such as April 29 and September 20, 2018.
Such signals aren't just of interest to potential short sellers, by the way. Long-side players who see this type of setup unfolding may choose to take profits on existing positions, or simply refrain from playing the long side until a possible pullback plays out.
No  indicator is perfect (the VIX signal misfired on Thursday, for instance), but many seasoned stock traders know the VIX can sometimes offer insights into what's going on under the market's hood.
Click here to log on to your account or learn more about E*TRADE's trading platforms, or follow the Company on Twitter, @ETRADE, for useful trading and investing insights.
---
1 MarketWatch.com. Wilbur Ross optimistic on trade deal, says Huawei-sales licenses coming 'shortly'. 11/3/19.
2 AP News. Global stocks turn higher as China says tariff war may ease. 11/7/19.
3 Bloomberg. Trump Sows Doubt on Trade Talks With Pushback on Tariff Unwind. 11/8/19.
4 CNBC.com. Top Morgan Stanley fund manager sees stocks rallying another 5% before 2020, led by cheap value stocks. 11/5/19.
5 Supporting document available upon request. Reflects 23 days since 1/3/17 that VIX closed higher when the SPX also made a 50-day (or longer) high.
What to read next...
11/08/19
Some bullish utility stocks may have given deceptive signals recently.
---
11/07/19
Underpriced options may be one way for traders to play a potential year-end energy rally.
---
11/06/19
Do burgers and coffee go together? The price action of their stocks may.
---