Flirting with highs
Close but no cigar for S&P 500
Gold express makes an unexpected stop
This week: FOMC minutes, housing numbers
Maybe that's why they call it "resistance."
The S&P 500 (SPX) had a chance to liven up a relatively quiet week for the stock market by hitting a new record high, but settled for "missed it by that much" after topping out at 3,387.89 last Wednesday—less than six points below its February 19 all-time high:
Source: Power E*TRADE
---
The headline: Large caps lead as SPX hovers near highs.
The fine print: While the Nasdaq 100 (NDX) has also continued to gain ground overall, the tech barometer has been the weakest or second-weakest major US index four out of the past five weeks.
The numbers: 963,000, the number of new weekly jobless claims reported last Thursday—the first time it's been below 1 million since March. On Friday, retail sales for July came in at 1.2%, below the 2.3% estimate.
The scorecard: Large-cap leadership was also reflected in the Dow Jones Industrial Average (DJIA) topping the weekly return rankings for the first time since May, and only the fourth time this year: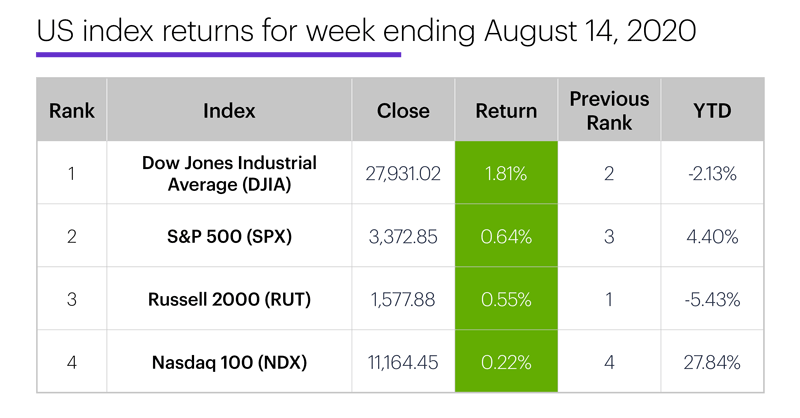 Source (data): Power E*TRADE
---
Sector roundup: The strongest S&P 500 sectors last week were industrials (+3.1%), energy (+2.3%), and consumer discretionary (+1.5%). The weakest sectors were utilities (-2.1%), real estate (-1.8%), and communication services (-0.3%).
Highlight reel: Pennant Group (PNTG) jumped 41% to $36.77 on Wednesday, while Mesoblast (MESO) soared 51.4% to $17.88 on Friday—just three days after a 35% sell-off. Onespan (OSPN) tumbled 40% to $18.84 on Wednesday.
Futures action: October gold (GCV0) started the week with a three-day, $171 plunge that dropped the market to $1,865/ounce, but rebounded to end the week at $1,943.65. September WTI crude oil (CLU0) wrapped up another quiet week more or less unchanged at $42.01/barrel.
Last week's biggest futures up moves: September ethanol (ZKU0) +14.3%, September lumber (LBSU0) +12.5%, September corn (ZCU0) +5.4%. Last week's biggest futures down moves: September cocoa (CCU0) -4.3%, September Ultra T-bond (UBU0) -3.9%, September silver (SIU0) -3.7%.
And a special shout-out to September lumber futures, which rallied for an 11th-straight day on Friday and ran their two-month rally to more than 105%—more than any other futures market.
Coming this week
It's retail week, with several national chains and online merchants releasing earnings this week:
●Monday: Weibo (WB), Dillard's (DDS)
●Tuesday: Advance Auto Parts (AAP), Agilent (A), Kohls (KSS), Home Depot (HD), Walmart (WMT)
●Wednesday: Analog Devices (ADI), L Brands (LB), NVIDIA (NVDA), Target (TGT), TJX (TJX), Lowe's (LOW), GoHealth (GOCO)
●Thursday: Alibaba (BABA), BJ's Wholesale Club (BJ), Estee Lauder (EL), Toro (TTC), Keysight Technologies (KEYS), Ross Stores (ROST)
●Friday: Baozun (BZUN), Deere (DE), Foot Locker (FL)
This week's IPOs: Harmony Biosciences (HRMY) and Inhibrx,(INBX), both on Wednesday.
Wednesday's release of the minutes from the most recent Fed meeting is sandwiched between key housing data:
●Monday: Empire State Manufacturing Index, NAHB Housing Market Index
●Tuesday: Housing Starts and Building Permits
●Wednesday: FOMC minutes
●Thursday: Jobless Claims, Leading Economic Indicators
●Friday: Existing Home Sales
Go to the E*TRADE market calendar (login required) for an up-to-date earnings schedule and a complete list of splits, dividends, IPOs, and economic reports. The Active Trader Commentary also lists earnings announcements, IPOs and economic report times each morning.
Market Mover Update: Vroom (VRM) bounced back from last Thursday's earnings sell-off with a 3.7% rally on Friday (see "Shifting gears"). Ontrak (OTRK) ended the week with a 9.1% Thursday-Friday rally after a 34% retracement from its recent highs (see "Telehealth market's temp rises").

The record-high waiting game: Those who can't believe the SPX didn't follow through and hit new record highs after coming so close last week shouldn't be too impatient. Last Tuesday, the index topped out less than 0.5% below its February all-time high. It inched closer on Wednesday, but when the closing bell rang on Friday the Champagne was still on ice.
There have been five other times in the past 20 years that the SPX came within a half-percent of a previous record high after trading below it for at least five months. In two of those instances (July 2007 and July 2016), the SPX hit a new record the next day, but in the other three (April 2013, August 2018, and April 2019), it took the index eight, 10, and four days, respectively, to set a new record.
We're talking about trading days, by the way, which means the wait ranged from a little less than a week to as long as two weeks.
Click here to log on to your account or learn more about E*TRADE's trading platforms, or follow the Company on Twitter, @ETRADE, for useful trading and investing insights.
---
What to read next...
08/14/20
Virtual car dealer hits brakes on recent rally, but traders may see opportunity to take it for a test drive.
---
08/13/20
AI-powered telehealth provider's recent volatility may be just what the doctor ordered for short-term traders.
---
08/12/20
After a historic run, the yellow metal has posted its biggest pullback in months. What could traders being seeing in the price chart?
---