Flight to safety
Worst week since 2008 as virus fears push market over edge
Fastest-ever correction for S&P 500; VIX near Dec. 2018 levels
This week: Jobs report, manufacturing numbers, and rate-cut speculation
There are wild rides, and then there are wild rides.
And then there was last week.
March kicks off with traders having lived through the biggest dose of weekly volatility since October 2008, as snowballing coronavirus fears drove the S&P 500 (SPX) into correction territory for the first time since December 2018.
But on Friday, the big index rebounded from a -4.1% intraday loss to close near the top of the day's range, down only 0.8%: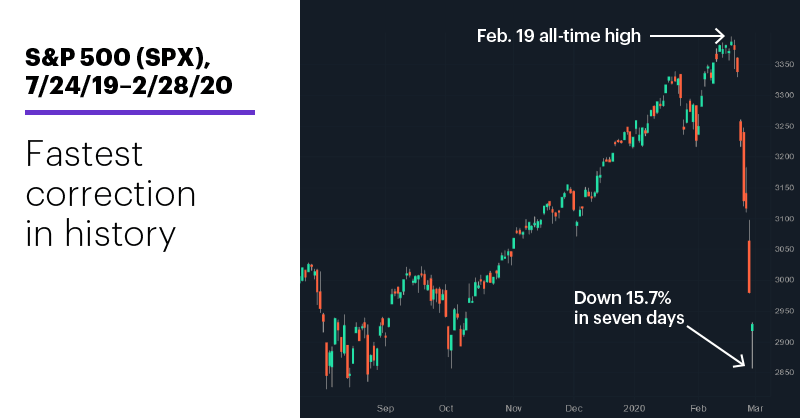 Source: Power E*TRADE
---
The headline: Worst week for US stocks since October 2008, all US indexes in the red for 2020.
The fine print: Friday's late-day turnaround was highlighted by the Nasdaq 100 (NDX) punching its way to an up close.
The move: -15.7%, the SPX's seven-day loss, at its worst, from February 19–28.
The number: 100%, the odds of a rate cut coming out of the March 18 Fed meeting, according to the CME Group FedWatch tool.1
The quote: But here's what St. Louis Federal Reserve President James Bullard said in a speech on Friday: "Further policy rate cuts are a possibility if a global pandemic actually develops with health effects approaching the scale of ordinary influenza, but this is not the baseline case at this time."2
The scorecard: The Dow took the biggest dive last week, and along with the Russell 2000 (RUT), ran its YTD percentage loss to double digits: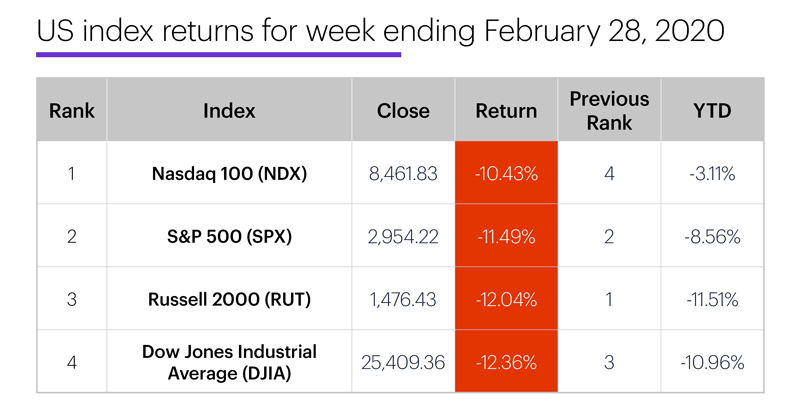 Source: Power E*TRADE
---
Sector roundup: The strongest S&P 500 sectors last week were communication services (-9.5%), consumer staples (-10.4%), and health care (-10.6%). The weakest sectors were energy (-15.4%), financials (-13.6%), and materials (-12.7%).
Highlight reel: On Thursday Alpha Pro Tech (APT)—maker of, among other things, surgical masks—skyrocketed 104% to $25.25, 621% above its January 17 closing price. On the downside—and on the same day—Nutanix (NTNX) tumbled -29% to $23.3.
Futures action: Fears of economic slowdown = reduced energy use = crude oil breaking below longstanding support to its lowest levels in more than a year. April WTI crude (CLJ0) fell as low as $43.85/barrel on Friday before closing a little above $45. Despite the epic equity sell-off, April gold (GCJ0) didn't do much last week after spiking to $1,691.70/ounce last week—until it tumbled nearly 4% Friday to close around $1,582.50/ounce.
Coming this week
Friday's jobs report wraps up what looks to be a blockbuster week for markets:
●Monday: Markit manufacturing PMI, ISM Manufacturing Index, Construction Spending
●Tuesday: European Union Unemployment Rate
●Wednesday: ADP Employment Report, Markit services PMI, ISM Non-Manufacturing Index, Beige Book
●Thursday: Productivity, Unit Labor Costs, Factory Orders
●Friday: Employment Report, Trade Deficit, Wholesale Inventories, Consumer Credit
This week's earnings include:
●Monday: Childrens Place (PLCE), Evergy (EVRG), Tilray (TLRY)
●Tuesday: Autozone (AZO), Kohls (KSS), Hewlett Packard Enterprise (HPE), Target (TGT), Ross Stores (ROST), Urban Outfitters (URBN), Nordstrom (JWN)
●Wednesday: 58.com (WUBA), American Eagle Outfitters (AEO), Zoom Video Communications (ZM), Campbell Soup (CPB), Dollar Tree (DLTR)
●Thursday: National Beverage (FIZZ), Burlington Stores (BURL), Tech Data (TECD), Kroger (KR), Costco Wholesale (COST), Marvell Technology (MRVL)
Go to the E*TRADE market calendar (login required) for an up-to-date earnings schedule and a complete list of splits, dividends, IPOs, and economic reports. The Active Trader Commentary also lists earnings announcements, IPOs and economic report times each morning.
The big(ger) retracement. On Friday, the SPX completed a 100% retracement of the October–February rally discussed in "Pullback watch." Fibonacci fans will notice that also happens to be the approximate 50% retracement level of the December 2018–February 2020 rally: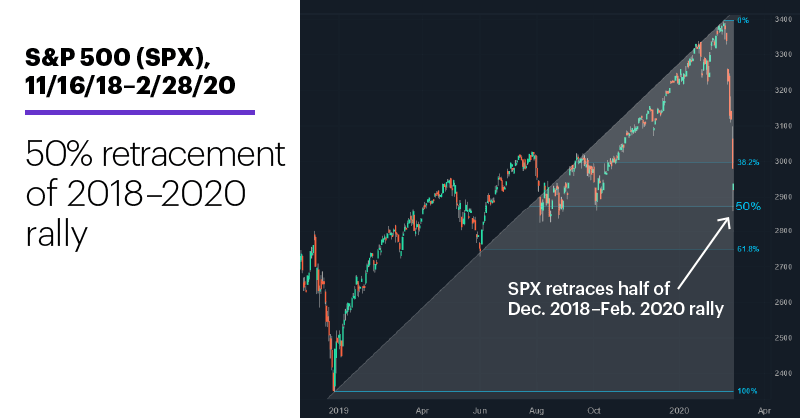 Source: Power E*TRADE
---
Those traders will also likely notice the 61.8% retracement level, if it comes to that, is around the June 2019 lows.
What year is this? Last week may have been the US stock market's worst week since 2008—as a matter of fact, it was the SPX's fourth-worst week since 1957—but the recent correction is a far cry from what unfolded during the financial crisis.
Here's a reality check: Between September 19 and November 20, 2008, the SPX fell 40%—and that leg accounted for only about 56% of the index's total loss between October 2007 and March 2009.
And lest we forget, the SPX fell 20% from October 3–December 24, 2018—a don't-blink-or-you'll-miss-it foray into bear market territory. A few months before that, the SPX dropped 12% from January 26–February 9. The index tumbled 14% from November 2015–January 2016—a move that began unfolding less than three months after a 12% correction in July–August 2015.
Not to make light of what happened last week, but this is what the market does.
What made last week different was its velocity—it was, after all, the SPX's quickest slide into a correction (-10% or more from a high) in history. The good news is we know why it happened—the coronavirus, an unforeseeable (impress your friends by saying "exogenous") market shock that has more in common with 9/11 than it does with the financial illnesses that fueled the 2008–2009 stock meltdown. This is a unique event, not a systemic financial problem that will take years to manage and repair.
Of course, it's true the ultimate economic toll the virus will take is unknown—hence the fear. But the fact remains that the pattern outlined in "Market, corrected"—the stock market's tendency to bounce back from market shocks, especially steep, emotionally-driven moves—is something traders and investors alike may want to keep in the back of their minds.
Click here to log on to your account or learn more about E*TRADE's trading platforms, or follow the Company on Twitter, @ETRADE, for useful trading and investing insights.
---
1 CME FedWatch Tool. Target Probabilities for 18 Mar Fed Meeting. 2/28/20.
2 CNBC.com. Fed's James Bullard says rate cuts possible only if coronavirus turns into pandemic. 2/28/20.