Stocks poised for first down month since March
Stock skid hits four weeks, but tech stabilizes
Dollar jumps in safe-haven bid, gold probes support

This week: Jobs, GDP, IPOs…and October
As traders gear up for October and a busy week of economic data, stocks have continued to challenge the intestinal fortitude of bulls.
Last week provided another one of those "it could have been worse" moments: On Thursday morning, the S&P 500 (SPX) slid back into negative territory for the year and briefly entered correction territory. But an intraday reversal and a big (+1.6%) Friday rally limited the damage—although not quite enough for the index to avoid a fourth-consecutive losing week:
Source: Power E*TRADE
---
The headline: Losing streak extends, but tech stops the bleeding.
The fine print: Unless it rallies 3% over the next three days, the SPX will close the books on its first losing month since March and its first negative September since 2016. Its four-week losing streak is its longest since August 2019. But don't blame tech stocks this time: The Nasdaq 100 (NDX) posted a solid gain for the week and tech was the SPX's strongest sector.
The number: 1.01 million, the number of new home sales in August (the most in 14 years), and the latest data point from the red-hot housing market to exceed estimates.
The scorecard: The small-cap Russell 2000 (RUT) took the biggest step backward last week: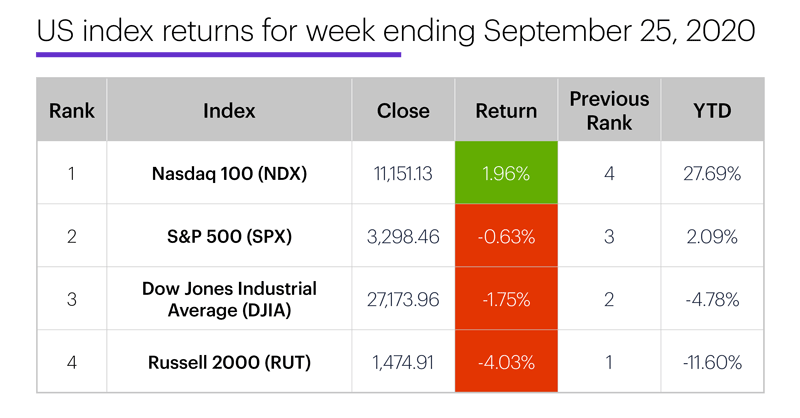 Source (data): Power E*TRADE
---
Sector roundup: The strongest S&P 500 sectors last week were information technology (+2.2%), consumer discretionary (+1.3%), and utilities (+1.1%). The weakest sectors were energy (-8.5%), materials (-4.7%), and financials (-4.4%).
Highlight reel: On Monday, Cubic (CUB) rallied 34% to $59.56, while Owens & Minor (OMI) jumped 47% to $20.31 on Wednesday. On the downside, Adicet Bio (ACET) tumbled 37% to $13.48 on Monday and Nikola (NKLA) slid 26% to $21.15 on Wednesday.
Futures action: The level of market angst last week was evident in a couple of conspicuous futures market moves: December US dollar index futures (DXZ0) broke out of a seven-week trading range and pushed to a two-month high of 94.795 on a "safe-haven" bid, while October gold (GCV0) tumbled along with stocks—which usually happens when traders want out of everything but cash—ending the week down around $90 near $1,858/ounce after stabilizing at support around $1,843. November WTI crude oil (CLX0) drifted sideways after last Monday's sharp sell-off, ending the week around $40/barrel.
Last week's biggest futures up moves: October hogs (HEV0) +7.9%, lumber (LBSX0) +4.9%, October VIX (VXV0) +3.9%. Last week's biggest futures down moves: December silver (SIZ0) -15.2%, November orange juice (OJX0) -10.6%, October platinum (PLV0) -9.9%.
Coming this week
Jobs, manufacturing, GDP—this week's economic calendar hits on all cylinders:
●Monday: Dallas Fed Manufacturing Index
●Tuesday: Trade balance in goods (advance), S&P/Case-Shiller Home Price Index, Consumer Confidence
●Wednesday: ADP Employment Change, GDP (final), Pending Home Sales, Chicago PMI
●Thursday: Challenger Job Cuts, Personal Spending and Income, PCE Price Index (core inflation), Jobless Claims, Markit Manufacturing Index, ISM Manufacturing Index
●Friday: Employment Report, Michigan Consumer Sentiment, Factory Orders
This week's earnings include:
●Monday: Cal-Maine Foods (CALM), United Natural Foods (UNFI), Thor Industries (THO)
●Tuesday: AngioDynamics (ANGO), McCormick (MKC), Progress Software (PRGS), SYNNEX (SNX), IHS Markit (INFO), Micron Technology (MU)
●Wednesday: Enerpac Tool (EPAC), Resources Connection (RGP)
●Thursday: Conagra Brands (CAG), Bed Bath & Beyond (BBBY), Constellation Brands (STZ), PepsiCo (PEP)
Defense/intelligence tech firm Palantir Technologies (PLTR) and productivity software company Asana (ASAN) highlight another busy week of IPOs:
●Tuesday: Palantir Technologies (PLTR)
●Wednesday: Asana (ASAN), Yalla Group (YALA) , Chindata (CD)
●Thursday: Pulmonx (LUNG), Mission Produce (AVO)
●Friday: Academy Sports & Outdoors (ASO)
Go to the E*TRADE market calendar (login required) for an up-to-date earnings schedule and a complete list of splits, dividends, IPOs, and economic reports. The Active Trader Commentary also lists earnings announcements, IPOs and economic report times each morning.
The ride ain't over: October on deck
With this month shaping up to be a September to not remember, investors have likely had their fill of volatility.
Cue October.
From a certain (narrow) perspective, the tenth month of the year deserves its reputation—no matter how you slice it, October has been, historically, the stock market's most volatile month. But as noted in this space more than once, it's also been one of the stock market's most bullish months—because it's had plenty of upside volatility to go with its more-famous downside volatility.
Bottom line:
1. October has been a positive month for the SPX in 37 of the past 60 years (62% of the time).
2. Since 1990 October has been positive 20 out of 30 years (67% of the time). In this period October had the second-highest median return (+1.9%) of any month of the year, trailing only November (2.6%).
3. Over the past decade, October has had the highest median return (2.3%) of any month of the year.
The catch is that October can be a rollercoaster ride even when it ends up in the plus column—big sell-offs, including some of history's most notorious, often occur in the same month as huge rallies. Consider this: Over the past 60 years, October has been responsible for seven of the SPX's 30-biggest two-week sell-offs and eight of its 30-biggest two-week rallies—more any other month of the year in both categories.1
Of course, 2020 has been a truly exceptional year for the markets, and with a contentious election a little more than a month away, it doesn't look like that's going to change any time soon.
But traders who understand both the good and bad of this volatile time of the year have a better chance of remaining cool under fire—and, potentially, being able to take advantage of October fireworks instead of being burned by them.
Click here to log on to your account or learn more about E*TRADE's trading platforms, or follow the Company on Twitter, @ETRADE, for useful trading and investing insights.
---
1 Based on S&P 500 (SPX) monthly closing prices, 12/18/59–12/30/19. Supporting document available upon request.

What to read next...
09/25/20
Did earnings sell-off total car dealer, or just give it an unsightly scratch?
---
09/24/20
Stock's recent pivot may have presented options traders with an edge.
---
09/23/20
Technicals may be flashing signals to bulls watching biopharma stock's pullback from all-time highs.
---