Financial stocks nearing inflection point?
Stocks sank yesterday as yield curve inverted
Financials, especially banks stocks, hit hard
Contrarians may see opportunities in potentially "oversold" names
Never a dull moment, that's for sure.
In addition to momentarily diverting attention from the trade war, yesterday's 2-year/10-year yield-curve inversion put the hurt on a group of stocks that were already having a rough August—banks.
Time for a contrarian play?
Some traders and analysts may be pondering that possibility, even if to many people the average bank chart looks like a falling knife that should be avoided at all costs. First, take a look at the year-to-date (YTD) performance of three banks—JPMorgan Chase (JPM), Bank of America (BAC), and U.S. Bancorp (USB):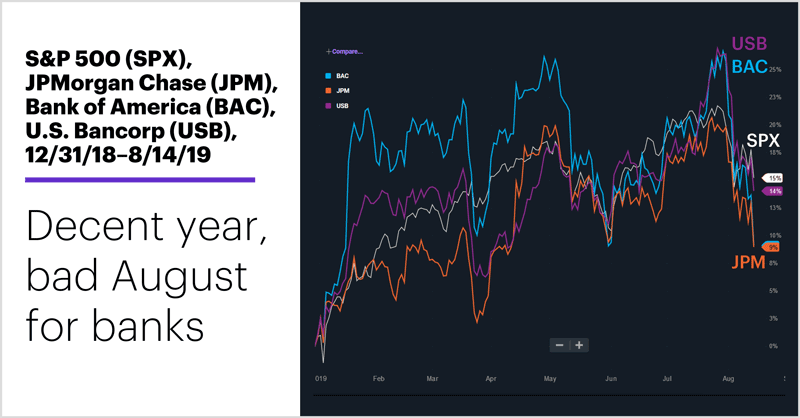 Source: Power E*TRADE
---
Although financials have been the S&P 500's (SPX) second-weakest sector over the past 12 months, and commercial banks were down around -14% year-over-year as of yesterday, the chart shows these three stocks had kept pace with the SPX, twists and turns aside, as the market was peaking in late July. USB and BAC were actually outperforming the index (white line) at that point.
But the progressive flattening of the yield curve this month appeared to weigh on banks, since the smaller the difference between short-term and long-term interest rates, the more difficult it is for banks to profit on the money they lend. Yesterday, the other shoe appeared to fall: Halfway through the day all three stocks were down more than -3%.
One study showed the SPX has rallied more than 20%, on average, in the 12 months following a 2-year/10-year yield-curve inversion.
While no one wants to see a 2-year/10-year inversion—an event that has presaged several past recessions—there are two things stock traders need to keep in mind:
1. Such inversions typically lead recessions (when they occur) by roughly 15 months.1
2. They also tend to have a long lead time relative to major downturns in the stock market—an average of 18 months, according to one study.2 Other analysis indicates the SPX has rallied 22%, on average, in the 12 months following an initial 2-year/10-year yield-curve inversion.3
Although the fallout may not dissipate in a single day, this is why some traders may have thought the market's reaction to yesterday's inversion news was overdone—and why they may be looking for trade opportunities, including those in hard-hit areas like banks.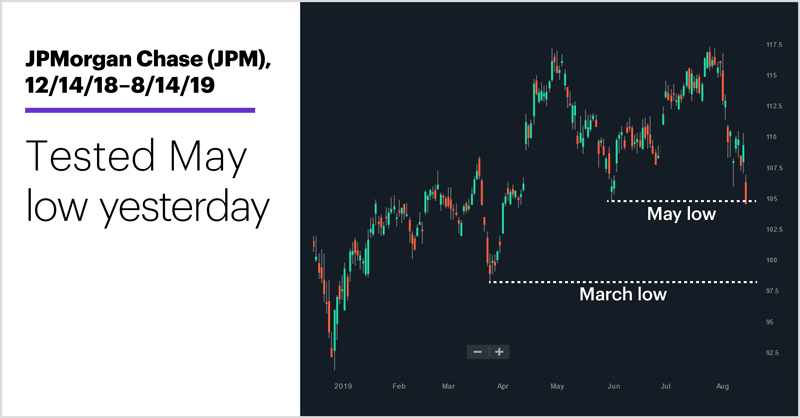 Source: Power E*TRADE
---
For example, the chart above shows that by around 1:30 p.m. yesterday, JPM had broken below the support implied by its May swing low. If this level doesn't hold, many traders will likely look for a test of the March low around $98.
In the same vein, the USB chart below shows the stock punctured its June–August lows yesterday, with additional support evident around the May low of $49.75 and the March low around $47.50.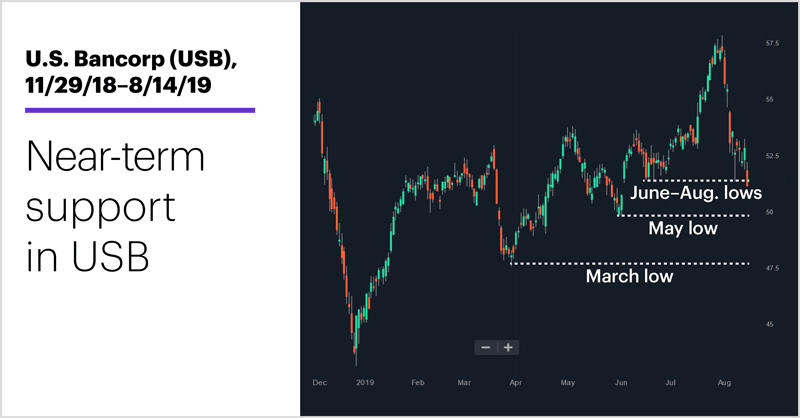 Source: Power E*TRADE
---
Stepping bank to view things at the index level, if yesterday's downswing extends and the SPX falls below its August 5 low, many traders will be watching to see if the Cboe Volatility Index (VIX) is trading higher or lower than it was on that date, since a lower VIX reading that accompanies a new SPX low sometimes signals a potential rebound, as explained in "Volatility insider."
The takeaway is that there may be a big difference between the short-term and long-term implications of yesterday's yield-curve news. And with major indexes, and some bank stocks, nearing key technical levels, we may be about to find out if one of the market's perennial maxims will assert itself: Emotional reactions to news events sometimes lead to explosive counterreactions.
Today's numbers (all times ET): Retail Sales (8:30 a.m.), Productivity and Costs (8:30 a.m.), Industrial Production (9:15 a.m.), Business Inventories (10 a.m.), Housing Market Index (10 a.m.), EIA Natural Gas Report (10:30 a.m.).
Today's earnings include: Applied Materials (AMAT), Alibaba Group (BABA), NVIDIA (NVDA), Walmart (WMT).
Click here to log on to your account or learn more about E*TRADE's trading platforms, or follow the Company on Twitter, @ETRADE, for useful trading and investing insights.
---
1 Marketwatch.com. 5 things investors need to know about an inverted yield curve. 8/14/19.
2 CNBC.com. After a key yield curve inversion, stocks typically have another year and a half before doom strikes. 8/14/19.
3 CNN.com. Dow tumbles 600 points after bond market flashes a recession warning. 8/14/19.
What to read next...
08/14/19
Market erased early losses after Tuesday tariff-delay announcement.
---
08/13/19
Sometimes, what's good for the investor can be an opportunity for the trader.
---
08/12/19
Traders navigate tariffs, currency moves, and Fed bashing during up-and-down week.
---