Financial flip
VOYA put options volume soared on Monday
Stock has tracked financial sector's ups and downs in recent weeks
Hedge funds appeared to cool on the stock in Q1
Around noon yesterday, Voya Financial (VOYA), a financial firm that specializes in retirement plans, had the highest put-call ratio of any stock tracked in Power E*TRADE, with almost 370 put options trading for every call. The following chart shows the big volume was in the July $40 puts, which were well out-of-the-money with the stock trading around $46: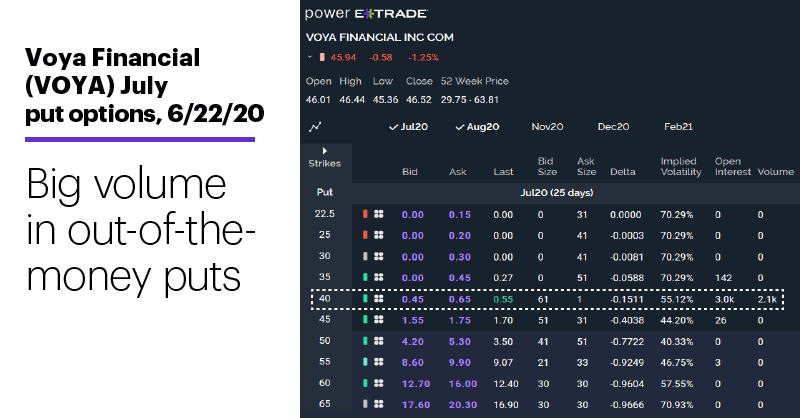 Source: Power E*TRADE
---
VOYA doesn't typically have a particularly busy options market—the action in the July $40 puts accounted for 95% of the volume in all of the July and August contracts (calls and puts). The only other activity of note was 110 contracts of the August $40 puts, another trade that may have felt bearish to many market watchers.
Traders intrigued by the implications of the options action also may have noticed that VOYA, after breaking out of a nearly two-month trading range earlier this month, has been consolidating after pulling back to test the breakout level several days ago:
Source: Power E*TRADE
---
While many bullish traders would look for long-entry points on this type of a test, some bearish traders may be anticipating the possibility of a breakdown of support and further downside—and not just because of yesterday's options activity.
First, hedge funds appeared to back away from VOYA in Q1, with the number of firms holding bullish positions in the stock dropping 26%.1 And even though hedge funds make plenty of mistakes, all things considered, most people would prefer to see institutional traders buying the stocks they're interested in, not selling them.
Then there's the sector picture. VOYA's price chart is a fair representation of financials as a whole—an initial burst off the March lows, followed by sideways price action, then a high-momentum rally from mid-May to June 8 that pushed them to a three-month high before the recent retreat. But the following chart shows the NYSE Financial Index (NF) already pulled back to its comparable breakout level on June 11—and, after a brief bounce, turned lower once again:
Source: Power E*TRADE
---
Yes, the index could bounce off this level a second (or third) time, but the fact that it's turned lower to potentially re-challenge it—instead of following through on the initial bounce—could be a red flag for traders who haven't forgotten that on a longer-term basis (e.g., the past year), the financial sector is still one of the weakest pockets of the US market.
If it's about to revert to form in that sense, traders holding those July VOYA puts still have time to see their options get a bump.
Market Mover Update: Yesterday Netflix (NFLX) hit its first record high in more than a month, capping a 13% rally since May 28 (see "Streaming rerun"). August gold futures followed up last Friday's rally with solid gains on Monday, pushing as high as $1,779/ounce—just 10 bucks shy of the contract high.
Today's numbers (all times ET): New Home Sales (10 a.m.).
Today's earnings include: AeroVironment (AVAV), La-Z-Boy (LZB), IHS Markit (INFO).
Click here to log on to your account or learn more about E*TRADE's trading platforms, or follow the Company on Twitter, @ETRADE, for useful trading and investing insights.  
---
1 Insidermonkey.com. Hedge Funds Aren't Crazy About Voya Financial Inc (VOYA) Anymore. 6/5/20.
What to read next...
06/22/20
Bulls stampede early, but bears take bite out of rebound on Friday.
---
06/19/20
With earnings around the corner, food stock seeks to retain some of its lockdown-fueled demand.
---
06/18/20
Chinese hotel company's put volume soars as second-wave fears grip Beijing.
---