Fed reshuffles deck
The Fed effect: Stocks, commodities slump, gold implodes
NDX narrows performance gap, sets new records as tech rebounds
This week: Housing data, durable goods, busy IPO schedule
A "taper tantrum" it wasn't, but the US equity market's four-week winning streak came to an end as the Federal Reserve adjusted its stance on inflation and possible interest-rate increases.
The last full week of June will start with the stock market attempting a rebound after the Fed acknowledged rising inflation, laid the groundwork for scaling back the monthly bond purchases that have been an integral part of its pandemic stimulus efforts, and forecasted it would likely hike rates sooner than many people may have hoped.
After starting last week with another record high, the S&P 500 (SPX) drifted lower, with the selling gaining momentum after the Fed issued its statement on Wednesday:
Source: Power E*TRADE
---
The headline: Bulls back off as Fed issues heads-up on tighter monetary policy.
The fine print: Lost in the shuffle of the FOMC announcement was Wednesday's rickety housing data: Home starts and building permits for May both came in below estimates, and April's numbers were revised lower. Homebuilder stocks extended their recent pullback after the report, despite continued declines in copper and lumber prices—two of the key raw materials for residential buildings.
The number: 2023. That's when the Fed now thinks it will raise interest rates (probably twice), rather than in 2024.
The move: The prospect of higher rates (and a potentially stronger dollar) sent gold reeling. August gold futures tumbled $86/ounce last Wednesday–Thursday for their biggest two-day drop in more than a year.
The scorecard: The Nasdaq 100 (NDX) was the only major US index that gained ground for the week (it also jumped ahead of the Dow in the year-to-date standings), while the small-cap Russell 2000 (RUT) suffered its worst week since January: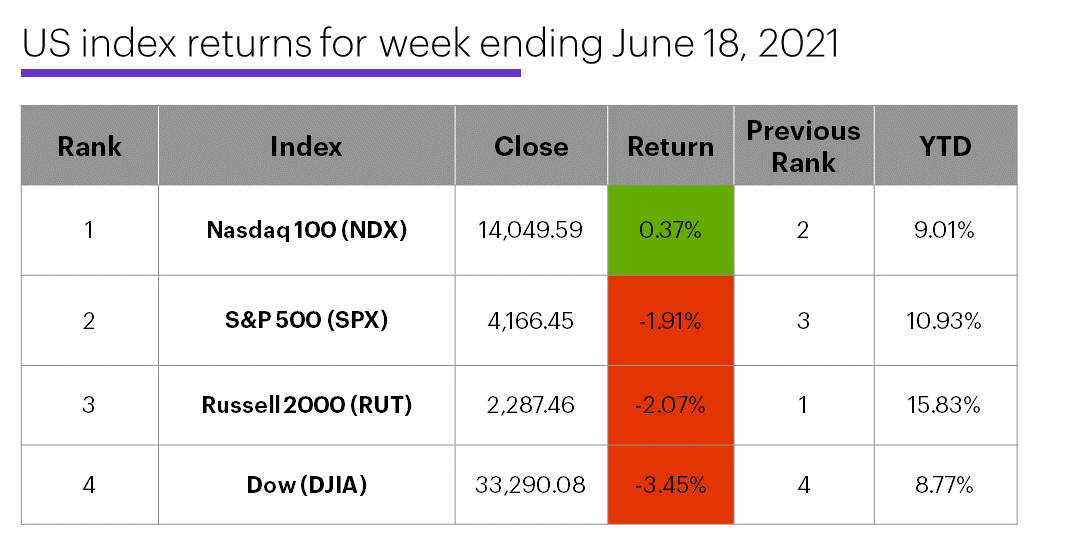 Source (data): Power E*TRADE
---
Sector roundup: The strongest S&P 500 sectors last week were information technology (+0.1%), consumer discretionary (-0.1%), and health care (-0.8%). The weakest sectors were materials (-6.3%), financials (-6.2%), and energy (-5.2%).
Highlight reel: On Monday Rapt Therapeutics (RAPT) +112% to $39.76, Orphazyme (ORPH) +61% to $16.21 on Wednesday, CAI International (CAI) +47% to $56.05 on Friday. On the downside, Sage Therapeutics (SAGE) -19% to $58.80 on Tuesday, CureVac (CVAC) -39% to $57.83 on Thursday, and…Orphazyme (ORPH) -50% to $7.33 on Friday.
Futures action: Gold suffered its worst week since March 2020, as August gold (GCQ1) closed Friday at $1,769/ounce, down more than $110 for the week. August WTI crude oil's (CLQ1) streak of higher daily closes or highs ended at 19 with Thursday's dip, but the market rebounded Friday to end the week up $0.81 at $71.29/barrel. Biggest up moves: July VIX (VXN1) +13.5%, August feeder cattle (GFQ1) +2.6%. Biggest down moves: July lumber (LBSN1) -15.7%, December soybean oil (ZLZ1) -12.1%.
Coming this week
This week's numbers include:
●Tuesday: Existing Home Sales
●Wednesday: Q1 Current Account, New Home Sales
●Thursday: Durable Goods Orders, Trade Balance in Goods (advance), GDP (Q1 final revision)
●Friday: Personal Income and Spending, Core PCE Price Index, Michigan Consumer Sentiment (final)
This week's earnings include:

●Today: Ennis (EBF)
●Tuesday: Korn Ferry (KFY), Cognyte Software (CGNT)
●Wednesday: Concentrix (CNXC), HB Fuller (FUL), KB Home (KBH), Winnebago (WGO), IHS Markit (INFO), Patterson (PDCO)
●Thursday: Accenture (ACN), Rite Aid (RAD), BlackBerry (BB), FedEx (FDX), Progress Software (PRGS), Synnex (SNX), Darden Restaurants (DRI), Nike (NKE), Plug Power (PLUG)
●Friday: Apogee (APOG), JinkoSolar (JKS), CarMax (KMX), Paychex (PAYX)
This week's IPO's include:
●Tuesday: TransCode Therapeutics (RNAZ), Full Truck Alliance (YMM)
●Wednesday: Sprinklr (CXM), First Advantage (FA)
●Thursday: Doximity (DOCS), Bright Health Group (BHG), Confluent (CFLT)
●Friday: Mister Car Wash (MCW)
Check the Active Trader Commentary each morning for an updated list of earnings announcements, IPOs, economic reports, and other market events.
Commodity cool-down
Overall, commodities took it on the chin last week as the prospect of less monetary stimulus and (eventually) higher interest rates appeared to take away some of the "inflation bid" that may have been contributing to their rallies, at least to some extent, in recent months.
In reality though, many of the up-trending commodities of 2020 and early 2021 had begun paring their gains well before the Fed reshuffled the deck last Wednesday:
●July lumber (LBSN1): -40% since May 7
●July copper (HGN1): -10% since May 11
●July corn (ZCN1): -9% since May 7
●July soybeans (ZSN1): -11% since May 12
●September coffee (KCU1): -7% since May 28
The exceptions, as they often are, were crude oil and gold. Oil pushed to new contract highs every day in June but two, while gold—which took the headline-grabbing hit on Wednesday and Thursday—had been rallying for only two months before it turned mildly lower (-2.7%) between June 2 and June 15.
A little more than two days is hardly enough time to know how different commodities (and stocks, and bonds…) will adapt to this evolving landscape. (Most of the markets mentioned here at least stabilized on Friday, by the way.) Inflation may be the dominant market story right now, but it's not the only story.
Last week the markets simply got a taste of the rotation away from a pandemic-driven monetary policy. Now we'll see how they digest it.
Click here to log on to your account or learn more about E*TRADE's trading platforms, or follow the Company on Twitter, @ETRADE, for useful trading and investing insights.
---
1 Reflects seasonally adjusted monthly CPI data from the U.S. Bureau of Labor Statistics.
What to read next...
06/18/21
The question now is, what do traders think of the longer-term forecast?
---
06/17/21
Is this stock's recent volatility reading a warning of more selling to come, or a contrarian rebound signal?
---
06/16/21
Big prints appear on the options tape despite stock's tight trading range.
---